Many tools do many things right, but no one tool can do it all. That's why we compiled a list of useful software that make your UX better while making your job easier.
What are UX tools?
If you are looking for the best tools that probably means that you already know the definition of user experience. We'll skip that part and move on to some more pressing matters. UX tools are tools that are designed to make your UX better with various methods on how to achieve the desired effect. It can be improving conversion, lowering your abandonment rates, and many other issues that make your website and product underperform. 
How do they do it?
Some tools specify testing UX with real users, so you can have a highly efficient way to see a product through a visitor's eye. Other tools take care of getting users to test via their panel of users, helping with the design process, front-end and back-end developing, analytics, scheduling, communicating, A/B testing, and many many more building elements of your finished product – a website.  
How to pick the best UX software for your needs?
First, we need to establish what tools you need when, so let us show you what makes the UX design process whole and the tools needed to make it efficient.
Phase – Empathize
First comes the phase of empathizing. What it means is you need to get to know your target audience and the group that you want to sell your product.
This means what age group they belong to, what are their interests, and what are their needs. You need to channel all of these, and more, into your product, and your website to make it more relatable to your clientele. If you fail this first step it might be hard getting out of the hole you dug yourself into. 
These tools might help you:
Phase – Define
Ask yourself this: What is it that I want to sell and how do I achieve Coca-Cola-level profits? If you answered this question, congratulations, you just completed the second phase. I never said it was hard. 
These tools might help you:
Phase – Ideate
Now you need to come up with something that will make your website (and product for that matter) stand out. What will it be today, dear researcher? A drop-down menu? A hamburger menu? Five colors in one logo? Make brave choices but don't be so brave that you reinvent a bucket. 
Phase – Prototype
Now it comes to the part where other people and you suffer. You actually have to put your ideas into reality. 3. Phase revolved around making brave choices, now you have to scrap them all just because it blew up in your face like a cake with a balloon in the middle of it, and you have to do the ideate part some more.
Phases 3 and 4 are literally just a snake eating its own tail and you can do nothing about it. Wipe those tears away, the emotional rollercoaster of designing is not over yet, samurai. 
These tools might help you:
Phase – Test
Now you have to put your design to the test. You have battled with yourself and your developers for so long, now you have the final boss in front of you. The common folk. And this boss is unbeatable. You have to test all the time because no one knows what might be wrong with your site now. You fix one thing and there goes another and this cycle continues until you are either out of business or dead.
These tools might help you:
39 best UX tools on the market:
Yes, you read that right, we will be looking at 39 different tools (3 per category) that help you with the whole process of UX design.
BEST Persona Creation tools
The first tools that fall into the 1. phase of designing UX-optimized websites are persona creation tools. These are crucial when starting a business and a website alike. Personas are your main business interest. There are many important details to get right when creating a target group for your service or product.
Personas make this process easier and better to handle. They include information such as name, visual representation, age, interests, hobbies, brands they like, working time, gender, profession, work, life barriers, and more. This helps you understand your target audience on a whole different level and makes your life easier along the way.  
Userforge
This tool manages to create a perfect persona while being fun to use and easy to master. If you already have a rough idea of how to create a persona, this one might be the one for you because you can easily add quotes, text boxes, and more to the template.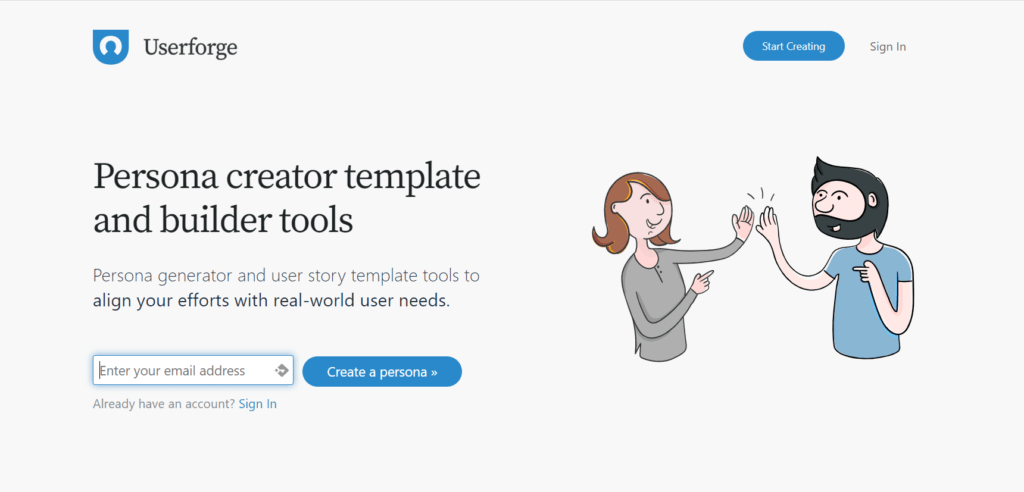 Pricing: 
Userforge can make you two personas for free with a collaborator invited, but if you want to add more, you will need to pay a sum of a minimum of $16 for 20 available personas to create. 
Make My Persona by Hubspot
This persona creator guides you through the whole process which is beneficial for first-time users. The whole page looks very sleek and modern, so a modern person shouldn't have any trouble navigating it.
This persona creator focuses rather on B2B and professional customers, so be ready for a really deep learning process with questions about your persona's bosses, their dislikes, their precise business position, and much more. Deep, sleek, and elegant. You really can't ask for more. 
Pricing:
This persona creation tool is free, however, if you want to export and download your persona, you need to register first with a full name, company email, phone number, company name, and company website. 
Smaply Persona Creating Tool
This easy to work with persona creator with a drag-and-drop approach and great templates that are reusable over and over deserves to be in the top three. And what's great is that the first persona you create is free. You can also expect a very detailed buying experience your persona has to go through. This means you can get a very good grip on their needs and wants. 
Pricing: 
3 Personas are free, after that the cheapest paid plan is 19€ which includes unlimited personas according to their pricing tab.
Best Customer Journey Mapping tools
Customer Journey Mapping tools are exactly what they sound like. CJM is a visual aid representing a customer's journey with your brand and/or product. This can be in the form of an easy single-line connecting various points of a customer's contact with your brand or a complex set of entry points, flows, persona types, goals, and more.
Let's take a look 3 at the best tools in this category:
Microsoft PowerPoint
Most of you are probably at least familiar with the Office pack provided by Microsoft. Most of us even have it on-hand at the office or on our work computers as standard, which means that there is a great chance that it's already available to you.
You can create very good and sleek-looking CSM's with various reset customizable templates, even with animations so you can outshine everyone with the customer's journey.
Pricing: 
The Microsoft 365 Business Basic will set you back $6/user/per month billed annually (so $72 for one user, for one year) and contains PowerPoint among many other useful apps such as Excel, Teams, Word, Outlook, and more. 
Canvanizer/Canvanizer 2.0
This tool is also very helpful when creating a CJM and as a bonus is free. However, the free Canvanizer 1.0 is very useful when creating small-scale projects on a budget, the paid tool, and successor – Canvanizer 2.0 has more useful features and templates that you can use.
This tool has also a great sharing ability – you can share your CRM with your colleagues via a link.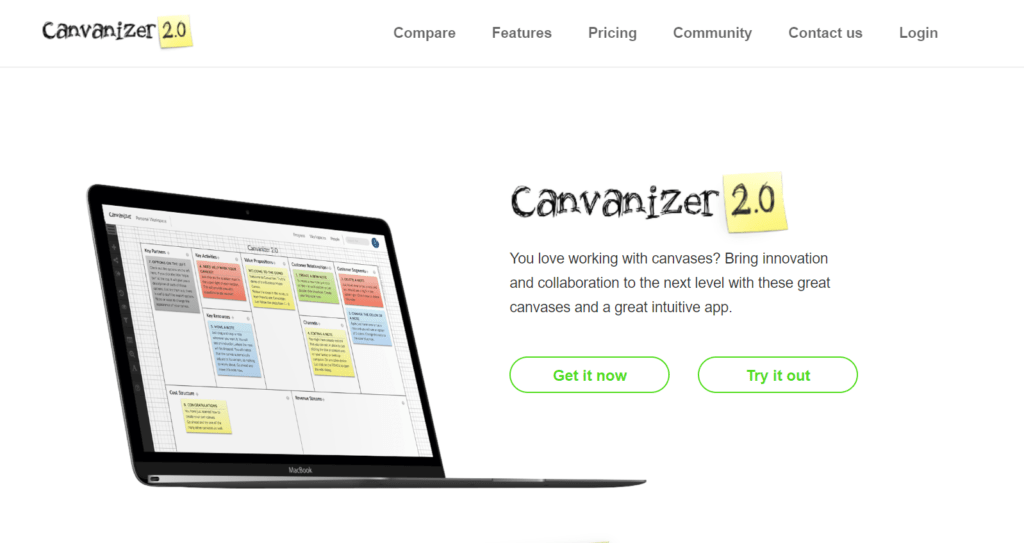 Pricing: 
Classic Canvanizer won't cost you a dime but is pretty limited. Canvanizer 2.0's STARTUP plan will cost you $25/per year. 
An ordinary whiteboard
Almost everyone has one/has an alternative to it and it's completely free (except the actual whiteboard, which is very much paid, but has many uses so it's a great bang for your buck). It's easy to understand, design, and share with colleagues if you're in an office setting that is. 
Pricing: 
A one-time purchase of $35 on Amazon.com
Best Wireframing & Prototyping tools
Make rough sketches of your website's or app's design and overlay them with ease. These tools are excellent for these purposes and will make the first steps you go through while trying to design a website or an app a breeze.
After the first sketches are dealt with, you can also very well put together prototypes that will make you stand out! Let's take a look at them.
Figma
Figma is a great cloud-based tool that lets you design everything to your heart's contempt while sharing it with your colleagues. It is also very easy to operate when you go through the initial steps and will be a life-saver when creating your project for the first time because the first three projects you create are free. 
Pricing: 
Figma offers a free plan that lets you create 3 Figma projects and 3 FigJam files (mostly used for whiteboarding). Then there is the Figma Professional which will cost you $12 per editor/month and includes unlimited Figma files, version history, and more. 
Mockplus
Mockplus is a free, online and easy-to-use prototyping and design tool that makes your ideas fly. Its intuitive drag-&-drop builder enables you to quickly add components, icons, animations, and interaction effects to your prototypes. You also can upload designs and add hotspots to transform your static screens into clickable, interactive prototypes complete with gestures, transitions, and animations.
Pricing:
Mockplus offers a forever-free plan for both individuals and teams. Its paid plans for teams start with $10.95 per user/month.
Justinmind
If you're new to the designing process, or just want a simple and easy-to-understand wireframing tool Justinmind is the right choice for you. While it may be simple, it also packs a punch when it comes to working within it. It is also a very useful tool when wireframing apps for iOS and Android
Pricing: 
While the basics such as unlimited projects and viewers, vector designs, pen tool, and export options ranging from png, jpg, and svg are there. You might also opt to pay for the Standard plan that allows you to create more intricate designs. It starts at $108/per user/per year or $19/per user/per month. 
Adobe XD
Adobe XD is a tool based on vector graphics that will satisfy your every design need, from wireframing to designing flowcharts and much much more. If you already have some experience with Adobe products, even better, since it's very well integrated into the Adobe ecosystem. 
Pricing: 
There are two schools of thought when it comes to XDs pricing. You can either get the Creative Adobe Cloud, which in itself contains Adobe XD tool, or buy it standalone.
Adobe CC costs $54.99/per month (and includes many of Adobe's apps like Photoshop, Audition, Premiere Pro, and more), and the standalone Adobe will set you back $10/per month. However this pricing applies to individuals, businesses have it considerably pricier – $35.99 for a single app no matter which one and $84.99 for the Creative Cloud service.
Best Information Architecture tools
Information architecture is crucial when it comes to creating a website. If you expect you will have multiple pages on your website, you have to do information architecture right, or it might turn your website's UX into a fine dust.
First, you have to sketch your expectations about your own AI, what it will look like, and what you expect to lead where. Then you have to test it, so your users can become confused and eventually leave your website with only a sour memory of your product. Do not underestimate this part. 
UXtweak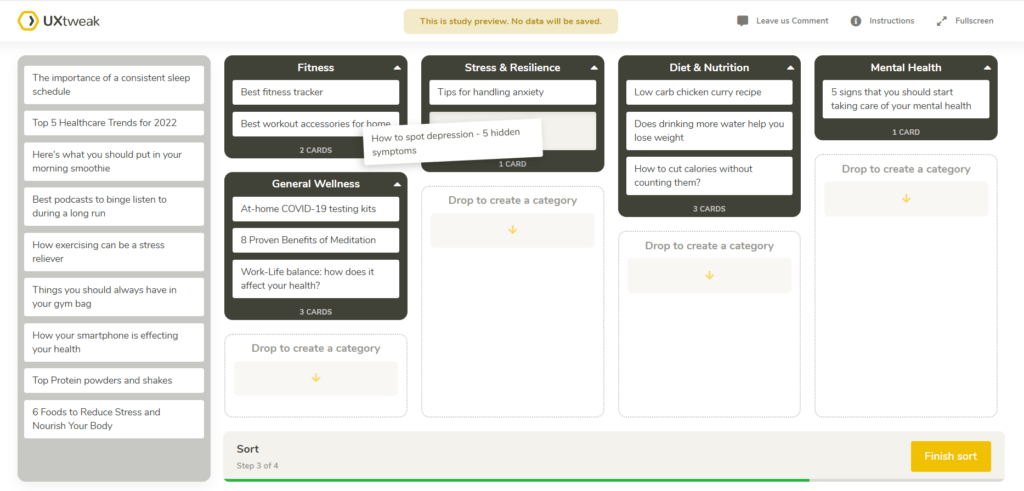 After everything is said and done, you can test your AI with UXtweak, which has two tools designed perfectly for this kind of work. Tree Testing and Card Sorting will give you crucial insight into your user's minds, so they won't become lost, confused, and frustrated in the future.
Asking your users directly will make for a great test of your AI, rather than leaving it to guessing if your information architecture is done correctly.
Pricing:
UXtweak starts as a completely free tool. The first paid subscription starts at $99/per month.
Pen and Paper
It's that simple. There's no need for complicated sketching tools. The old pals' pen and paper will suffice just fine. And it's free because you can find both elements of this method lying around everywhere. 
Pricing:
Pen will cost you roughly $0.50 on Amazon and enough paper for 499 drafts and one finished AI will cost you $9. If you are a devoted budget-saving company, ask a passerby for them and most of them will probably lend it to you free of charge. 
Google Whiteboard
We picked Google whiteboard but any other online whiteboard tool will suffice just fine. These tools are very good when having hybrid working conditions, so you can share your ideas and IA's with your whole team with Cloud-based saving and sharing so even your colleagues on home-office can participate. 
Pricing:
Google Whiteboard is free to use with your Google account.
Best Prototype testing tools
After your prototype is designed and functional with information architecture sorted out you can launch it, but we're not out of the water yet. We strongly recommend testing it before officially launching, because bugs and pesky mistakes can be noticed too late and sorted out even later with the inevitable outcome of disappointed customers and users.
Let us present to you some of the best tools for testing website prototypes. 
UXtweak
Use interactive prototypes of your website or app to do prototype usability testing. You can utilize an existing prototype created in a prototyping tool, which can be imported from Figma and InVision in seconds with built-in integration.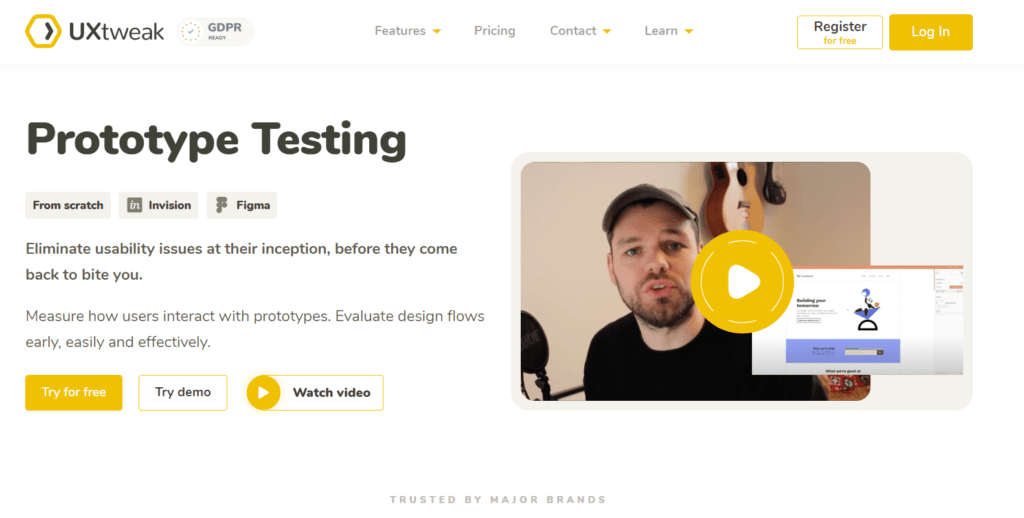 You may also utilize any pictures (graphic designs, screenshots, and photographs) in UXtweak and link them together using hotspots. Give respondents a task in the prototype to accomplish and see how they navigate it to discover a solution.
Pricing:
UXtweak starts as a completely free tool. The first paid subscription starts at $99/per month. Register for your free account.
Loop11
Loop11 is a web usability testing tool with prototype testing capabilities that may be used for a range of UX research tasks. You can record audio and video of the tester while conducting the research.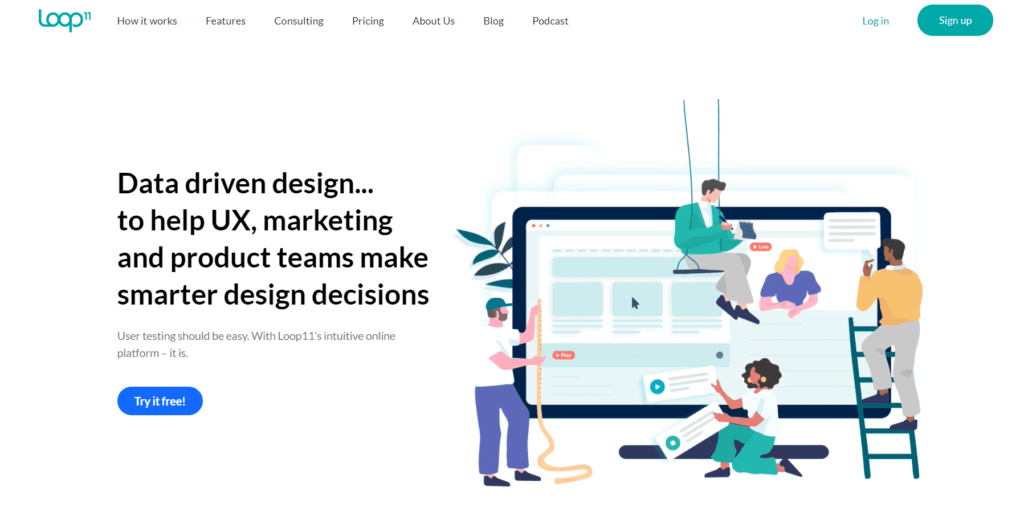 What's unfortunate is how you change data, questions, questionnaires, and other components of the study after it's started. Only if there was a mistake or if someone committed an error that you want to correct may you fully remove the test.
Pricing:
Loop11 will set you back $199/per month
UsabilityHub
UsabilityHub is another UX research tool alternative. They will test anything, ask any questions, and provide feedback in the form of voice-over films. You may comment on the recordings, label them for easier organization, and share links with your colleagues. Userbrain is well-known for its flexible, non-binding price strategy.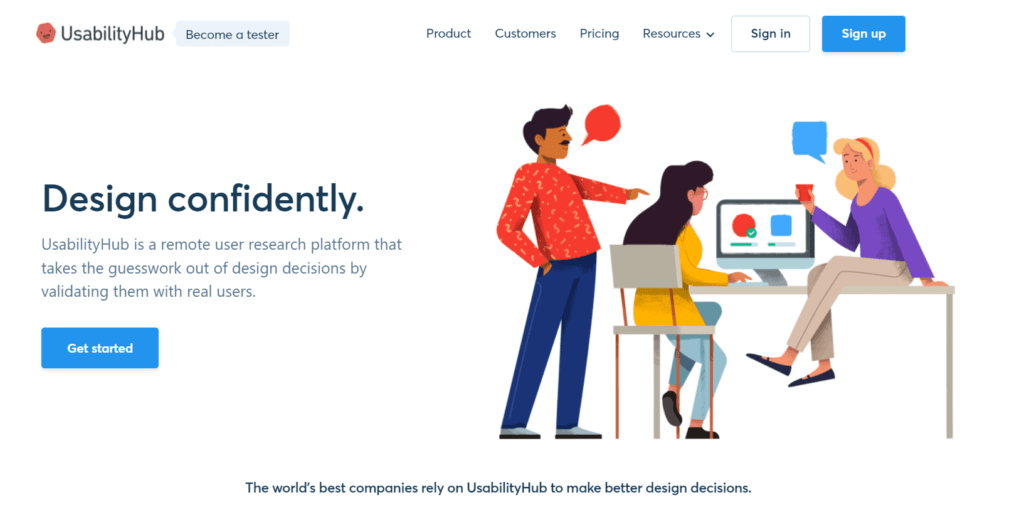 Pricing:
$35 per tester
Best Survey tools
Need to ask your potential users any questions before launching? These tools will make it a breeze.
SurveyMonkey
SurveyMonkey is hands-down the best tool for online surveying anyone you wish to survey. They have been the leading brand in the industry for quite some time and are highly regarded among survey tools.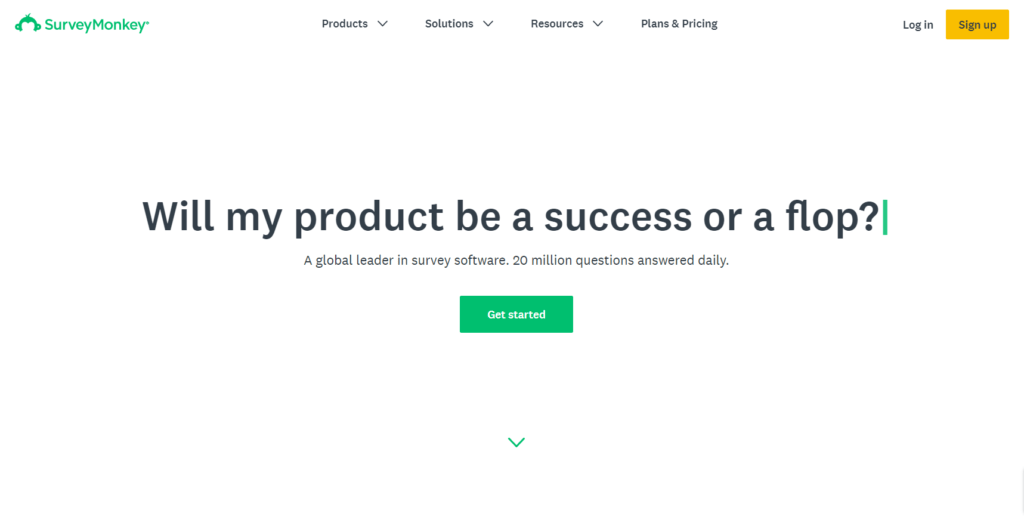 Pricing:
team plan starts at 30€/user/per month and individual plans start at 36€/per month. 
Google Forms
Google Forms is also a very good, but slightly limited software for survey administration. Google will let you create simple surveys that pack a punch.
Pricing:
Of course this software, even if limited, is free for use, so even with some drawbacks, you don't need to pay anything if you want to create just a simple survey. 
Typeform
Typeform is another alternative to well-established brands of surveying software. Typeform creates engaging surveys that are aimed to get the attention of the survey-taker. This tool also supports many types of integrations, so you can truly get the best of your surveys. 
Pricing:
You can try Typeform for free but the next paid plan will set you back 25€/month.
Best Respondent recruitment tools
To do quality research, you need quality participants. These tools (or features of tools) will get you quality participants, with the price in mind.
User Interviews
User Interviews is the industry leader in getting you the right participants and has been for quite a while. This tool makes approaching new testers look too easy even, while also being fast and convenient.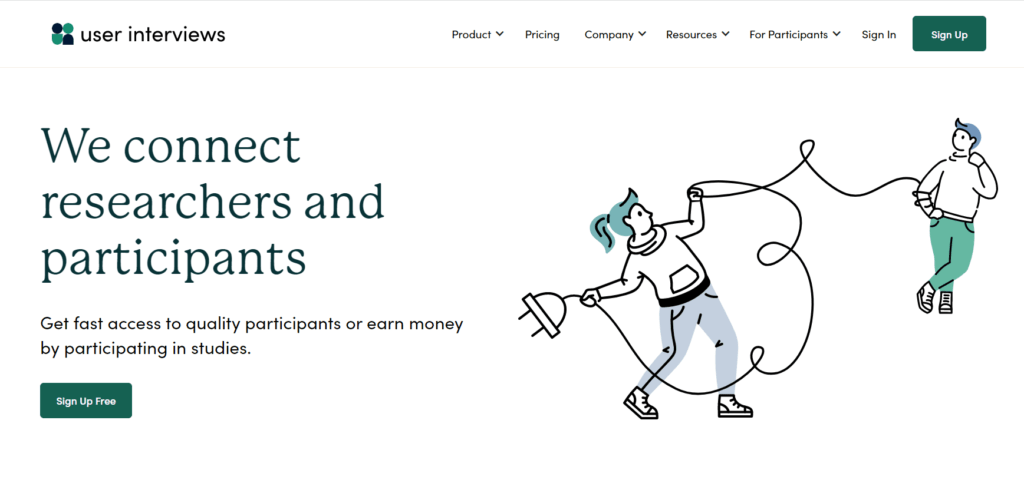 Pricing:
the Pay As You Go plan will cost you $45/per session on B2C sessions, on B2B sessions you will have to pay double that, meaning $90/per session.
UXtweak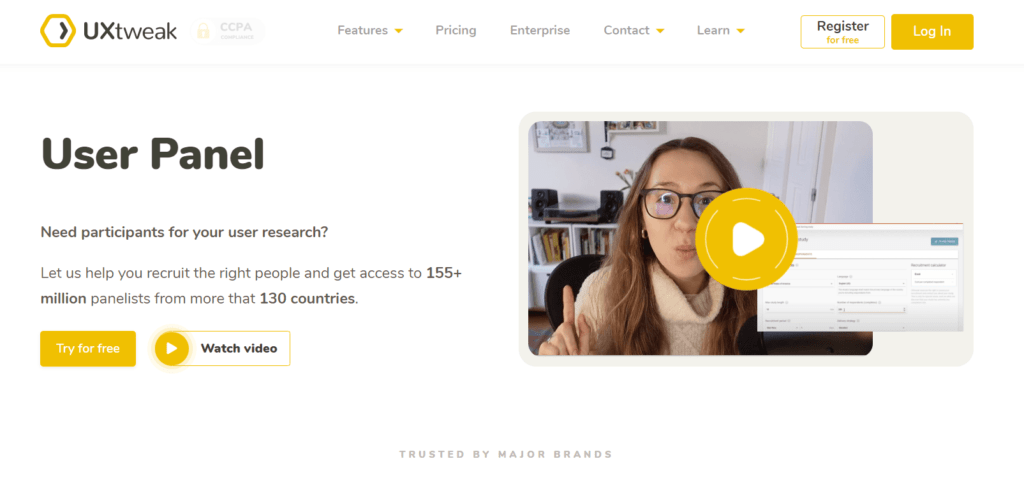 UXtweak makes a good contender for first place with its 155+ million User Panel to choose from, with over 2000+ profile attributes to help you choose the right participants every time. You can also count on UXtweak to get your study worldwide, with testers from over 130+ countries.
Pricing:
UXtweak's User Panel will cost you 5€/per respondent, for a short (<5 minute) study. 
Respondent.io
Respondent.io makes research easy with a very nice selection of niche business groups and professionals, which means you can test your website among other professionals in your respective fields. If it's a skill you're looking for, you can also filter participants via their skillset, but also an industry that they work in and title. 
Pricing:
Respondent.io presents two styles of pricing. Both are based on incentive fees and service fees. Incentive fees are always up to the researcher (how much do you want your participants to earn via this study money-wise).
Service fees on the other hand are 50% on the Pay as you go system, but you can lower this percentage with buying Credits (35%). 
Top User Research tools
Conducting user research will be a breeze with these tools. 
UserZoom
UserZoom is a UX analysis tool with a nice sharing function that allows you to share your results with your colleagues. It has most of the features that a user research tool should have, but it does have some downsides. The cost is the most significant factor.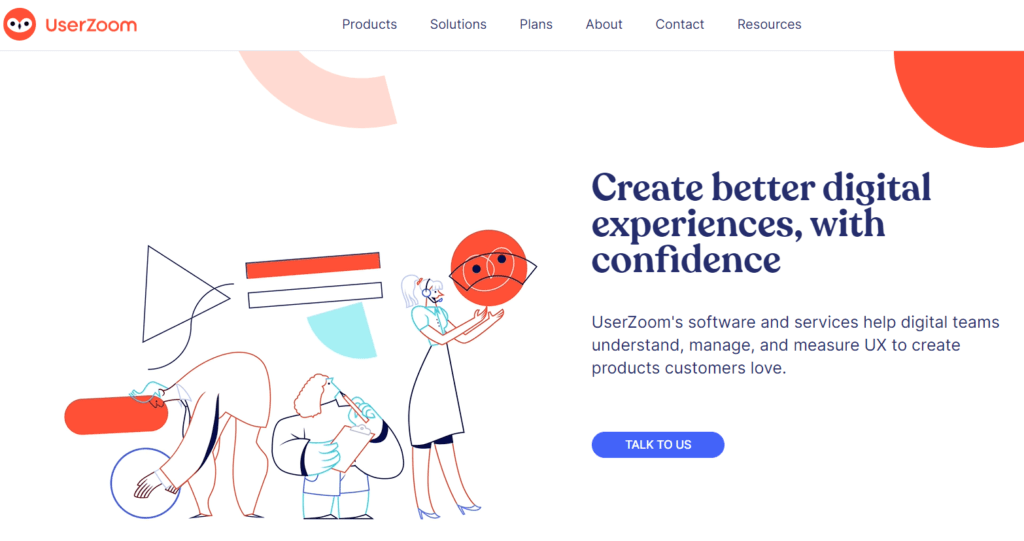 Pricing:
There are two versions of UserZoom: UserZoom and UserZoom GO, both of which are billed differently and offer unique functionalities. UserZoom can grant you complete access to the tool, allowing you to do whatever you want with it.
UserZoom GO is a lightweight version of UserZoom that comes with two pre-made plans and two unique plans.
UXtweak
UXtweak is a user-friendly and simple-to-use platform that includes everything you'll need to deliver a great user experience.
Website testing, session records that index all of the user's events and make them searchable with powerful filters, heatmaps and activity tracking, card sorting and tree testing, 5-second test, first click test, preference test, and surveys are all part of UXtweak's toolkit.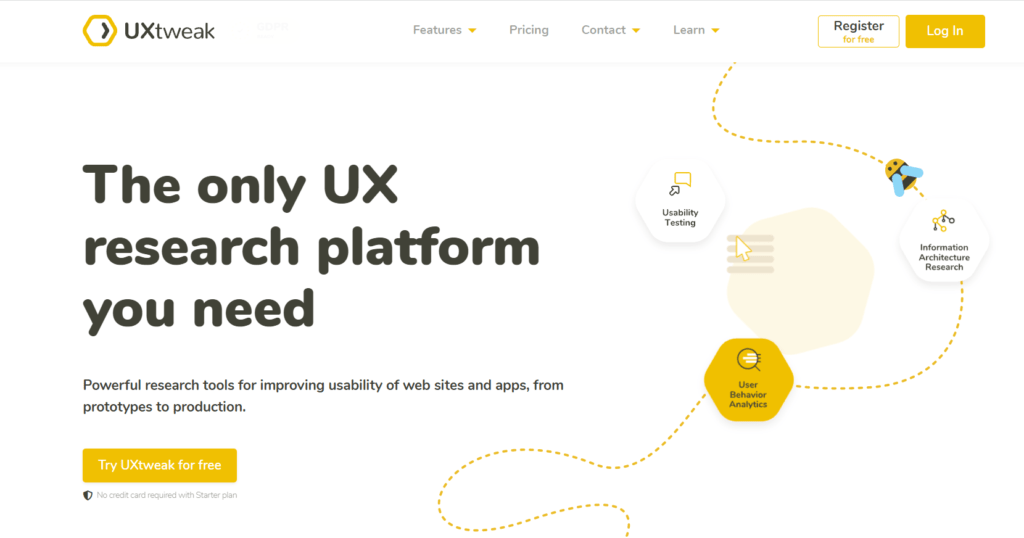 Pricing:
UXtweak is a 100% free tool, to begin with. The cost of the paid subscription is $99 a month. Register for your free account.
Optimal Workshop
Optimal Workshop (abbreviated as OW) is a user experience research tool that assists in the development of a more visually pleasing and customer-friendly website. Their tool selection, however, is limited. They offer the basics, such as card sorting, tree testing, first-click testing, and surveying.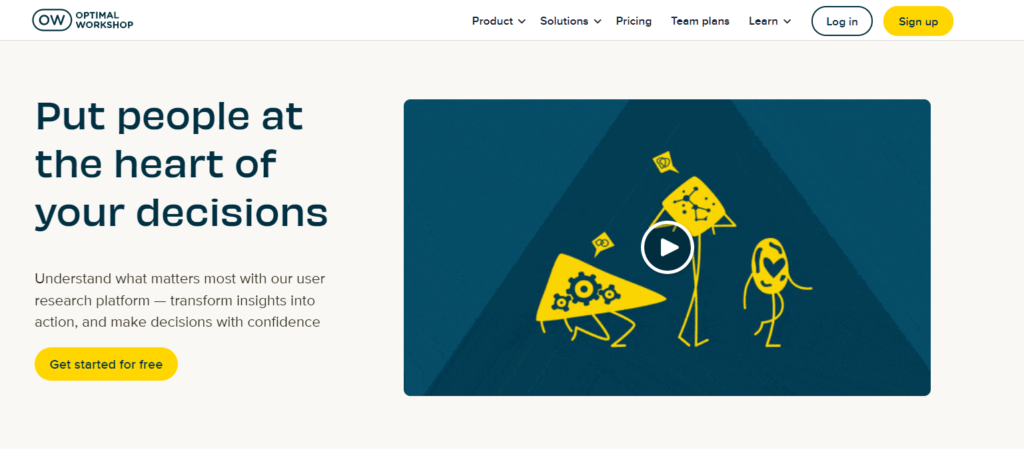 Pricing:
Optimal Workshop has three alternative plans to choose from. The Pro subscription, which is their most popular, costs $166 per month (paid yearly) and includes limitless live studies and participant answers.
They also provide a customizable pricing option and have a Team plan at 153$/per person.
Moderated usability testing tools
When people test your product using this technique of usability testing, you must be physically there. This enables you to ask follow-up questions, analyze the findings, and examine the facial expressions and body language of visitors interacting with your website in greater detail.
Moderated testing can be conducted in person or by video chat over the internet.
Loop11
Loop11 is a testing tool with integration for moderated web usability testing that may be used for a variety of UX research activities.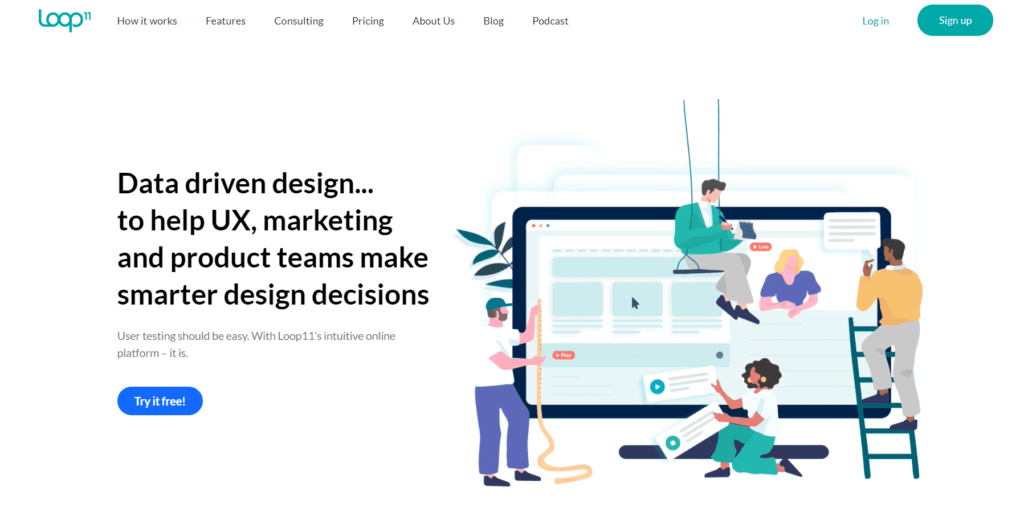 What's unpleasant is how data, questions, questionnaires, and other research components are changed after the study has begun. You may only completely delete the test if there was a mistake or if someone made an error that you want to fix.
Pricing:
Loop11 will cost you at least $199 for a month.
Usertesting
Usertesting is a great tool for conducting moderated usability tests. With a shallow learning curve and fast results delivery, this makes it a very good friend for all of your moderated studies. This tool also comes with a transcription built-in, which is a neat feature to have while conducting this type of testing.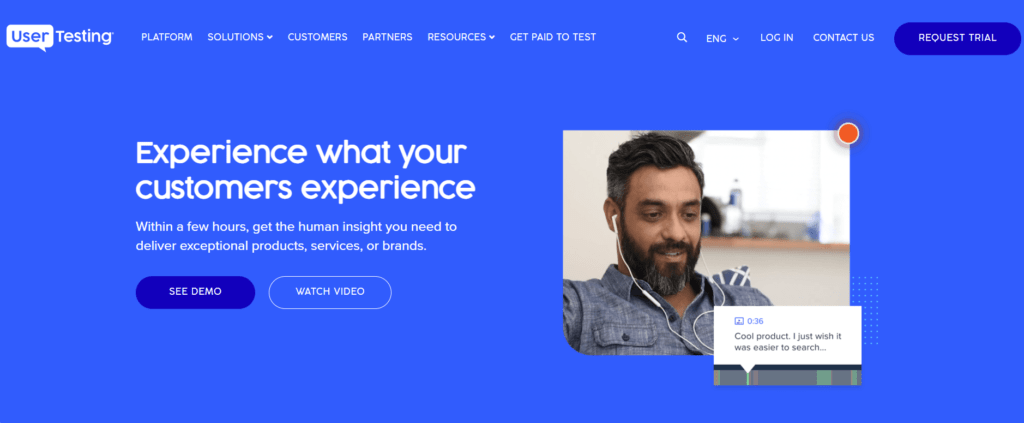 Pricing:
Usertesting keeps the pricing to themselves, so you either have to guess or contact them directly
dscout
With dscout "Live" functionality you can conduct moderated research from anywhere. Even after you've conducted the research and everything has been said and done, you can review the recordings with your notes and marked moments from the interview later. 
Pricing:
dscout is pretty secretive about their pricing, so you'll have to contact them to get a figure
Unmoderated usability testing tools
The phrase "unmoderated usability testing" refers to a form of usability testing in which testers react to specified tasks without the intervention of a moderator. The meetings are taped so that the moderator may go back and evaluate them afterward.
They can follow up on that data, but they can't communicate with the testers in real-time.
UXtweak
With UXtweak you can test your product's usability with ease. This tool can test everything from prototypes, websites, iOS apps, and iOS app prototypes to phone webview. UI is intuitive, so if you are new to this kind of testing you don't have to worry. Even if you think something is unclear, video tutorials will guide you through without a hassle.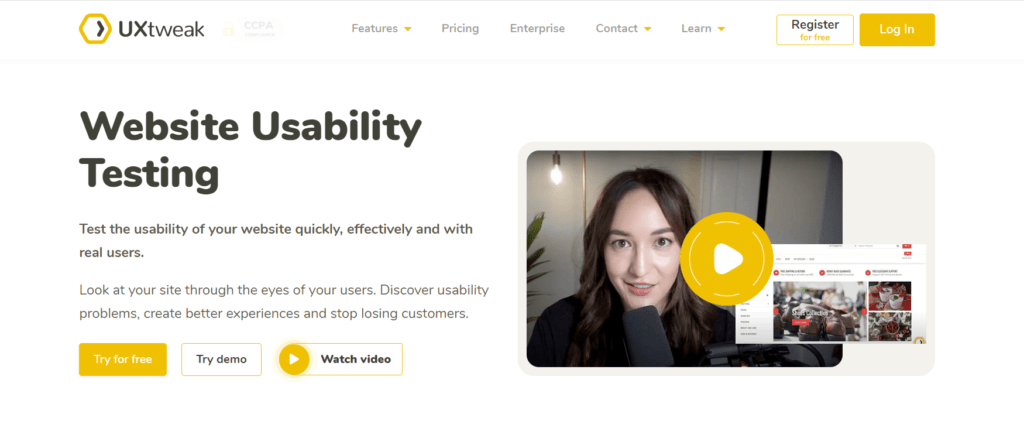 Pricing:
UXtweak is a 100% free tool, to begin with. The cost of the paid subscription is $99 a month. Register for your free account.
Userzoom
UserZoom is a user experience analysis tool with a handy sharing feature that allows you to share your findings with your coworkers. It offers the majority of the capabilities that a user research tool should have, however, there are a few drawbacks. The most important is the price.
Pricing:
UserZoom is available in two separate versions: UserZoom and UserZoom GO, each with its own set of features and pricing. UserZoom can give you full access to the tool & let you do what you want with it. UserZoom GO is a stripped-down version of UserZoom that includes two pre-made and two custom plans. 
dscout
dscout also enables you to conduct unmoderated usability tests mostly via surveying, A/B testing, and such. You can also request for the participants to create a video explaining their decision/video their initial reactions to the product. 
Pricing:
Contact dscout directly, no price stated on the website
Website Heatmap tools
It's likely that if you manage a website, you've heard of heatmaps. If consumers are having trouble navigating your website, such as not clicking on call-to-action buttons or failing to convert, website heatmaps can help you figure out what's causing the problem.
Hotjar
Hotjar is a unified platform that combines a variety of web analytics tools and capabilities with a variety of feedback alternatives. Heatmaps are the most significant feature. Hotjar also collects valuable feedback from users via polls, surveys, as well as other methods.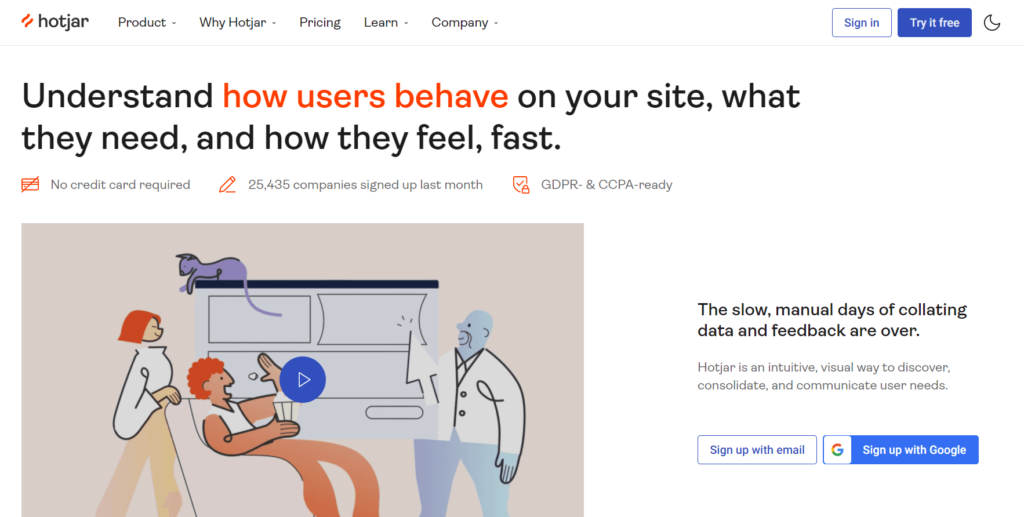 Their products integrate to allow you to manage usability testing on your website or app while also providing actionable behavioral data. It can keep records of and display clicks, motions, and scrolling. 
Viewing visitor logs allows you to see how people behave in real-time.
Pricing:
Free plan available, paid "Plus" plan starts at $39/month
UXtweak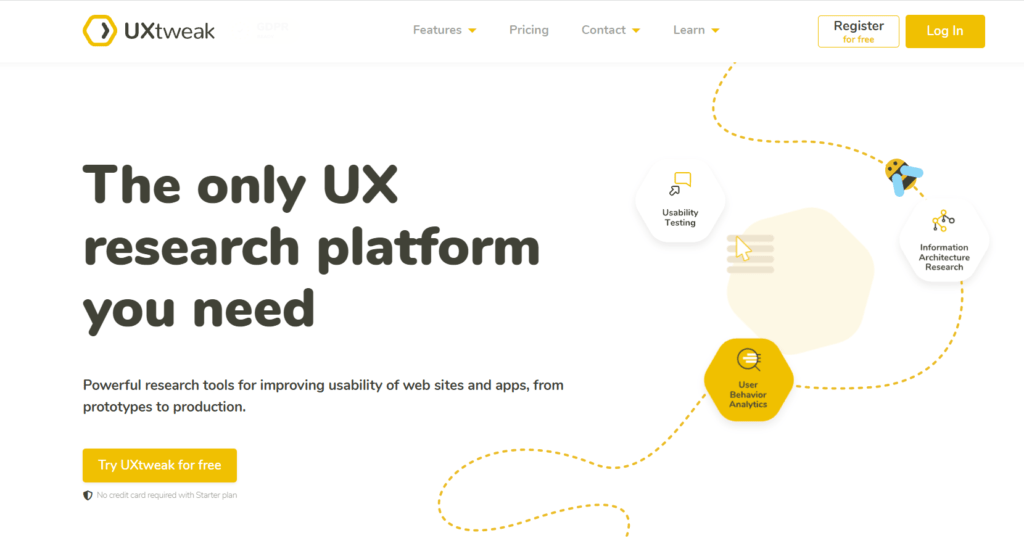 Session Recording and Heatmap feature allows you to record all of your visitors' interactions, including mouse movements, scrolling, taps, and clicks, and repeat their entire activity with pixel-perfect session playback. UXtweak vividly depicts your consumers' dissatisfaction so you can better grasp their problems.
Pricing:
Free plan available, paid plans start at $99/month.
CrazyEgg
Crazy Egg is a usability testing and website optimization tool that uses a click-based interface. It enables you to generate heat maps and track your website visitors' every click based on where they are clicking.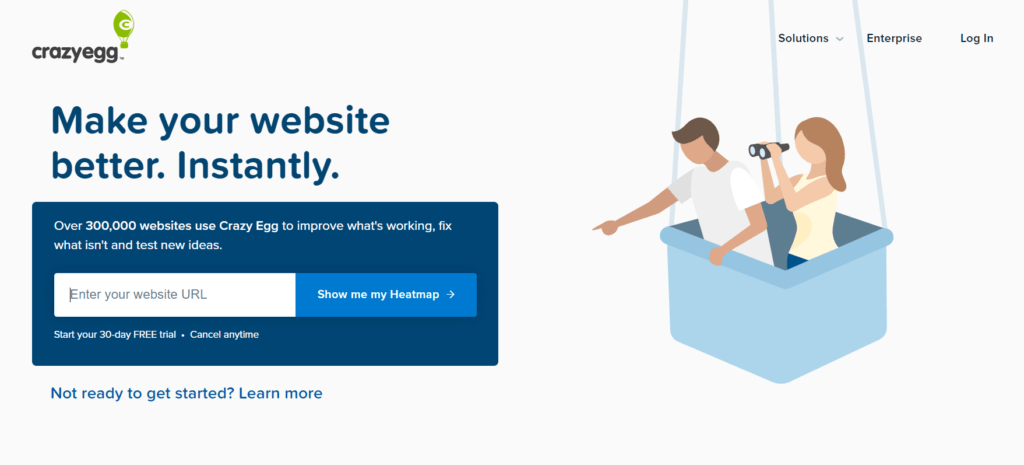 It helps you understand your customers' journey on your website by using Snapshots and Recordings. Crazy Egg creates visual reports and session logs to help in understanding how your customers interact with your product.
Pricing:
"Basic" plan starts at $24/month
Data repository tools
Integrately
Integrately is very popular among G2 reviewers with a stunning 4.7 out of five stars among more than 500 reviews already published. With this tool, you can store data in a cloud from over 875 apps with one-click integration. Sounds sweet, right?
Pricing:
Free trial is included, the "Starter" plan will cost you $19.99
Amazon Redshift
Amazon Redshift is a very popular data repository thanks to (unsurprisingly) being owned by Amazon. "Amazon Redshift uses SQL to analyze structured and semi-structured data across data warehouses, operational databases, and data lakes, using AWS-designed hardware and machine learning to deliver the best price-performance at any scale." they say and we better believe them. 
Pricing:
This is so complicated that I'd rather go through algebra 2 again with my tutor, but Amazon offers a calculator you can use to find out how much will Bezos make thanks to your Data storing needs
Ataccama
Ataccama "unifies Data Governance, Data Quality, and Master Data Management into a single, AI-powered fabric across hybrid and Cloud environments" so it really is an all-in-one solution for all your data storage needs
Pricing:
that's a secret apparently, so you'll have to contact them directly