Client
VUB is the second largest bank in Slovakia, which belongs to the Italian group Intesa Sanpaolo. It has more than 150 branches in Slovakia and serves more than one million clients.
Challenge
VUB has launched a campaign to promote a youth account called FEJM. The campaign had a separate landing page www.fejm.sk, which VUB decided to test. VUB wanted to test the usability of the site as well as the opinions of the target group on the benefits of the bank account and the copy used in the campaign and on the site.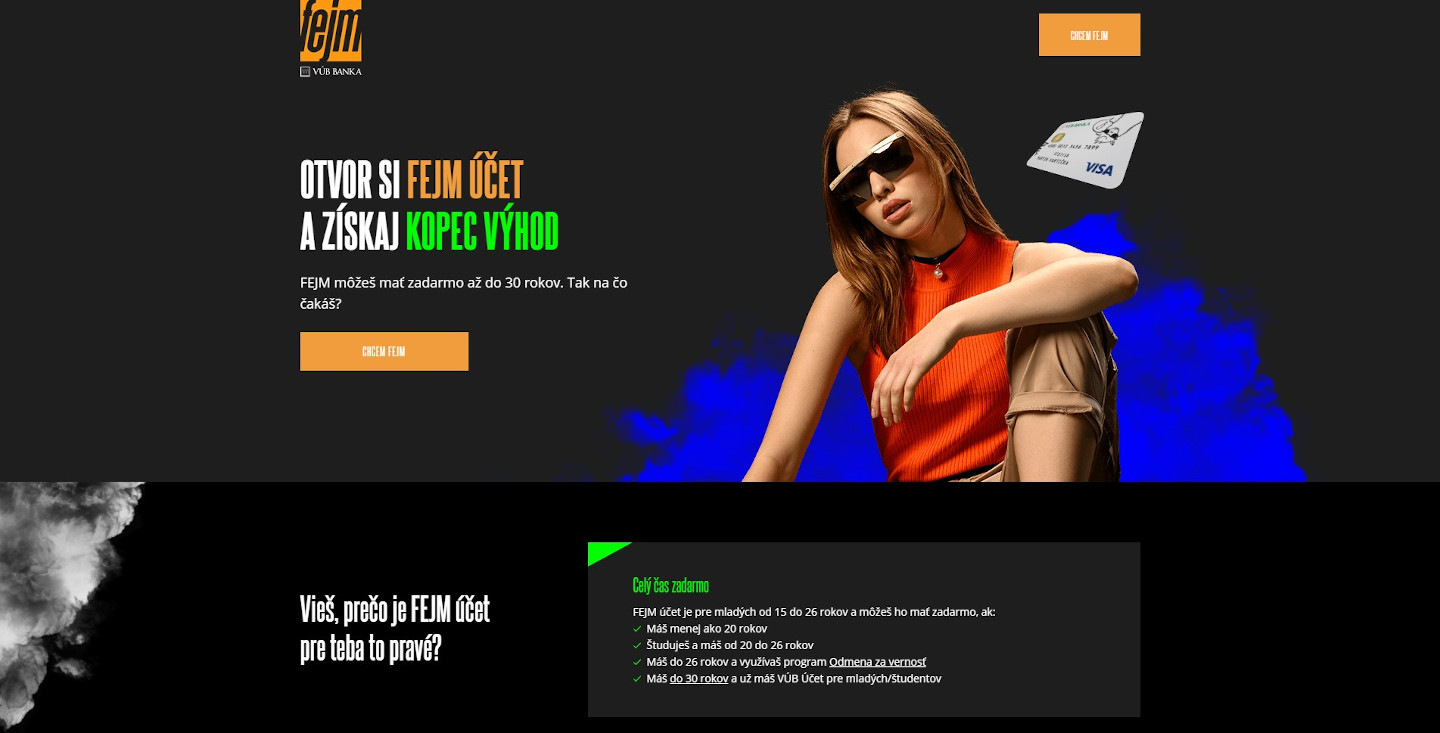 Solution
We used Replay Tasks – a task-oriented, unmoderated study. Tasks focused on product understanding as well as the account creation process. After each task, we asked the respondents through a questionnaire about their user experience and opinion.
Sample questions
Choose the option that best describes your attitude to the 30 € discounts in stores selling stylish glasses and sneakers?

On a scale of 1 to 5, rate how the site's language is appropriate for a bank to communicate information about FEJM account.
What the client needed for testing
Hypotheses he wanted to verify

Tasks and questionnaires to verify his hypothesis 

Motivations for respondents – in our case, every participant who successfully finished the study was included in a contest for valuable prizes

Recruiting – the direct link to the study was shared on social media. We used Facebook Ads to target our target group

The time needed for evaluation
Results
The study completion rate was more than 17%
Some of the client's findings were:
The discount was perceived mostly as a bonus, or as a less significant decision making factor

Young people aged 15-19 are more favorable to the language used than those aged 20-26. Some of the respondents found the way of expression and used language more engaging and natural for them, better than austere "administrative" language used by banks.

Some of the information on the website was unclear to participants – they didn't understand what it means to "

Open up a FEJM and we will boost it for 30 €

"
We used UXtweak task-oriented studies on our campaign landing pages.
Thanks to the results, we have a better understanding of our users' behavior and have the resources to improve usability and communication on the site.
Miroslav Kormoš, Online Marketing Manager
Conclusion
VUB knows it's customer's opinions of the website thanks to UXtweak. The feedback was gathered quickly and effectively. You can try UXtweak too! Register here.