User experience is getting more and more important for digital products nowadays and staying on top of your game without continuous testing and improving UX is nearly impossible. 
Today we will be focusing on task-driven usability tests. We will talk about what benefits usability testing and how you can implement it remotely within minutes with our ready-to-go example and 10 step process to running task-oriented usability studies for your websites, web apps, or prototypes.
What is task-oriented usability testing?
Your customers expect to easily navigate to the products they are looking for effortlessly find all the information they need. They expect an issue-free experience using your website. This is where they often get disappointed. As we all know, unclear and broken websites expectably lead to low conversions, high bounce rates, etc. 
Task-oriented usability studies aim to combat this problem. Such studies combine qualitative research methods to provide you with in-depth explanations, and as much context as possible while not forgetting about important quantitative metrics and statistics. They take into account that your users need to accomplish specific goals on your website and should be able to do so easily and enjoyably. 
A task-oriented usability study is built around a real-life task and scenario to simulate the real experience of users and encourage them to interact with your product naturally. Using this method a website's ability to do what it was built for – to satisfy a customer from the user's point of view and to bring conversion for gets tested.
The scenario in which the task is set provides the context and motivation for the user to complete the given task resulting in higher study completion and often more realistic results. The task is simply an action you want your users to be able to complete in your interface.
Why you should try task-oriented usability tests
Every website, web app is built with a goal in mind, usually a few. For example, the main goal of an e-commerce website is to sell products, additional goals could be to let users subscribe to the newsletter (to sell more products later on). Users shouldn't be meeting any resistance or difficulties along the way to fulfill the goals.
Unfortunately, even the most optimized or well-coded websites don't get this aspect perfectly as it is next to impossible to predict the exact way your users will be using your digital products. To solve this you need to observe how your users interact with the interface and features in the context of the real day-to-day tasks they try to accomplish. Task-oriented usability testing allows you to qualitatively analyze how your users go about solving the task, why users were not able to complete it successfully, or what distracted them during their efforts.
When is the right time to use it?
If you are looking for detailed answers from a larger number of your users to questions such as: Why your e-commerce website has a high dropout rate at the checkout, why your users don't sign up to your blog's newsletter, what causes low conversions, if your site navigation is effective and intuitive or if users can find the information they are looking for about your company – then task-oriented usability study with Website Testing tool is a good place to start. You can learn more in our post about When, Why & How to run usability testing.
Advantages of remote task-oriented usability tests
Higher completion rate due to provided motivation to complete the task by relatable scenario

Testing on real day-to-day tasks

Realistic results when prepared correctly

Actionable insights to improve on 

Cheaper than in-person interviews

Qualitative insights scalable to any number of users
Disadvantages
Poorly prepared tasks will lead to skewed even harmful results

Unrelatable scenarios discourage users from completing tasks

Possible incorrect identification of goals 

Only make sense to conduct on high fidelity prototypes or finished products
How to create such a study?
Firstly, the most important part of task-oriented usability testing is the task itself. Let's tackle that first. Here you will find examples you can copy/edit to save you time when preparing your first test.
Example of usability test for e-commerce website
Start by setting the goals of your website. In this case, customers have to be able to order products, check and track their order and get customer support without any difficulties. 
Some of the common mistakes e-commerce websites make that put customers off are:
counter-intuitive filtering and searching for products

inadequate payment methods

bad return policy and refunds

excessive load time of website 

complicated shopping cart

long delivery time
To make sure you avoid these mistakes, we prepared these 3 sample tasks for you to start testing in no time.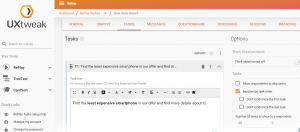 Task 1: Find the least expensive smartphone in our offer and find more details about it.
Task 2: Find out whether it's possible to use Paypal to pay in our online shop.
Task 3: Find how we can ship your order and which method is the least expensive.
If you need to edit or write a task you should follow these simple guidelines.
Guidelines for writing tasks:
Create simple realistic tasks

– overly complicated tasks will lead to high dropout

Set realistic scenarios – 

to increase relatability and motivation to complete the task

Task has to encourage

 a user to carry out an 

action 

Scenarios must not guide or hint users 

on how to complete it – the test will be useless if you tell your testers how to complete it

Leave out unnecessary

 pieces of 

information
As you read before, task-oriented usability testing is a powerful method when used correctly, especially in combination with pre and post-study questionnaires, think-aloud protocol, and crowd feedback. So, if you are looking for an option to conduct it remotely look no further. UXtweak Website Testing Tool combines task-oriented usability testing with user session recordings to create the ultimate feature.
If you are interested in setting up a Website Testing study you can find a detailed explanation in the Website Testing Setup. On the other hand, below is a quick 10 step guide to starting testing as soon as possible these are the steps to take.
10 steps process to start Usability Testing
Create a

new Website Testing Study

from the dashboard.

Set the basic information

 – 

the study name, the domain you are going to conduct testing on, whether you want to protect your study by password, etc.

Integrate UXtweak snippet

 

to your website – use Google Tag Manager for super quick and pain-free implementation. If you are not using GTM ( you should start :), it is great! ) just copy your snippet into your website code below <head> on every page you wish to record on.

Set the start and success URL.

Create tasks and scenarios – 

just copy/edit our provided example if you want to start testing in a matter of minutes!

 

If you need to write one yourself take a look at our explanation and guidelines above.

Set your options – 

UXtweak offers a lot more than just measuring tasks completion

. You can find more about your options in Tasks Tab and how to use them here.

Prepare 

questionnaires and customize messages

 – 

UXtweak comes with already prepared messages and instructions, to save you time. They 

are

 

fully customizable

.

Finish the study setup – 

choose what information you want to collect, add your branding, set up a recruitment widget, and the setup is finished.

Recruit participants 

and you are ready to

 launch the test!