At its core, UX research is all about people. If you want to know how people feel about your product, you'll need to study how they use it. But since there is no automated service that can reliably score the usability of your website, you'll need to test it using real people. But how do you find and motivate people to participate in your study? 
This is why we decided to give you a helping hand and become your guide in the world of UX research recruiting. Read through this article and find out everything you need to know about recruiting participants for your study! 
Whom should you recruit?
There are two options that you'll need to choose between. One is to research the general population as a whole, while the other is to find specific individuals who share certain skills or characteristics and represent your target audience. Let's take a look at both of them to help you with your decision: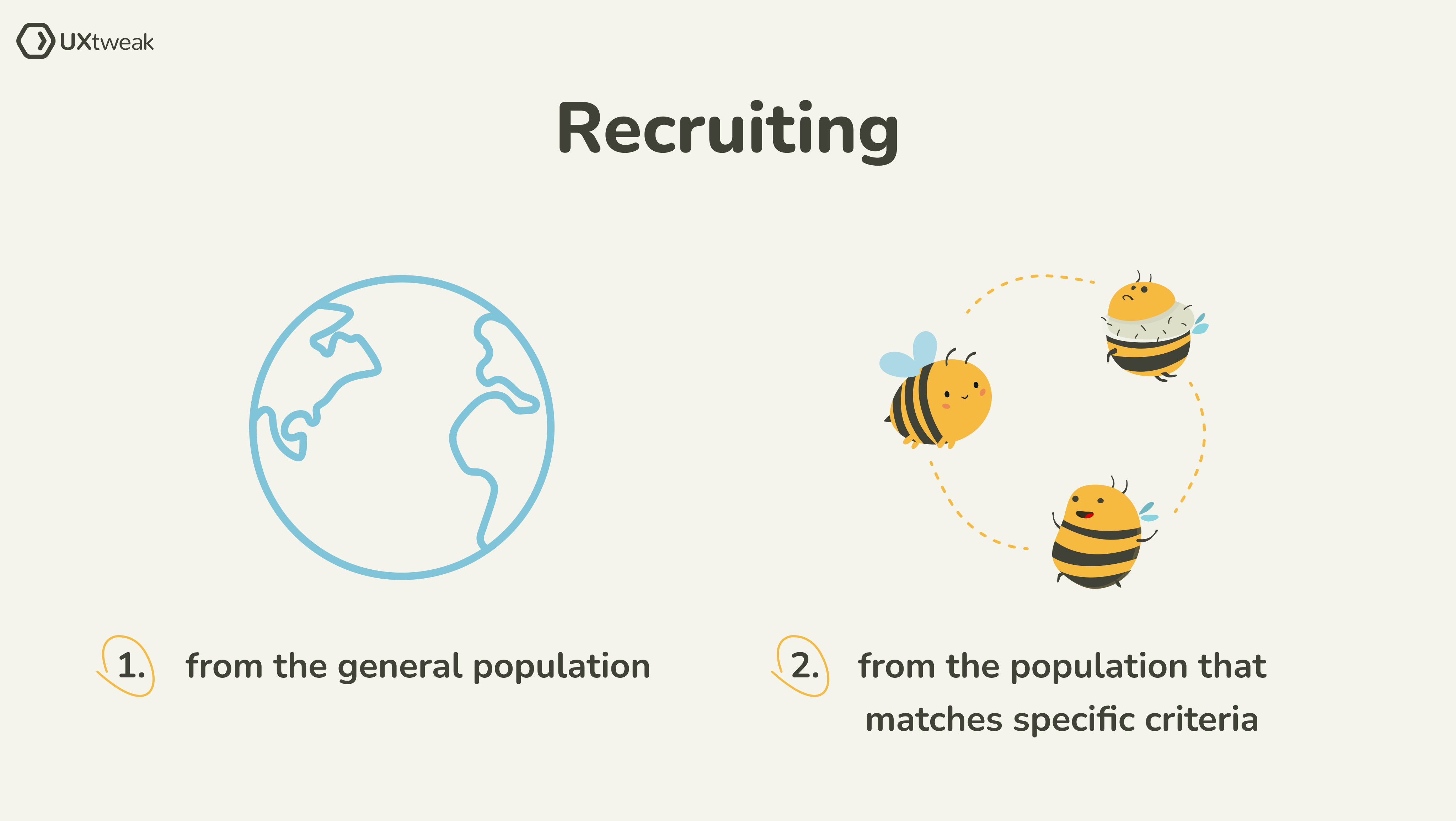 Using the general population for your UX research
This option is as broad as it gets. Since anyone can take part in your research, you'll need to make sure that the service or product you are providing meets the minimum of understanding for everyone. 
Here are a couple of examples:
You are a big company that runs a chain of supermarkets and you need to make some adjustments to your website. Therefore, you won't need to invest your money and time searching for a specific sample of individuals, since anyone can shop at your supermarkets and your site will be visited by your customers. 
Or, you are a starting company which is introducing a new product to a new market. Researching through the general population will help you find a group of people that resonates the most with your product, and they will thus serve as the target audience for your product. Down the line, this will provide insights into groups of individuals that you can target your advertising to. 
Using a population that matches specific criteria
This option can serve as an add-on to your first general population study, but can also be used as a standalone study if you already know the specific audience you want to target. These criteria can range from specific demographics, gender, an area in which they live, their interests, or anything you believe is important to you or your product/service. 
Let's look at an example: 
You are an IT professional starting your own IT consulting business, so you cater to other IT professionals who are willing to hire you. Therefore, you don't need to test the website on the general population, because they most likely won't have any use for you – you need to test the website on IT people, since they are the ones who might be interested in IT consulting.
Specific group testing is used in many other scenarios as well, you just need to assess whether it would be beneficial in your case. 
How many participants do you need?
According to The Nielsen-Norman group, trusted UX professionals, most of the time you won't need more than 5 participants for your study. Having five individuals should be enough to reveal most of the usability problems on your website. 
However, 5 testers is not an ultimate magic number for every study. Some studies need to be smaller, some of them bigger. This always depends on the UX research method you choose, as well as the type of insights you expect to gain from it. 
For example, some quantitative studies require a bigger number of respondents just for the results and statistics to be accurate. At the same time, 3 usability tests may be more than enough to uncover a basic usability issue on your website. Therefore, it always depends on the given situation.
Where can you find people for your research?
There are many ways to recruit the right people for your UX research. Let's look at some of the most popular ones:
Use your customers
This strategy is comparably cheaper than using recruitment agencies, but can also be a tricky one to pull off, especially when you are just starting your business and still don't have any customers to your name. One way of finding participants is through email. For example, send a link to your newsletter to followers asking them to participate in your study for some kind of reward. 
Another effective UX recruiting strategy is to turn your real website visitors into respondents. UXtweak Recruiting widget offers exactly that without all the hassle of email sending. All you need to do is install the snippet to your website (the setup process is super easy) and recruit participants from there, asking them to help you with your study for a small reward. It's a great way of recruiting targeted users without having to pay tons of money for it.
Here's how it looks from the user's perspective: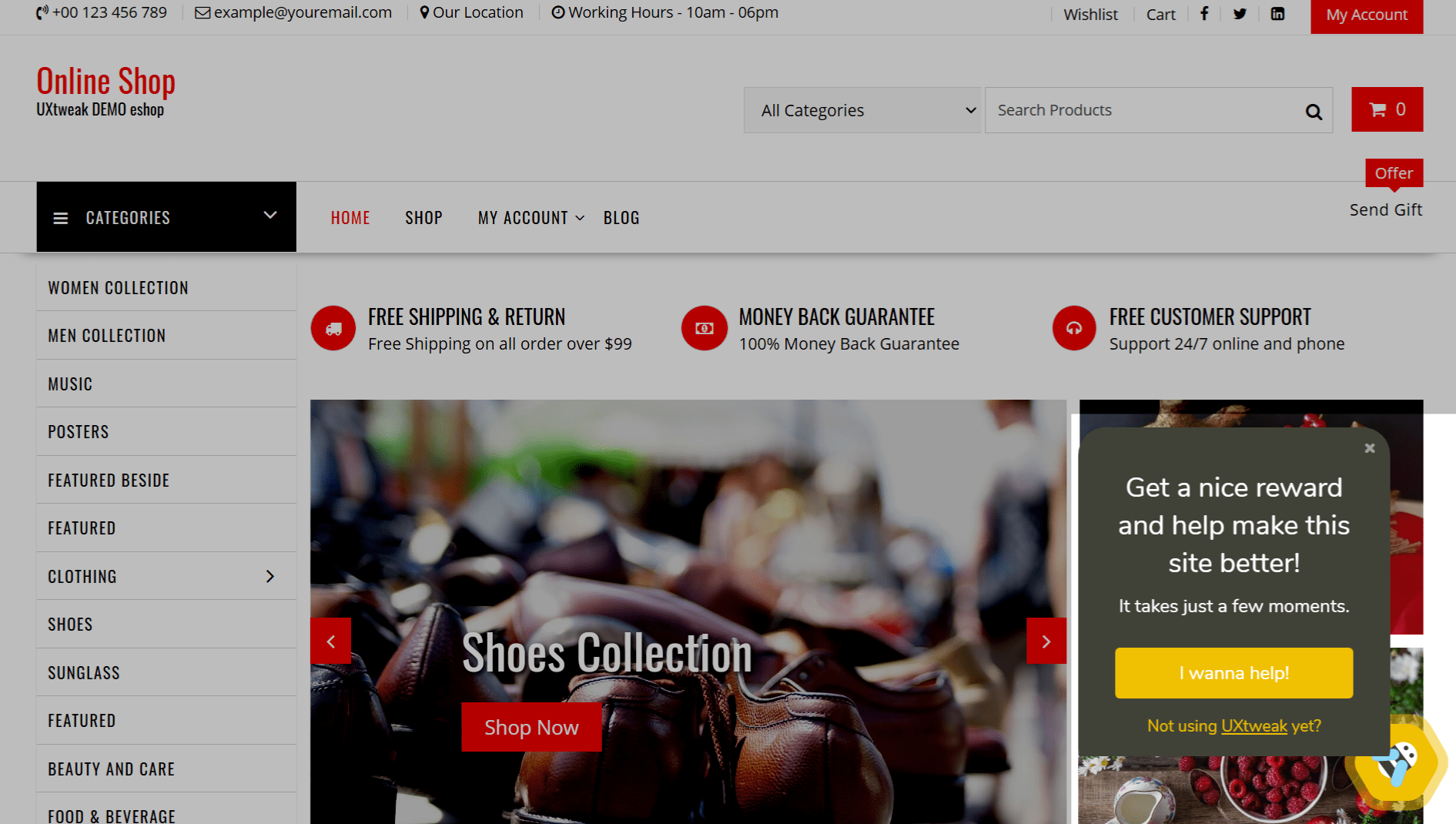 Posting on social media
Try to reach out to potential testers through your social media outlets. This strategy is a cheap way of reaching a broad pool of users. If you are a company with active followers, this tactic may prove quite beneficial. 
Alternatively, you can join online communities on Slack or FB and let people know you are recruiting. Another option is to pay for advertising and build up your number of testers there. Ads on Facebook, Instagram, or Twitter are notoriously on the cheaper end of the spectrum, and as a bonus, you can choose which people you want to target. If done correctly, this is a cost-effective way of recruiting participants. 
Recruit internally or add family and friends to the mix
Recruiting internally or asking family and friends to contribute to your study is a free way of getting more testers. In some cases, it could potentially work, but remember that the family bond is stronger than UX study could ever be. It's hard to avoid bias when testing with your mom. The same goes for coworkers as well.
Recruitment agencies and panel companies
Recruiting this way is naturally going to be costly, but these companies have a wide variety of participants at hand, so they can deliver the right people needed for your research. But for good measure, double-check how credible the company really is.
Costs of UX research recruiting
The cost of recruiting varies immensely. It depends on numerous factors, such as the strategy chosen, the number of people you want to interview, whether the study is conducted in-person or remotely etc. Let's give you some price comparisons so you can make an educated decision. 
Recruiting agencies
There is no definitive answer of knowing how much it costs, because every company behaves and charges differently with no set pricing available on their websites. Vernon Research Group states that an online survey for a case study can cost you anywhere between $15,000- $50,000. This is, of course, just an estimation. Recruiting from such agencies can be beneficial for big companies that don't have in-house researchers, however, this method is definitely not for everyone.
Recruiting through user panel company or a tool
This option is less costly, but still pricey for small and starting companies. User Interviews Starter plan will cost you $175 per month and the SurveyMonkey Advantage plan starts from $30/per user/month. UXtweak also has a user panel with 155M+ testers worldwide. We try to make recruiting as affordable as possible and charge $5/per user, so this might be a great cost-effective option for your research.
Recruiting for free
There are more than 6 ways of recruiting respondents for free. This will, of course, require a bit more effort, but why not at least give it a try? Learn more about free options for recruiting testing participants.
How to motivate users to participate in your research?
Try to show users how important their participation in the study really is by explaining why you need their help and how it would benefit your product. Don't forget to always motivate them through a coupon or a discount on their next purchase. Simply said – offer some kind of value for them too. This kind of motivation not only works effectively, but at the same time, makes your study more shareable. 
Pro tip: If you've noticed that people often begin the study, but don't complete it all the way, try to make the number of tasks smaller. If people give-up on a study halfway, in most cases it means that it's either too complicated or too long. 
Feeling ready for recruiting? 
We've told you everything you need to know about UX research recruiting, however, your story doesn't end there. Go ahead and conduct your first study while we make sure you are always provided with high-quality respondents. 
Don't hesitate to try our Recruiting Widget or the cost-effective User Panel. They will come in handy when you need them the most. 
Happy recruiting!