UX writing can take on many forms: blog posts, website copy, product documentation, white papers, even software user manuals. However, it all starts with clear communication between a designer or developer and their audience — the one who will use their product or service in the future.
What is UX writing? 
UX writing creates clear, concise, and compelling language for user interfaces. It involves crafting the words and phrases users see and read when interacting with a product or service, such as error messages, calls to action, and navigation labels. It's a craft that has been around for more than a decade, yet it's continuously evolving.
UX writing aims to help users understand and complete their tasks as easily and efficiently as possible.
In essence, UX writing is about solving problems for your customers. As a product designer or manager, you can influence how your product works, what it does, and how it can improve users' lives. You're in charge of defining the user experience (UX) from beginning to end — from conception to delivery.
If you're familiar with the term "user experience," it's probably because you've heard someone describe it as "the sum of all interactions between humans and machines." This definition is a bit fuzzy; think about how much work goes into designing websites or mobile apps, for example. Here at UXtweak, we believe that UX is more than just designing a product or app; it's about taking the time to do the research needed to create an amazing product. 
How is UX writing different from content writing?
While content writing focuses on developing interesting and educational written content for a variety of mediums and audiences, UX writing is concerned with producing a clear, user-friendly microcopy that directs users through digital products.
In a nutshell, UX writing focuses on assisting users in navigating and comprehending digital products, whereas content writing focuses on delivering informative and entertaining written content for a wide range of people.
Why is UX writing so important?
Good UX writing can significantly improve the user experience and increase customer satisfaction. It can also help establish brand voice and identity, since the language used in a product can reflect the values and personality of the company.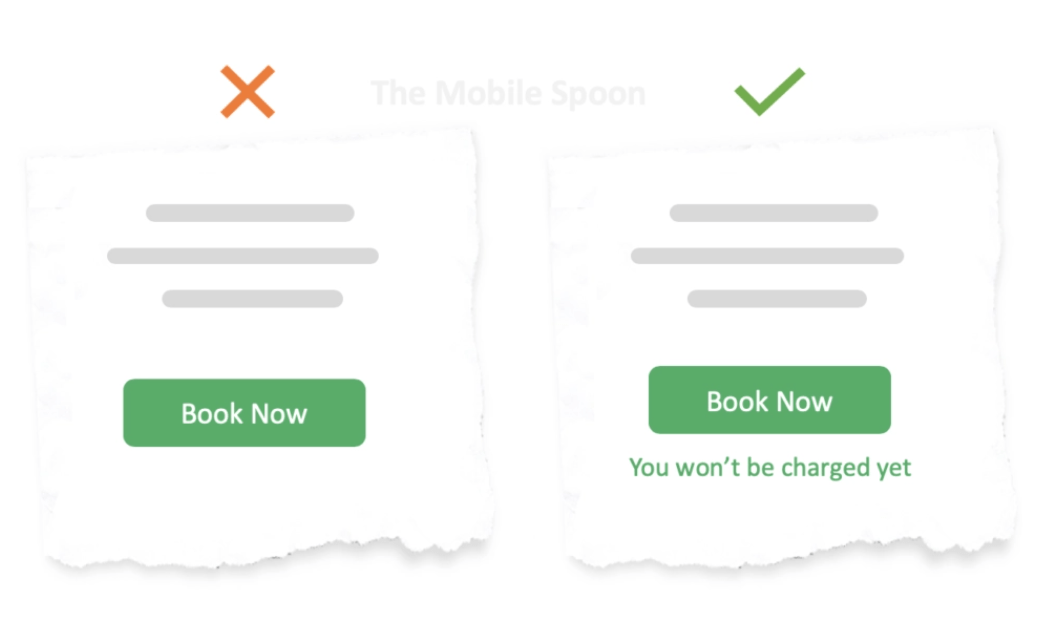 Here are some reasons why UX writing is so important:
Improving the user experience
UX writing plays a crucial role in the overall user experience of a product or service. By writing clear, concise, and easy-to-understand content, UX writers help users navigate and interact with the product or service more smoothly, thus leading to a better user experience.
Good UX writing helps users understand how to use a product or service intuitively, which consequently enhances usability. This reduces frustration and increases satisfaction with the product or service.
Providing context and guidance
 UX writing helps provide context and guidance to users, helping them to understand the purpose and function of different features and elements within a product.
UX writing can also help increase conversions by guiding users towards specific actions, such as making a purchase or signing up for a service.
Building trust and credibility
Clear and accurate UX writing can help build trust and credibility with users, which is particularly important for businesses that rely on customer loyalty.
The UX writing process
The UX writing process typically begins with a review of the user's needs and goals. This involves analyzing user data and conducting user research to understand the product's context and the challenges users may face. Based on this information, UX writers create content that guides users through the product and helps them achieve their objectives.
As part of the UX writing process, writers also work closely with designers and developers to ensure that the language used is consistent with the overall design and functionality of the product. They may also collaborate with other stakeholders, such as product managers and marketing teams, to ensure that the language used aligns with the company's messaging and branding.
The UX writing process typically involves these 4 steps:
1. Research
The first step is for UX writers to familiarize themselves with the target audience and the goals of the product. It usually involves user research, stakeholder interviews, and analysis of competitors.
2. Content strategy
UX writers work with designers and other team members to create a content strategy that aligns with the overall product goals and brand voice. This may include creating a content inventory, defining tone and style guidelines, and identifying content priorities.
3. Content creation
During this step UX writers write the actual content that appears in the product, including headlines, labels, error messages, and in-app copy. Designers work closely with them to ensure that the content is visually appealing and easy to understand.
4. Review and iteration
As UX writing is an iterative process, writers should expect to review and revise their work multiple times before it is finalized. This may involve testing with users or gathering feedback from team members.
Responsibilities of a UX writer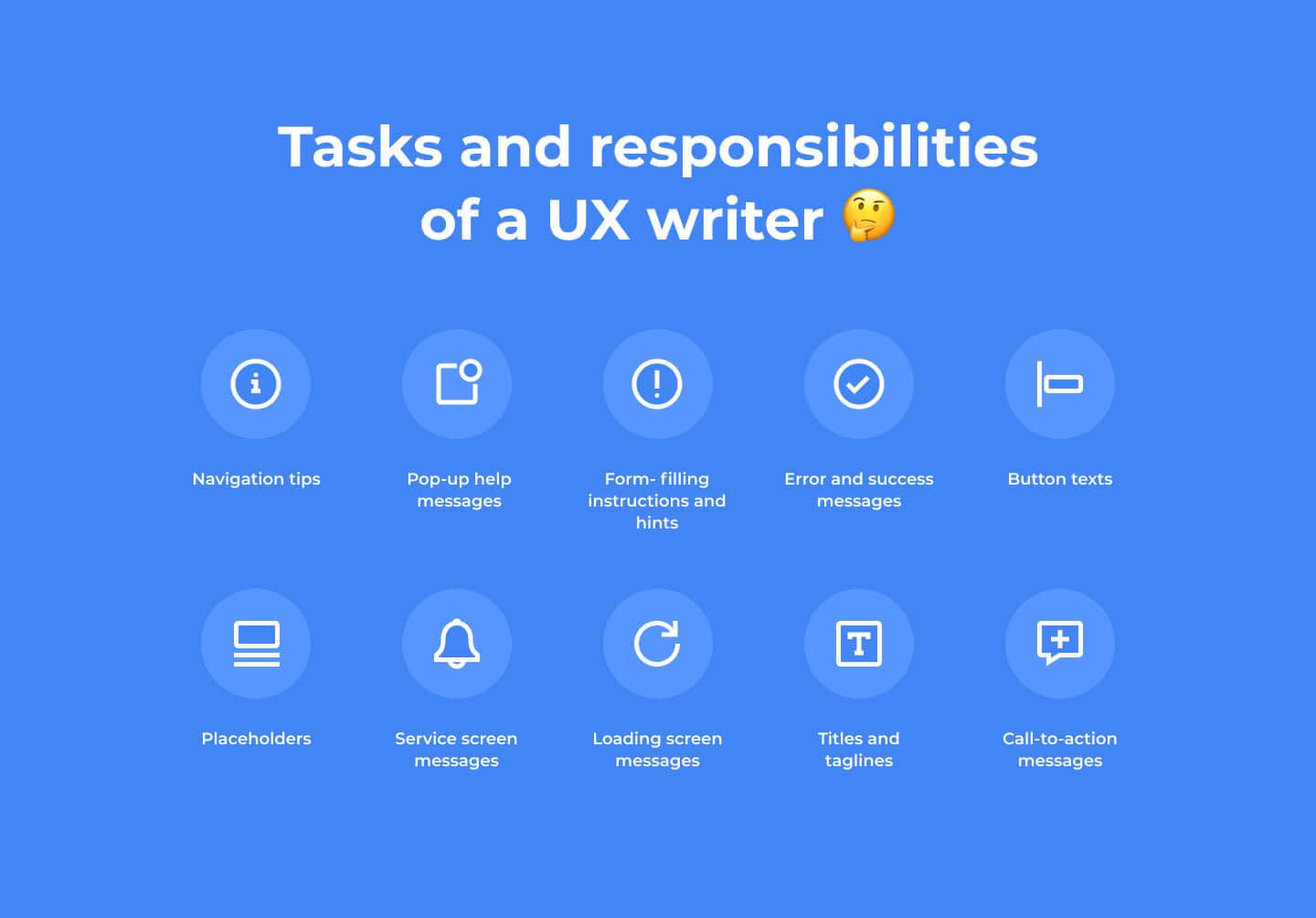 UX writers create and refine the written content users encounter when interacting with a product or service. This includes user interface text, error messages, in-app copy, and online help documentation. A UX writer's goal is to create clear, concise, and easy-to-understand content, helping users navigate and interact more smoothly with the product or service.
Some of the responsibilities of a UX writer include the following:
Crafting user interface text
UX writers create text on interfaces and their elements, such as buttons, menus, and error messages. They ensure that this text is clear, easy to understand and helps users successfully achieve their goals with the product.
Developing in-app copy
Another responsibility of a UX writer includes creating the copy that appears within the product or service, such as in-app messaging, tooltips, and help documentation.
Collaborating with design and development teams
UX writers work closely with design and development teams to ensure that their written content aligns with the product or service's overall user experience and design.
Conducting user research
They are closely involved in conducting user research to gather feedback and insights about the effectiveness of the written content they create.
Managing content style guides
UX writers may be responsible for developing and maintaining content style guides, which outline the tone, style, and formatting guidelines for the written content within a product or service.
How do I learn UX writing?
Take online classes:

Udemy, Coursera, and Skillshare, among others, all offer a variety of online courses with a focus on UX writing.

Read books:

"Don't Make Me Think" by Steve Krug and "Microcopy: The Complete Guide" by Kinneret Yifrah are two publications that can help you learn more about UX writing.

Join a community:

An excellent approach to learning from experts in the area, sharing resources, and receiving comments on your work is to join a community of other UX writers. The UX Writing Hub and the Content Design & UX Writing community on Facebook are just two examples of the numerous online communities devoted to UX writing.

Obtain practical experience:

Writing for actual products will give you the best chance of learning UX writing. To put your abilities to use, look for an internship or volunteer opportunity.

Study design, user research, and testing principles:

These are essential for comprehending the user's requirements and figuring out how to write in a way that is understandable and beneficial to them.

Study the rules of effective narrative and writing:

These are crucial abilities that will help in your ability to write compelling microcopy.

Finally, always be willing to experiment and receive feedback in order to learn new things and develop your talents!
Final thoughts
From crafting user interface text to developing in-app copy and conducting user research, UX writers are responsible for creating and refining the written content that users encounter. Creating clear intuitive labels, UX writers help improve usability, provide context and guidance, facilitate conversions, build trust and credibility.
Register for your free account at UXtweak, a UX research platform that helps brands understand their users and improve their experience. With UXtweak, you can gain valuable insights and feedback from real users, helping you to create better products!