At this moment, there are a bunch of user research tools on the market. Every one of them offers different features and sometimes, it can be difficult to choose the right tool for you. In this article, we would like to compare two user research tools – UXtweak and Optimal Workshop.
Both UXtweak and Optimal Workshop aim to substitute usability testing in UX labs by remote user testing. They offer their users multiple features, and filters to obtain the most relevant data for each study. However, each of these tools offers a different set of features.
The main focus of the tool
UXtweak and Optimal Workshop are both usability testing tools, meaning that they aim to make your website as user friendly as possible. Their focus, however, is quite different. 
UXtweak is a more complex usability testing tool. As we are going to see in this article, its range of features is very diverse and thus suitable for the earlier development stages as well as the later ones. Thanks to this fact, UXtweak is your go-to tool for every stage of your website's lifecycle. 
Optimal Workshop's focus is much more narrow. Its features are focused primarily on the website architecture and thus for the early stages of website development (for example prototype testing).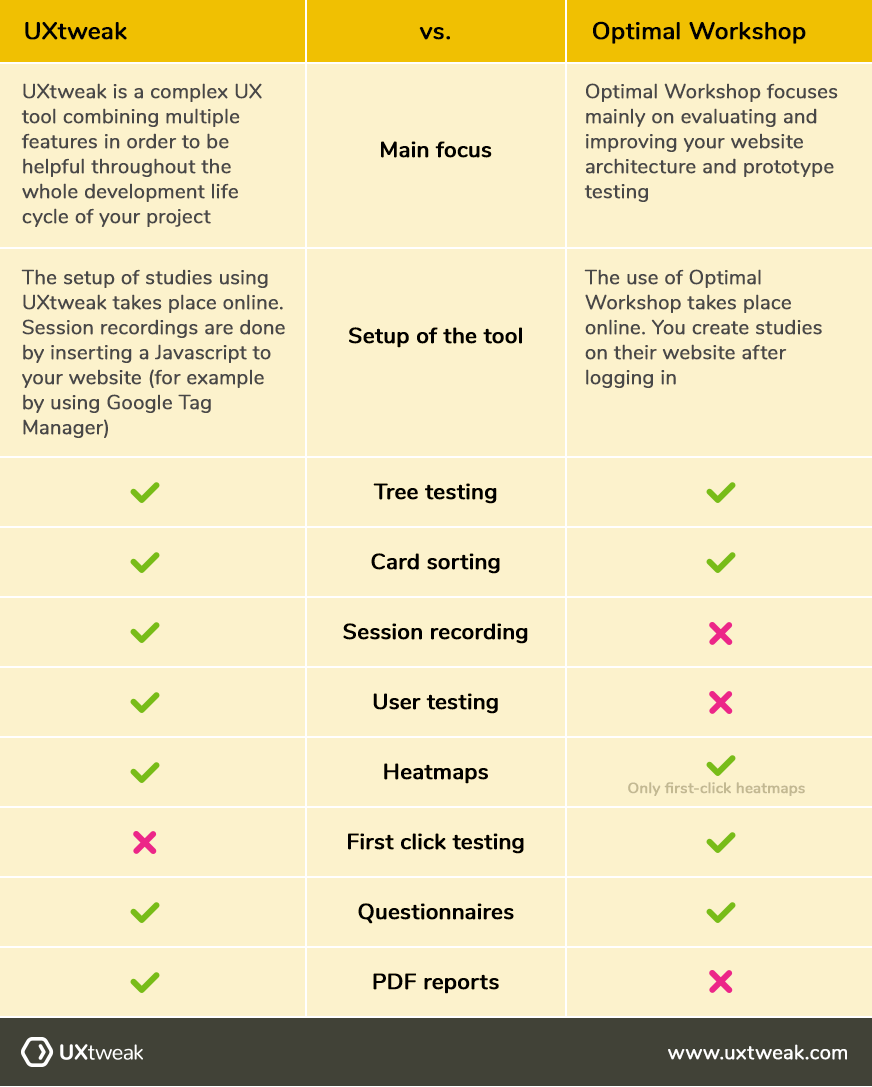 Card sorting
Card sorting is a frequently used method to help web designers better understand what the best information architecture for their potential customers is. During a card sorting session, respondents are given "cards" with various topics and they are asked to organize them into categories that seem logical to them. There is no expected way to do it, it is completely up to each individual how he or she will organize the topics.
There are three types of card sorting, all of them provided by UXtweak – open card sorting, closed card sorting, and hybrid card sorting.
Open card sorting:

your respondents do not only organize topics into categories that seem logical to them, but they also create the categories. This gives you a good idea about which words describe each category most accurately.

Closed card sorting:

your respondents organize the given topics into predefined categories – they do not name them. If you are working with predefined categories, this gives you a good idea about how your potential customers perceive these categories.

Hybrid card sorting:

this option combines the best of Open and Closed card sorting and it

can be used to validate an information grouping strategy while still leaving respondents room for free expression.
After finishing your study, UXtweak allows you to filter your respondents based on factors such as time taken to finish the study and the number of categories. It also analyzes the results for you, giving you insights about what categories your respondents created, which cards they sorted into each category, or which card groupings had the strongest agreement.
Optimal Workshop offers, similarly to UXtweak, the open and closed card sort. The study, moderated or unmoderated, is easy to set up and the results are analyzed straight after finishing the study. However, Optimalworkshop does not offer the hybrid card sort, this option remains unique to UXtweak.

Tree testing
Let's say you conducted your card sorting study. Now what?
A great option to evaluate the category structure you created, whether by the help of card sorting or not, is tree testing. In a tree testing session, respondents are presented with a branching (tree-like) structure. Here, the tasks are more specific. The respondents are asked to find specific information within the menu. Thanks to obtained results, you can then evaluate where users get lost, whether category names make sense to them, and if category hierarchy matches user expectations.
UXtweak offers you three options on how to create your tested tree. You can:
build a new tree in a straight-forward editor

import the tree from a spreadsheet

load the tree from your website
The study is fully customizable and it allows you to use questionnaires to screen out respondents, to collect additional comments and feedback, and to segment respondents later based on their attributes.
The results you obtain after finishing are designed to give you quick, actionable insights and enable you to delve deeper into the data. You can see how users move through the navigation menu – including where they got stuck. 
Optimal Workshop also has the option of conducting an unmoderated tree test study. You can adjust the tree structure as you want, but you have to do it manually. After conducting the study Optimalworkshop analyzes the results for you and you can also filter the respondents according to several criteria such as time taken to finish the task or the success rate of your respondents.
Session recording
Congratulations, you successfully created categories for your topics and even after conducting a tree testing study, it seems like users can find what they are looking for in the navigation menu. Now, it is time to implement the results directly to your website. But the work does not stop here – you should be able to see how users behave on your website.
One of the best ways to evaluate this is session recording which is part of  UXtweak platform.

The

session recording tool

allows you to record and watch how visitors on your website interact with it and whether they are experiencing any problems.

Session Recording

 records every respondent's journey on your website and provides heatmaps, activity tracking, and statistics which

helps to understand

how your regular visitors see your website, if they are confused by something or if they find something to be unclear.



Analyzing hours of recordings can be exhausting. Luckily, Session Recording' feature SmartSearch allows you to skip sections of inactivity, watch sessions at double or quadruple speed, and directly seek out the important events on the timeline. Session Recording also gives you important insights into your respondent's behavior such as success rate, time of completion, and lostness. 
Optimal Workshop does not offer session recording. This means that these benefits only come with UXtweak.
User testing
Sometimes, you might be experiencing a specific problem on your website such as the number of visitors subscribing to your newsletter being too low. In such a case, using UXtweak's user testing tool Website Testing may be a great option to understand why that is happening. At its core, it is very simple. The respondents are asked to complete a task – sign up for a newsletter, fill out a form, make a purchase, or simply find something on the website. If they manage to do so, they complete the task.
Website testing

is for task-oriented session recording or user testing. When using this feature, you set up a task directly on your website – you can for example ask your visitors to make a purchase, sign up for the newsletter or perform a certain action. Then you just watch them complete the given task. You can record mouse movements, scrolls, clicks, and keypresses on your web. These insights allow you to uncover confusion, uncertainty, and hesitation of your users which is valuable information for improving your website's usability.
Optimal Workshop does not offer you this option, thus these benefits are exclusive to UXtweak.
Heatmaps
Another efficient way to evaluate how respondents behave on your website is to use heatmaps. Heatmaps are a visual representation of all the data you gathered. By using different colors, ranging from warmer colors such as red and orange to cooler colors such as green and blue, heatmaps show you what parts of your website people focus on the most – where they clicked, tapped, moved their mouse, etc. The visualization makes it easier to understand large amounts of data.
Both UXtweak and Optimal Workshop offer heatmaps, however, they are slightly different. UXtweak offers you pretty complex heatmaps with the visualization of mouse movements, mouse clicks, and taps. UXtweak also offers you scroll maps, which is a variant of heatmaps showing how far down the visitors have scrolled down the page. 
Optimal Workshop offers a different type of heatmaps. A part of their first-click testing is click maps – heatmaps, that visualize where users click the most often after landing on the website. This gives you numerous insights needed to make a website intuitive and efficient, however, the tool is limited to testing where on an interface people would click first to complete a task.
First-click testing
First-click testing is another type of usability testing, allowing you to evaluate the effectiveness of the linking structure of your site. First-click testing examines what a respondent would click on first to complete a certain task. This might seem to be of little importance, but statistics show that 87% of people who find themselves on the right path after the first click will successfully complete their task.
This tool is only offered by Optimal Workshop, UXtweak does not offer this feature. With Optimal Workshop you can conduct a range of first-click activities to get insights needed to improve the usability of the website. Understanding how your respondents interact with your website gives you the ability to adjust it. Only that way will your respondents be able to understand it immediately.
Questionnaires
Thanks to all the features described above, you already have a fair picture of how visitors feel about your website and how they interact with it. But even if you used every single tool we spoke about, you still only see data – actions, clicks, scrolls, etc. To know exactly what people think and how they feel about a certain thing, you have to use questionnaires. 
Both UXtweak and Optimal Workshop offer a very similar set of questionnaires. To begin with, both of these tools offer you the option of using screening questions. Screening questions enable you to "choose" the right people for your study – you can for example ask respondents about their gender if your study is primarily targeted at women. This way, you only get relevant results and save everyone's time.
UXtweak and Optimal Workshop also allow you to ask questions before and/or after the study and even after each individual task. You have multiple options when creating the questions: full-text questions, single and multiple-choice questions, or the Likert scale. Answers to these questions are valuable feedback that helps you understand what exactly each participant is thinking.
Respondents recruitment
Alright, you managed to set up the perfect study. But if you want to get some valuable results, you need someone to participate in it. You need independent and objective people to complete your study and you want them to be as similar to your real customers as possible to get the most relevant results possible. But where to find them? To answer this question, UXtweak and Optimal Workshop have very different approaches.
UXtweak offers two ways to recruit respondents for your study.

The first way of recruiting respondents with

UXtweak

is using a

recruiter widget

. Inserting the widget into your website turns visitors into study respondents after they click on the widget. Y

ou can also provide testers with an incentive in the form of

coupons

after they complete a study.




The second option is to

copy a link

generated for each study – you do not have to install any additional software or browser extension. You can send this link to your existing contacts, users, or customers, or you can simply post it on your social media. After clicking on this link your respondents will be automatically redirected to the study. 
By using these methods, UXtweak manages to target the most relevant group of people – your real (potential) customers and real visitors of your website. These people give you the most relevant results and thus the best conditions for improving your website. And what is also important, these methods are free and will not burden your budget. 
In addition to these two options, we are currently working on our own respondent panel to broaden the range of your possibilities. It's coming soon, stay tuned!
Optimal Workshop decided to take a different approach here. They also offer you two different options on how to recruit your respondents, but they are not completely the same as with UXtweak.
Firstly, and similarly to UXtweak, Optimal Workshop gives you the possibility to send your respondents a study link which will redirect you to the study after clicking on it. 
Secondly, Optimal Workshop promises you access to their panel of more than 50 million participants. Using "their" participants you only have to place your recruitment order through their app and you can expect results to come in in just 4 hours.
This recruitment method is, however, paid. Optimal Workshop promises quality responses (if you come across junk data in your responses, or perhaps a participant who didn't complete their study, they will replace them with another participant for free) but with the price starting at $10, it can be heavy on your budget mainly if a bigger amount of participants is needed.

A negative aspect of using a participant panel is that they are not real users of your product. They are paid testers who most of the time don't accurately represent your users and their expectations and thus the data you obtain are not as accurate as they could be.

Free trial
When you are making an important decision, you should have all the information possible. At UXtweak we understand that every single detail matters and can influence your final decision. That is why we decided to offer our potential users the opportunity to try out our Free Plan, where you will be able to try out everything UXtweak has to offer. 
With Optimal Workshop, you do not have this possibility. If you want to have the full experience of what Optimal Workshop has to offer, you have to go and buy it straight away.
Pricing
Before we get to the paid plans of UXtweak and Optimal Workshop, let's see what they offer for free.

Both of these tools offer free plans. With the free plan from UXtweak, you have access to all the main features. You have unlimited studies, unlimited data storage, and 2 teammate seats. You have 1 active study domain, however, the number of session recordings is limited and so is the number of respondents per study, tasks per study, etc.

Optimal Workshop's free plan also enables you to try out all of their main features but just as with UXtweak, there are major limitations on the number of tasks and participants per study. 
Now let's see what the paid plans have to offer.

UXtweak's Professional plan costs 150€ ($180) per month if billed monthly and just 90€ ($108) per month if billed annually. For this price, you get unlimited tasks, 3 months of session storage, 30000 session recordings per month, and 3 teammate seats. You can also use 2 active study domains. Also, do not forget that you qualify for a 50% discount if you are a non-profit organization!
UXtweak also offers plans for agencies and enterprises with higher numbers of session recordings per month, teammate seats, and active study domains. To get a pricing offer for these plans you have to contact the UXtweak team.
Optimal Workshop offers you two kinds of paid plans – the Individual plan and the Team plan.
The Individual plan has a fixed price of $199 per month. It can be billed monthly or annually and it offers its users unlimited tasks, studies, questionnaires, and responses.
The cheapest option for the Team plan costs $153 per month and is billed annually. Besides the benefits offered by the Individual plan, you get, among other things, 3-5 seats, free credit for the participant recruitment panel, and a discount rate for extra participant recruitment packages.
You can increase the number of seats up to 20+ seats, the price rates are only available on request. With a higher number of seats, you also get more participants for free and a bigger discount rate for extra recruitment packages.
Conclusion
So what is the outcome of this?
UXtweak and Optimal Workshop are two very similar usability testing tools. They offer multiple features to help you evaluate what the best solution for your website is. 
Both tools offer card sorting, tree testing, questionnaires and both of them analyze your results. Optimal Workshop offers you first-click testing on top of that, which UXtweak does not. UXtweak on the other hand offers you a big advantage in the form of session recordings and user testing. These features are not offered by Optimal Workshop. 
If billed annually, UXtweak is also definitely the cheaper option. By choosing UXtweak over Optimal Workshop you are saving almost $40 per month. Mainly for smaller businesses, this could be a significant amount.

The final choice is up to you. If you want a first-hand experience of UXtweak, go ahead and sign up at uxtweak.com!
Reviews
If you still hesitate, maybe some reviews from our customers will convince you. 
"UXtweak has quickly become an invaluable part of our user research and testing process, offering a suite of powerful and easy to use tools that have allowed us to uncover numerous actionable insights from our users – at a very competitive price."
– Miles Taylor, UX manager, University of Bristol
"We used UXtweak task-oriented studies on our campaign landing pages. Thanks to the results, we have a better understanding of our user's behavior. We have the resources to improve usability and communication on the site."
– Miroslav Kormos, Online marketing manager, VUB bank
"I appreciate the intuitive interface. After a few minutes of getting familiar with card sorting in UXtweak, I was able to create my own study and sort out the relevant data. It's a relatively new tool but things are well thought out and tuned."
– Peter Varga, Project Manager, Elite Solutions