There's a long way ahead of you, but we believe that you can do it. We are here to guide you through all the steps you need to take in order for your website launch to be successful. So sit back, don't forget to take notes and let's get started. 
Here's a short summary of the main points: 
Carry out a keyword analysis

Get a grasp on your information architecture

Prepare your prototype

Test and rework your prototype, if needed

Develop your website

Pick your domain name and hosting service

Publish your website

Test the usability, enhance UX and SEO
Carry out a keyword analysis
A keyword analysis is key (sorry about the pun). 
Keywords help you catalyze your website's content on search engines such as Google, Bing, or any other for that matter. It helps the end-user to find the right thing within millions of pages on the internet. 
Let's pick an example. 
You are a growing local business looking to build an e-shop, so your customers can find you and order from you online. In this scenario, you are a grocery shop in New York City. Your optimal keywords are "grocery", "delivery" and "NYC". If you have chosen words like "shopping," "online" and "local" your potential customers have a very slim chance of finding you, let alone buying from you. 
Do not underestimate this crucial stage of going online. Conduct your own keyword research. Take a look at your competitors' keywords and find better ones suited for you. There are keyword research tools on the web to help you with this, so find one that floats your boat and get into it. 
Get a grasp on your information architecture
Information architecture is in fancy words: the way your website will be structured. It also represents your navigation, menu labels, categories etc. What do you sell, where will your customers be looking for it, under what category is it sold, and so on. If you skip this stage or do it poorly, your customers will probably have trouble finding what they are looking for. On top of that Google or another search engine will rate your website as hard to read and with a low conversion rate. This automatically puts your website lower in the search results, therefore granting your competitors advantage over you. UXtweak has some great tools to help you make sense of the IA. 
Card Sorting tool is perfect for gaining insights on your categorization. For content or products, for example. It helps you find out what items should go together, what are the expected category labels and just overall structure the website in a way that makes sense for a user. 
Tree Testing tool is the ultimate next step. It allows you to test your IA and pin-point it's problems. If people might get lost trying to find something, tree testing tells you exactly where. 
These tools are truly a must for any website and you can't forget about them while building a brand new web. We don't always think as customers do and it's okay. With a couple of user tests you'll be able to create an intuitive navigation and stop worrying about your visitors getting lost.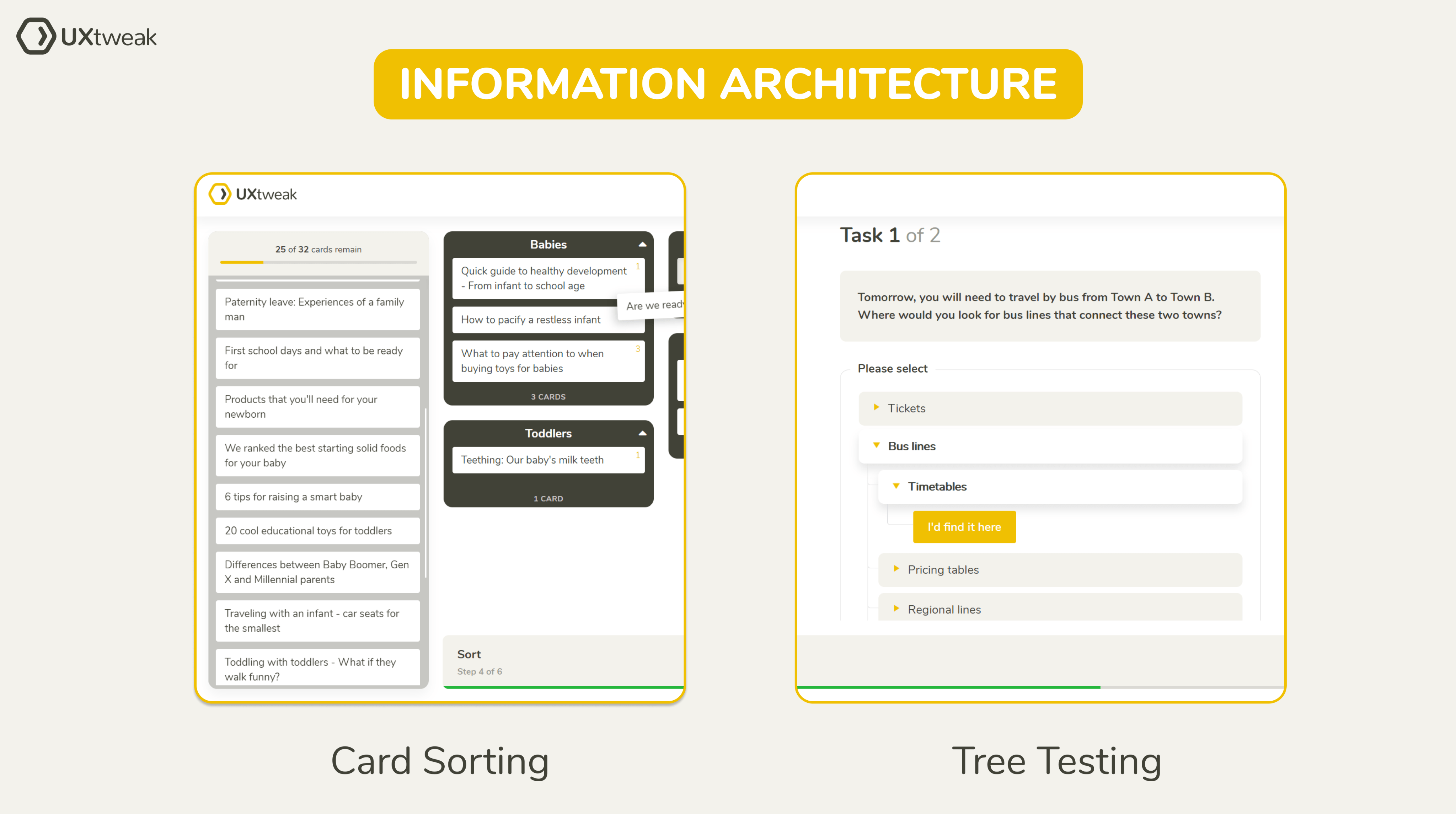 Prepare your prototype
So, with keyword analysis and information architecture done, you can move on and prepare your prototype. A willing friend with prior experience or a professional can do it for a fee. We recommend using Figma or inVision, but it's your choice really, I cannot tell you what to do.  
Test and rework your prototype, if needed
Prototype done, how great. However, that's not all. In order to make sure your website will be user-friendly and will lack usability issues you have to test the prototype first. This will save your time, money and nerves in the future. With our handy Prototype testing tool you can set up a  test for your designs in a matter of minutes. No need to upload huge files, you just need a link! 
Look at users interacting with it, find usability flaws, and help your design flow be as seamless as possible. If something feels dodgy or incomplete, come back to it and rework it, make necessary improvements. Nothing wrong with not having something done on the first try.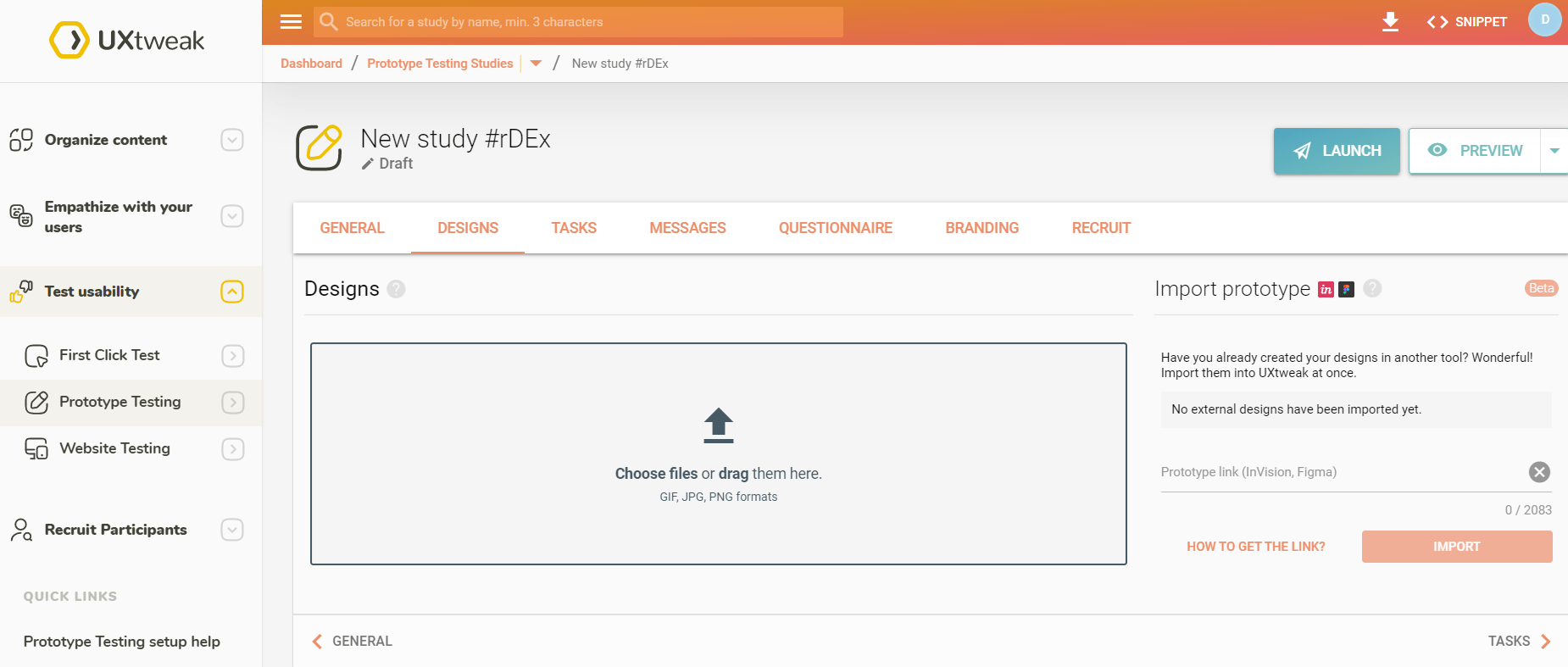 Develop your website
So, the time has finally come. You created a prototype, tested it and now you can finally develop it into its envisioned shape. Developing is slightly harder than creating a prototype, so if you are not fluent in Python, C, C++ or any other random combination of characters and syllables (otherwise known as programming languages) get a professional to do this. It costs a fair bit, but with them working on it, you'll see your site grow from scratch in no time. 
Or, as a cheaper alternative, choose a website development agency or maybe a website builder.  Some of the most popular ones are WordPress, Wix and Webflow, just to name a few.
Pick a domain name and hosting service
Oh my, you've come this far so fast, I am a bit proud of you. Now you need to pick a domain name and a hosting service. 
A domain name should be something that characterizes you, like your brand name or something similar to that. Hosting means having someone host your website on their servers, so everything will run smoothly and without interruptions, leaving you to worry about smaller things in life.
In addition to hosting and domain name, you also need a theme to make your site well designed. In case you are creating a WordPress eCommerce site, you will need the fastest WooCommerce theme and set up the payment system for your store, such as Paypal, Stripe, and WooCommerce Apple Pay.
Publish your website
Here we go Houston, we are ready for take-off. You can finally publish it. You've come this far, enjoy yourself for a while, you have officially done it. Congratulations.
They grow up so fast, isn't that right?
Test the usability, enhance UX and SEO
However, it's not the end of the journey. Now comes the long-term part. You still need to test usability on your running website, so it's not stuck in 2003. Users' behavior changes every day and you need to adapt and make suitable adjustments. 
SEO needs constant attention as well, Google sometimes changes things, so be on the lookout for that. Competition is still alive and well, don't forget to bring something new to the table that will make you stand out. 
Work on your website, improve it. Our many tools can help. 
Congratulations, you're all set!
We have given you the information, now go and make us proud, build your website, flourish, become successful. It's all in your hands. 
If you want to learn more about UX, UI and many other topics don't hesitate to look at other of our blogs, we look forward to helping you in the future with our UX testing tools.