If you've come across this article,  then you've probably heard of UsabilityHub. But if you don't know what it is, we'll give you a quick overview. UsabilityHub is a remote user research platform established in Australia that, with the use of several research approaches, generates speedy customer experience feedback. Today we've compiled a list of the best UsabilityHub alternatives for you, evaluating their costs, benefits and drawbacks.
Reasons why people may pick UsabilityHub
UsabilityHub offers features such as First Click Test, Design Surveys, Preference Test and Five Second Test, after which you'll get written responses. With UsabilityHub, you have the option of either recruiting your testers or using UsabilityHub's built-in participant panel.
Why you might be looking for UsabilityHub alternatives?
The most significant downside of UsabilityHub is previously mentioned textual responses to your study questions, which makes it difficult to grasp your participants' true feelings.
Even though UsabilityHub provides good textual feedback, relying on it alone may hinder you from fully comprehending your usability issues because you won't be able to observe how the participants engage with your product.
Here is the list of UsabilityHub alternatives that provide you with more than just textual responses:
UXtweak

UserTesting.com

Lookback.io

Userlytics

Userbrain

Loop11
1. UXtweak 
UXtweak offers powerful usability testing tools for websites and web apps, from prototype to production, as well as information architecture research and user behavior analytics. This platform is one of the best UsabilityHub alternatives as it combines everything you need and more into one great spot. Its great features are Website Testing, Session Recordings with a click, move and scroll heatmaps generated any time, Card Sorting with open, closed and hybrid options, Tree Testing, 5 Second Test, First Click Test, Preference Test and Surveys.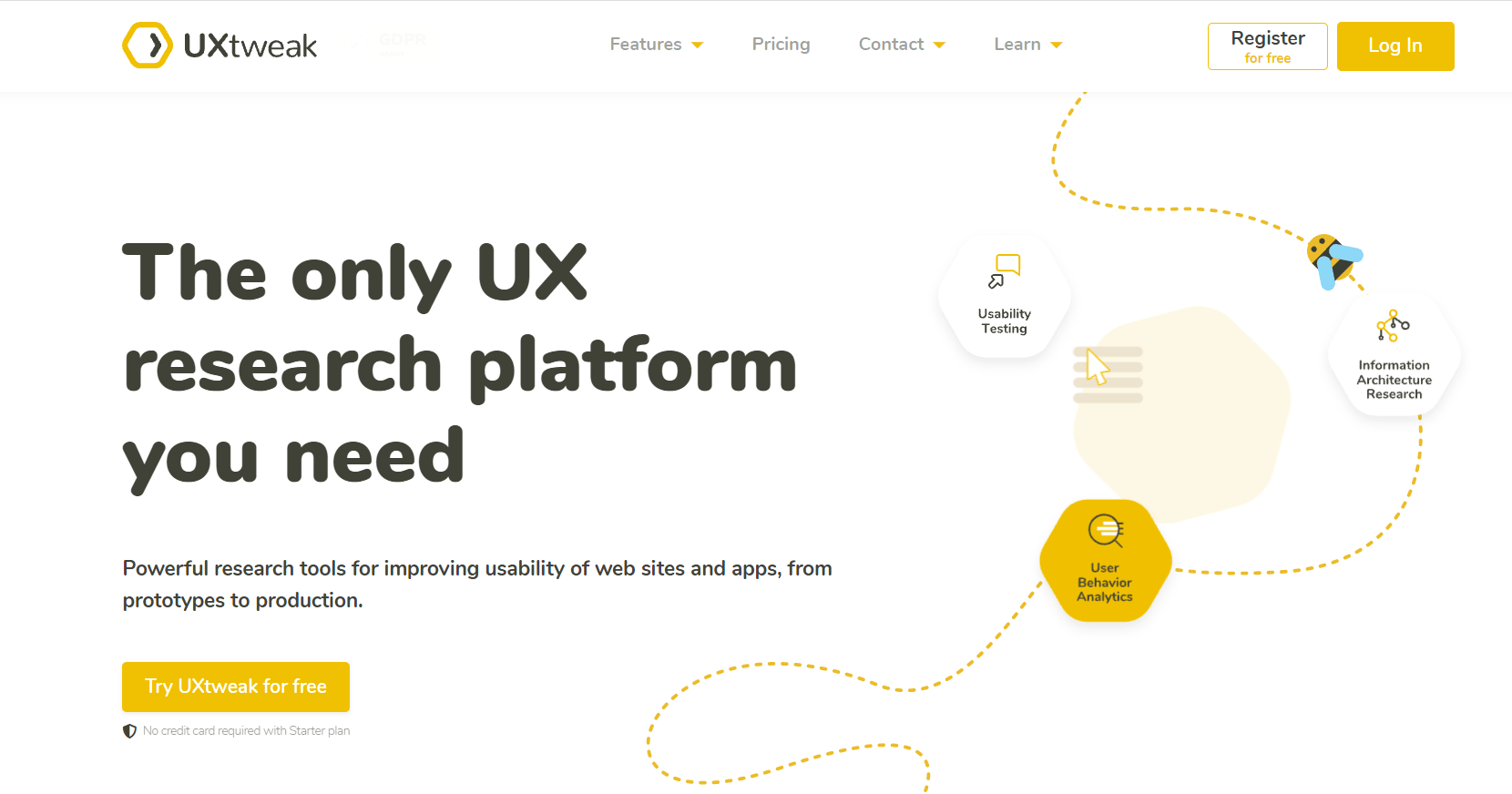 Advantages of UXtweak: 
Advanced analytics that are easy to understand – UXtweak offers a variety of data visualizations that will present you with a wealth of information about your users' activity. Furthermore, you may select your responders, making the analysis of the findings much easier
Many unique features – such as a Recruiting widget that converts real site visitors into website testers, a built-in reward feature that motivates respondents, a Think-aloud protocol that collects audio feedback using their microphones, or a Crowd Feedback feature that allows users to submit and vote for other people's ideas to improve the website, and so on

Unlimited tests – UXtweak allows you to test as many times as you like. For minor tasks, the free plan has an infinite time limit

Intuitive UI – even for a total novice, it's simple and easy to use
Disadvantages of UXtweak:
Supports only 10 languages
Pricing comparison:
UXtweak and UsabilityHub are on a similar price wave. Both offer a free starter plan, where UsabilityHub only offers Tests up to two minutes long while Uxtweak offers an unlimited number of live studies, with no study length limits, and it is great for small-scale projects. 
With UXtweak, you may also pick a pro plan for only 100€ per month or create a custom plan to fit your needs. According to these figures, UXtweak is one of the most cost-effective usability testing tools available, making it an excellent UsabilityHub alternative. 
Create a free account or try UXtweak's Professional plan!
2. UserTesting.com 
UserTesting was one of the earliest unmoderated testing platforms. It's a rather good platform for anyone looking for UsabilityHub alternatives. It has over 1.5 million members on its panel, according to their own data. Customers may get an extremely quick response and have access to a highly comprehensive platform with a lot of options for running and analyzing their user tests.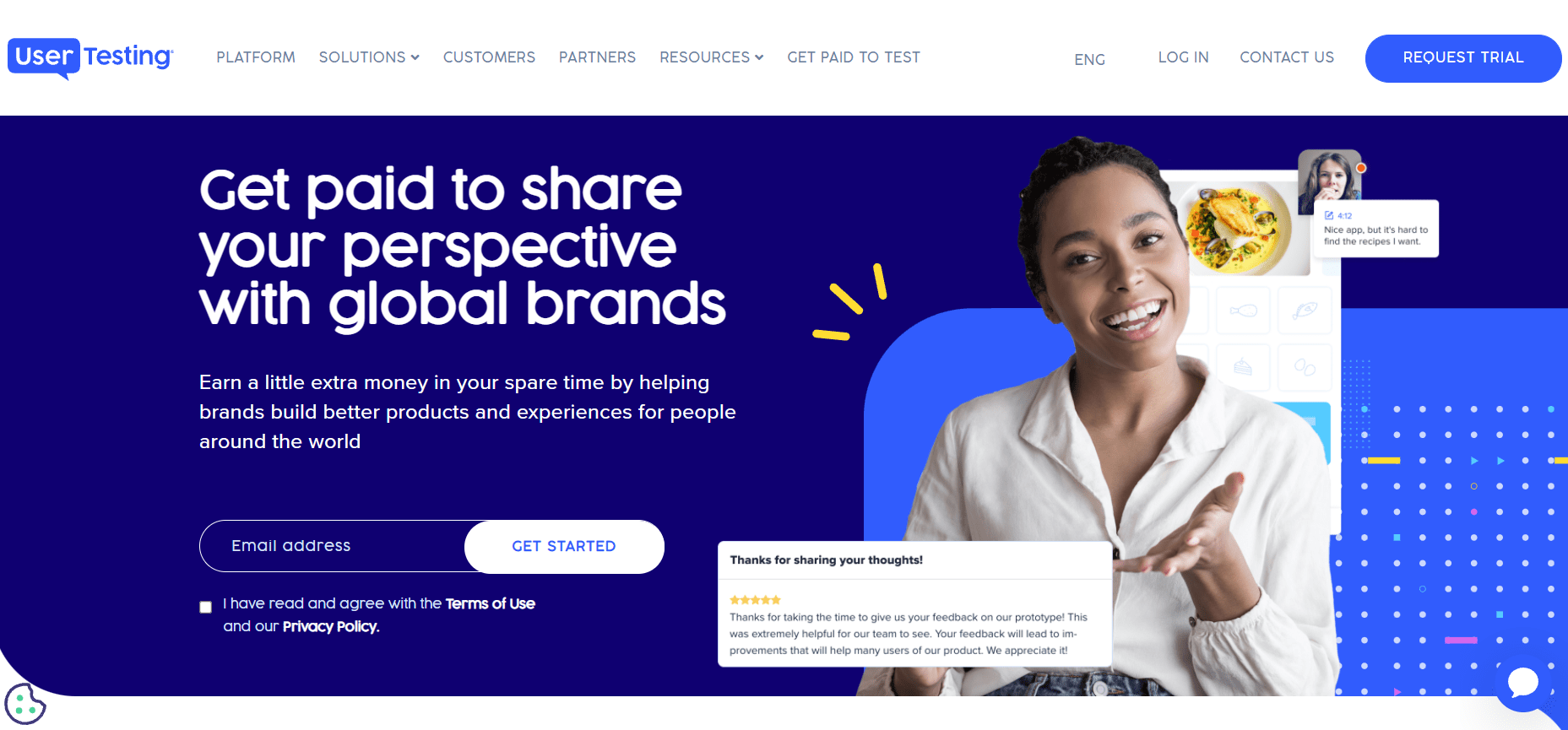 Advantages of UserTesting:
A big pool of responders for your tests 

Instant insights – because of the large number of responses, you obtain all of the information in the shortest amount of time

Advanced targeting – one of the features that users like the most is that the large participant pool helps them to more precisely target their ideal clients for research
Disadvantages of UserTesting:
The platform may utilize some more foreign responders due to its tiny non-English speaking user base. If, on the other hand, you want to pursue your studies in English, you should not be concerned

Reports with flaws – some customers complain that UserTesting results are difficult to read and evaluate, making it difficult to rapidly summarize data

The platform's largest and most visible flaw is a large number of useless replies. While UserTesting has a big pool of volunteers, it appears that a significant portion of them are not competent to participate in meaningful research. Some responders are impatient, cheat, or just look inert, all of which detracts from the overall picture of the testing process

No free trial – UserTesting does not provide a free trial to see if it is right for you
Pricing comparison:
Their Individual solution costs $49 per session and includes minimal testing features. However, you are limited to 15 video sessions each year. UserTesting also offers a custom-priced Enterprise package.
3. Lookback.io 
Lookback.io is another good online tool for doing moderated and unmoderated user tests. This application is an excellent alternative to UserTesting, especially if you already have a pool of user test participants and want a lot of capabilities to customize your user testing workflow.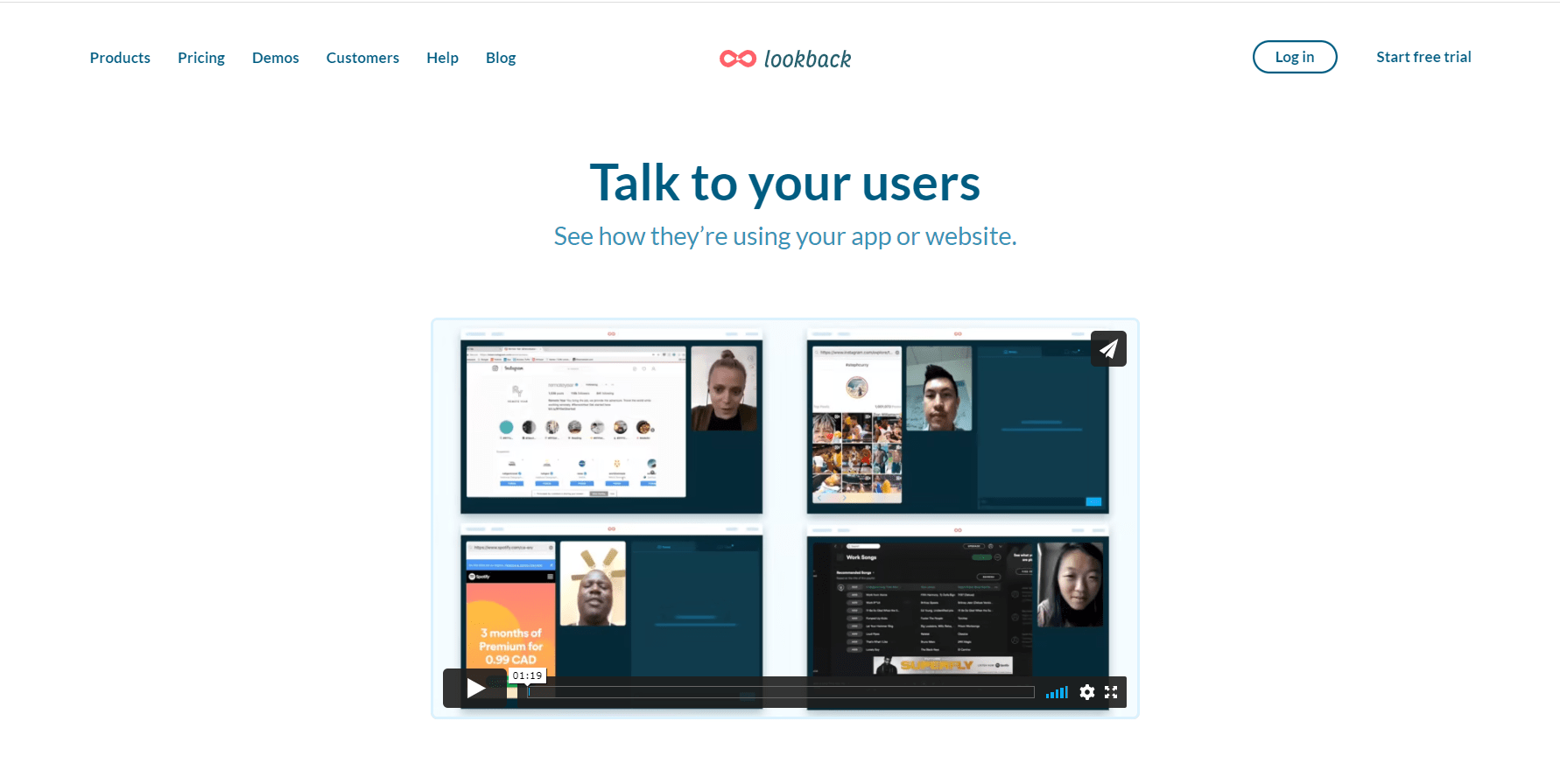 Advantages of Lookback.io:
Live broadcasts – Lookback offers a feature that allows you to broadcast and discuss your studies with colleagues in real-time

Allows several individuals to see your study and even take notes

Unlimited number of participants
Disadvantages of Lookback.io:
​​

You must recruit your own testers 

No free version 
Connection dips – because Lookback offers live testing with participants, connection drops may occur throughout a session

Issues with the mobile version and testing on iOS
Pricing comparison:
Lookback does not have a free plan, however, it does offer a 14-day free trial. Following that, their fees begin at $99 per month, with a maximum of 100 sessions per year. The monthly cost of their professional "Insights Hub" subscription is $229.
4. Userlytics 
Userlytics is another great UsabilityHub's alternative. They are well-known for their extensive feature set and cost-effective pricing plan. An excellent platform to keep in mind, especially if the tool's visual features aren't important to you, as its UI is fairly outdated.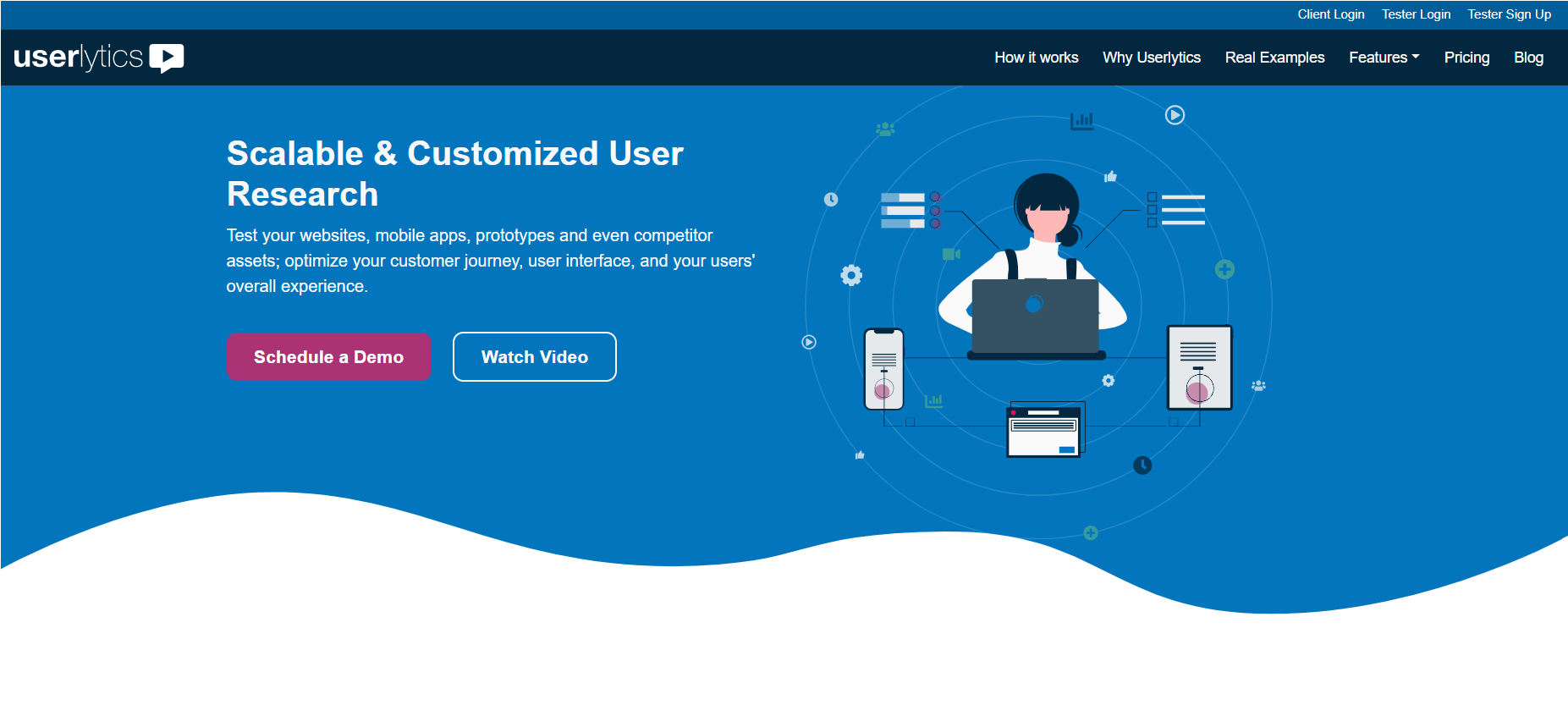 Advantages of Userlytics:
You can acquire AI-generated transcriptions of your exams, which are automated and multilingual

Userlytics includes card sorting and tree testing

Worldwide participant panel – their responder pool is large, and they offer deep targeting, allowing you to contact a variety of user personas from all over the world

Delivers  detailed reporting on quantitative indicators including time on task, SUS, NPS, and SUPR-Q 
Disadvantages of Userlytics:
Several clients complained about audio difficulties during testing and that the procedure was a touch too sluggish

Old-fashioned user interface – their user interface is archaic and not very intuitive, and it might be improved

There are no PDF reports available

Userlytics doesn't give a lot information about the participants' demographics 
Pricing comparison: 
The basic Quick & Easy plan is $49 per person, while the Enterprise package costs $69 per person. They also have the option of offering personalized pricing.
5. Userbrain 
Userbrain is noted for its no-strings-attached programs and low costs. They're new to the market, but they're a suitable UsabilityHub option for running basic unmoderated prototype testing.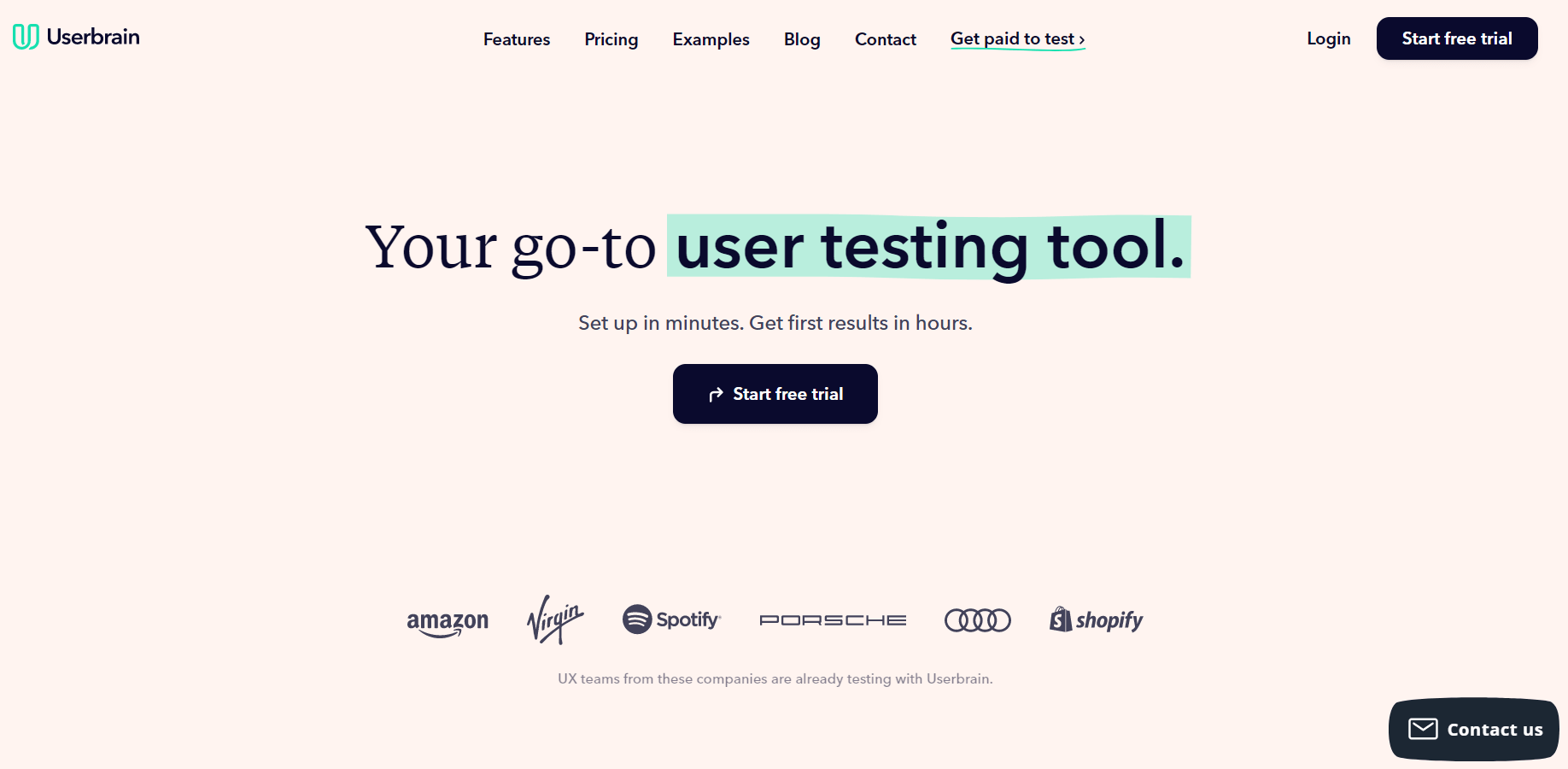 Advantages of Userbrain: 
UserBrain has a pay-as-you-go option that allows you to pay for a single test without having to commit to a monthly membership

Quick results – you'll get your answers in a matter of hours

You may invite as many people to your team as you like to Userbrain and give roles to them
Disadvantages of Userbrain:
Limited demographics – the demographics area of UserBrain may be expanded to offer more information on your testers.  It's also worth mentioning that you won't be able to select testers from particular cities or regions

Basic analytics – this platform just shows you the results of a few basic tests. If you're looking for detailed insights about your users' activity, they might not be the ideal alternative

Customer service – several customers have complained that customer support is sluggish and unresponsive

Userbrain doesn't offer 5-second Test or First-Click Tests 
Pricing comparison: 
The pricing of UserBrain is pretty reasonable. You may either pay $29 for each test or $19 per user test for a monthly membership.
6. Loop11 
Loop11 is a web-based usability testing application that provides a variety of UX research options, that's why it's another one of UsabilityHub alternatives. It has both moderated and unmoderated tests, as well as benchmarking, A/B testing, and other tools to help you assess your users.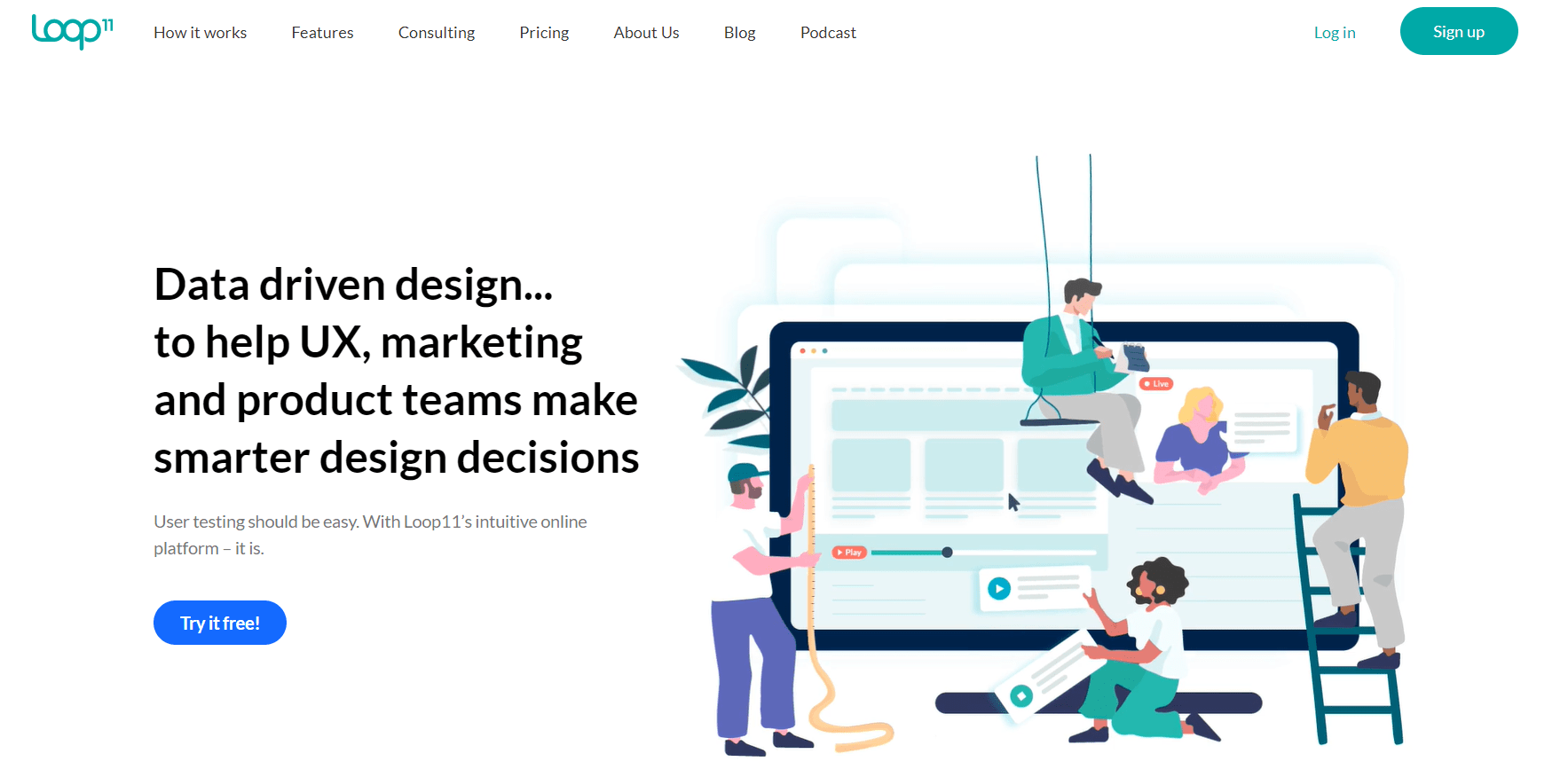 Advantages of Loop11:
Record audio and video

Seeing and hearing your participants take the exam aids in a more complete analysis of the feedback

AccessWorks database for all accessibility testing needs, reducing the time that would otherwise be spent recruiting volunteers for face-to-face testing
Disadvantages of Loop11:
Loop11 does not provide a pool of participants, therefore you'll have to issue invites to your own users to receive results for your study

After a test has been initiated, no changes can be made – You can't alter a test after posting it; you can only delete it

No free version

Slow loading time

No screening, only in the ProPlan for $239
Pricing comparison: 
In comparison to some other prominent platforms on the market, Loop 11 price is rather costly. Although they provide a 14-day free trial, you will have to pay for any future tests. The basic plan costs $63 per month, which is a lot given it only allows for three tests every month with a limit of ten participants in each.
But why would we end here when you can try these UsabilityHub alternatives for yourself?
With so many options on the market it is difficult to find the right UX platform. Our initial choice may not always meet our high expectations, which is why having alternatives is important.
Don't wait around, run your first test with UXtweak today and change the way users perceive your website for the best. Let your customers decide what works best for them!