UX researchers and designers test prototypes in order to polish designs and interactions before they're implemented in a real product. This way, we can minimize unnecessary hassles and costs. Axure is one of the top tools used for prototyping. It's also one of the most comprehensive ones, allowing you to create interactive prototypes that closely model the final user experience.
In this blog, we'll discuss how you can set up remote UXtweak testing of your Axure prototypes. By following these simple steps, you will configure your study (in UXtweak) and your prototype (in Axure RP 9 and Axure Cloud) to start testing with users in just a few minutes. Like with all UXtweak testings, testers don't need to install or do anything besides clicking a link. It works on all desktop, tablet and smartphone devices.
Publish your prototype to Axshare in Axure RP 9
Once your Axure prototype is ready, you need to publish it. In Axure RP 9, click Publish in the menu and then Publish to Axure Cloud. Name your prototype (optional: select parts of it to include) and hit Publish.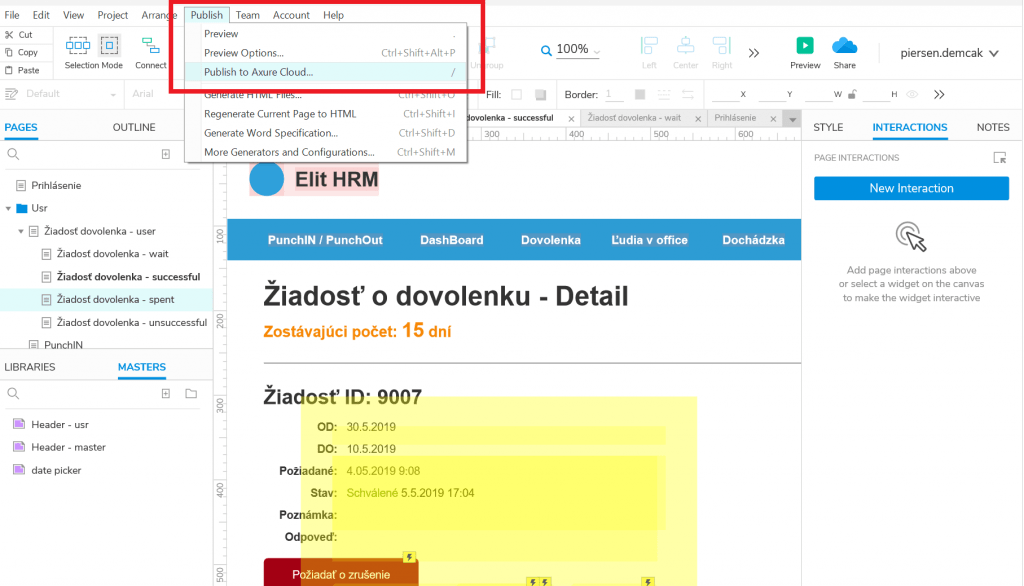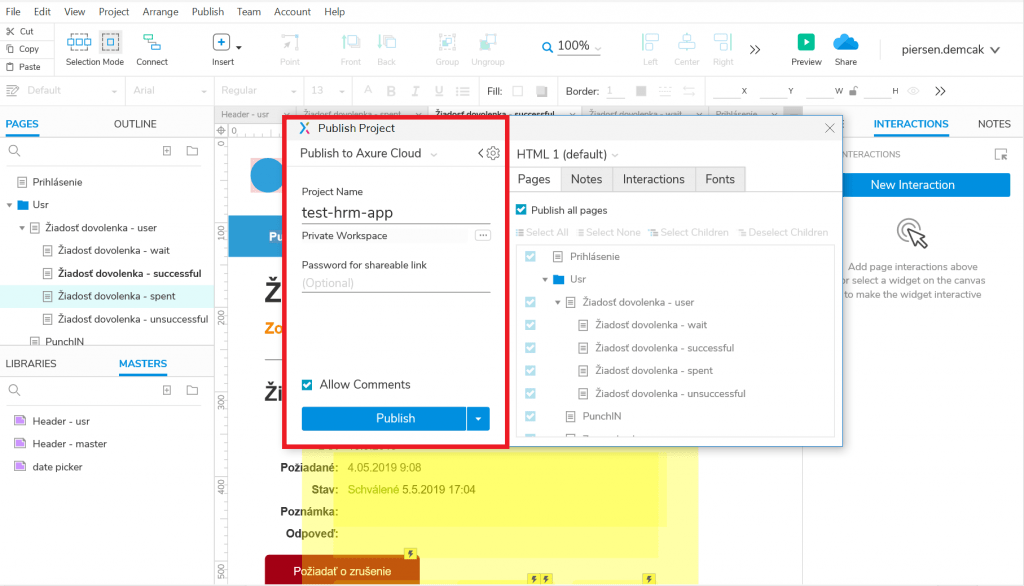 Do NOT set a password. UXtweak needs to be able to access the prototype's resources – styles, images – so it can include them while replaying testing sessions. For this reason, you cannot protect the recorded study with a password. A password would prevent replay from working correctly.
Once you've published your prototype, you will get a URL to the prototype hosted on axshare.com. For example https://45ahey.axshare.com.
If for some reason you want to change your prototype (for example, you noticed some errors in the prototype during pilot testing), you can simply update the new version to Axure cloud. UXtweak automatically stores all the recorded assets from your Axure prototype. Thanks to this, older recordings will look faithful to previous versions that respondents were seeing at the time. (However, it is usually not recommended to change your prototype around once testing is already running. You should keep new changes for a new study and compare the results as A/B testing instead).
Set up your study in UXtweak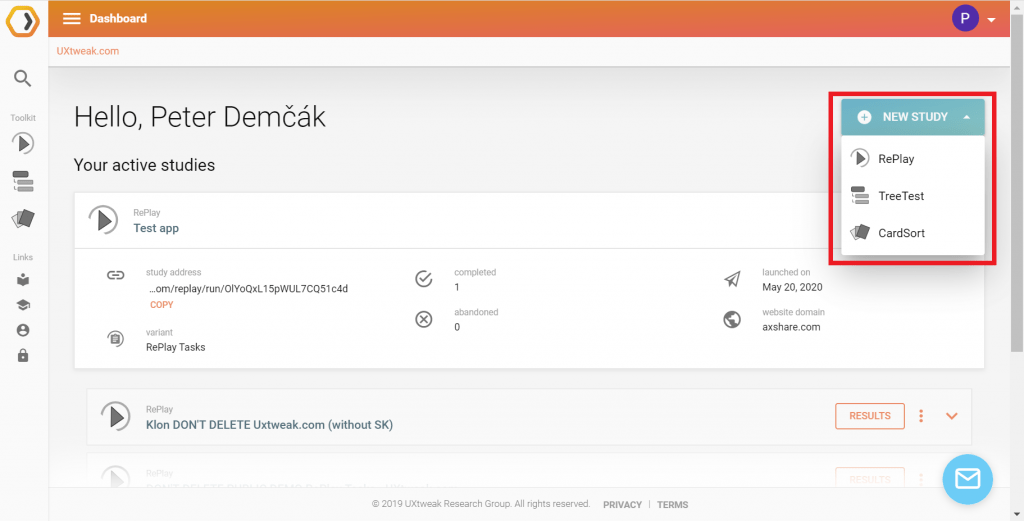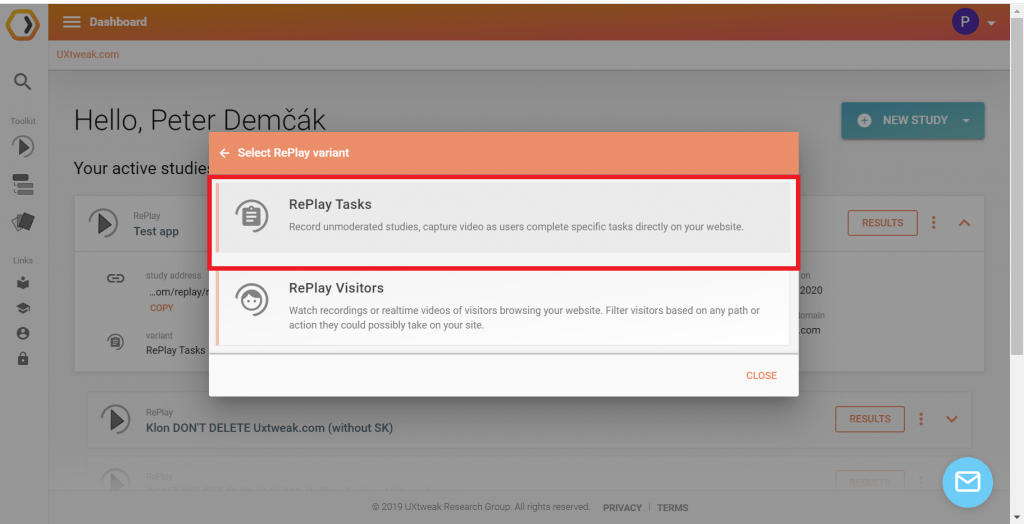 You will find yourself in the setup of your new study. One of the first things that will be asked of you is to input the domain of your study. You should already know what to put in there.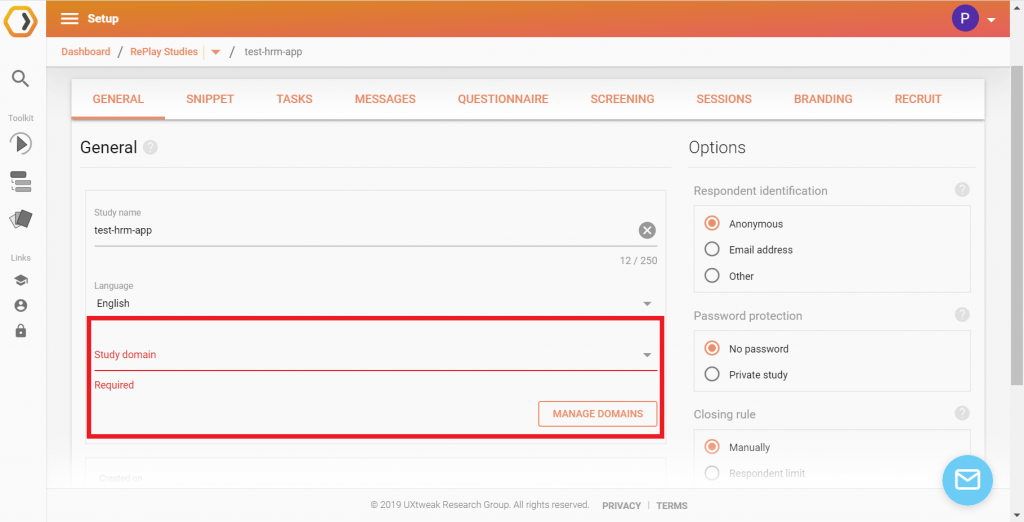 If you remember, your prototype was hosted at an address like https://a7odu5.axshare.com. Which means that you need to add axshare.com (the domain section of that address) as your study domain. (Note: axshare.com is counted like any other domain, a.k.a. it deducts from the limited number of domains that you can record on at the same time. Click the menu in the upper right corner and then Manage plan to see how many domains you can use).
Next, you will want to set up your tasks. For each of your tasks, you need to set up two URLs:
Start URL

– the page that UXtweak opens to begin the task

End URL(s)

– if the visitor ends the task on one of these URLs, they successfully completed the task
Axure URLs work in a specific way in that Axure opens your prototype in an iframe and it adjusts the URL dynamically via JavaScript. This is not a major issue, but it means that if your task's starting URL was something like
https://a7odu5.axshare.com/#id=0do4nm&p=login&c=1
then your entire task would be recorded as a single pageview, as only the contents of the iframe would be changing while the page stays the same. (This would make it impossible for UXtweak to recognize how the respondent navigated through different URLs and finally, whether they completed the task successfully by arriving at an end URL).
Here is how you can get the right URLs that will fix this issue:
In Chrome:
1. Open a page of your prototype, for example, https://a7odu5.axshare.com/#id=0do4nm&p=login&c=1
2. Right-click your prototype
3. Click View frame source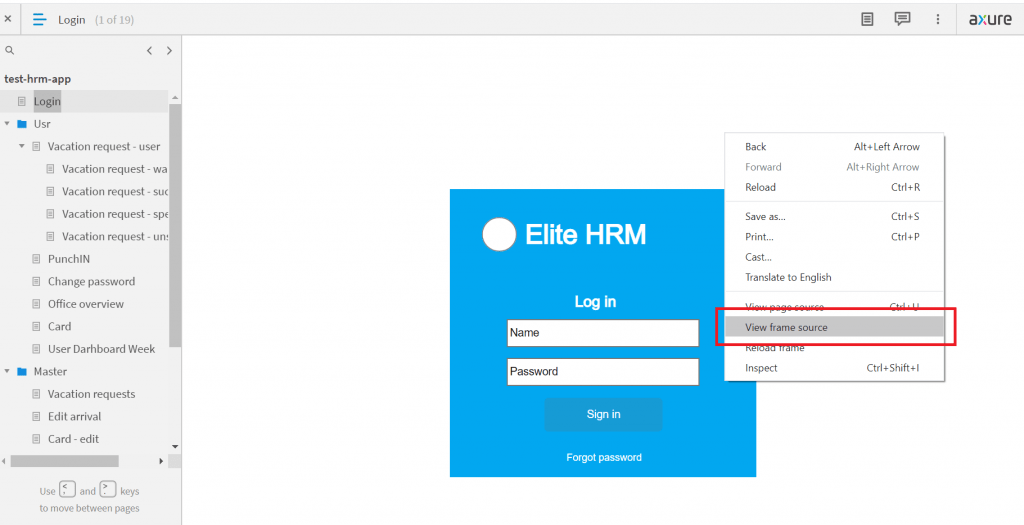 4. In the opened source page, copy the contents of the address bar. It should be something like view-source:https://a7odu5.axshare.com/login.html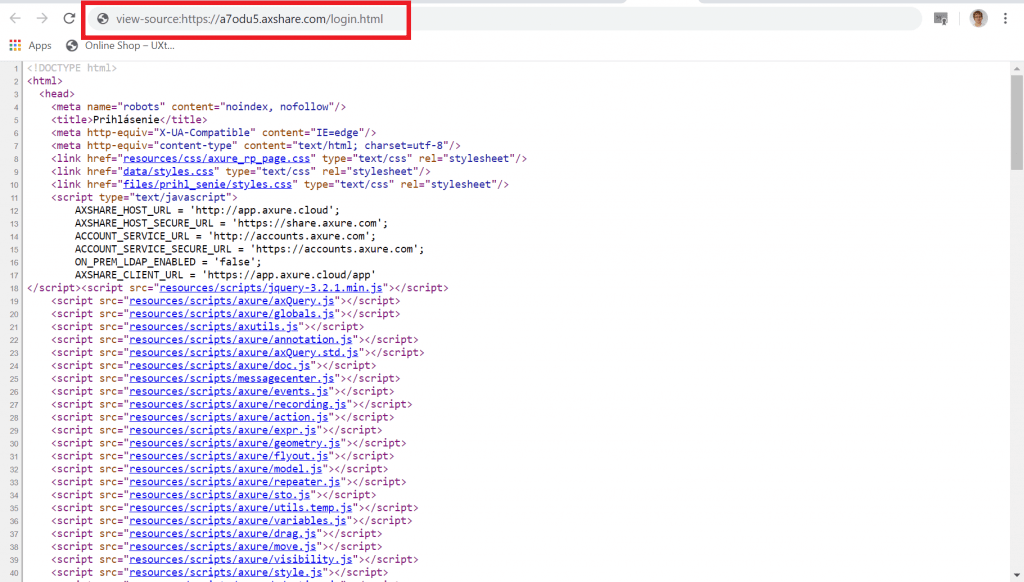 5. Remove "view-source:" at the beginning to get something like https://a7odu5.axshare.com/login.html
6. This is the correct URL address. The distinguishing part that you need to see is the .html at the end. If you visit this address, you will see that it shows your prototype without the Axure toolbar. (Tip: To get the other URLs you need and skip the above steps, you can find them by navigating from this address.)
Insert the snippet through Axure Cloud
Once both your prototype and study are fully prepared, the last step is to add the study's snippet as a plugin into your published prototype. First, you will need the snippet, which you'll find in UXtweak by going into the Snippet tab in the study setup after you click Install your RePlay snippet. Copy the snippet.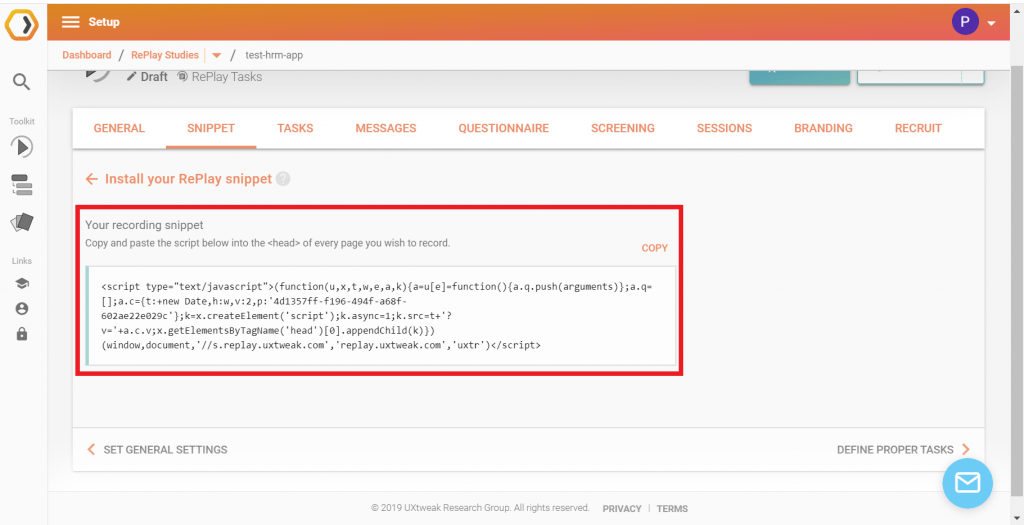 Next, you need to log into your Axure account at https://app.axure.cloud/. Find your project, open it, go into the Plugins tab and click Add plugin.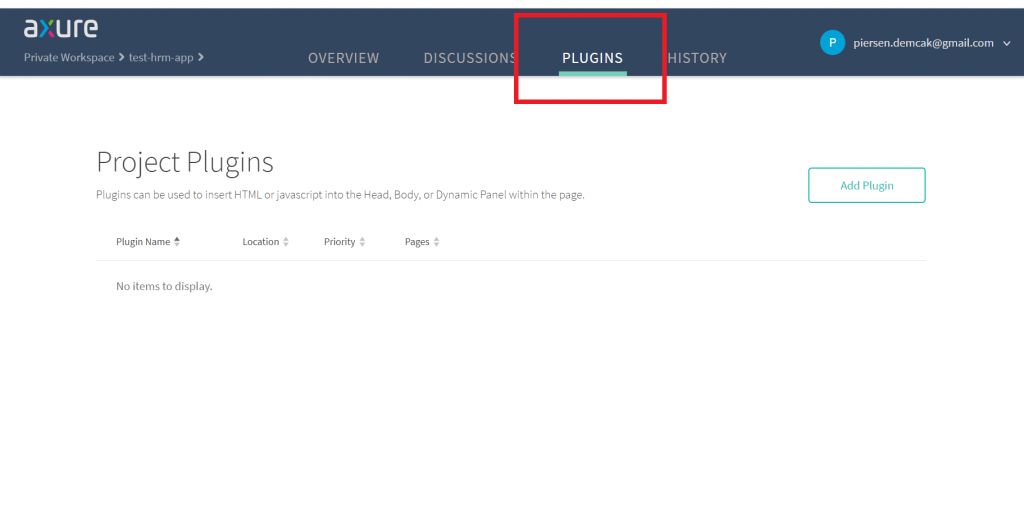 Name the new plugin, select Inside <head></head> (this option should already be selected by default) and finally, paste the snippet that we copied from UXtweak into the plugin and confirm the action by pressing Add plugin.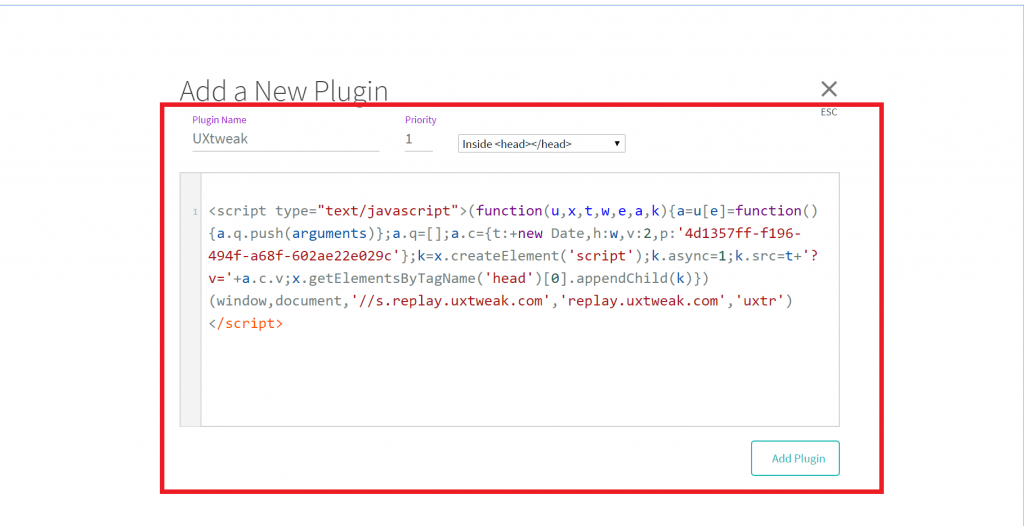 Add the plugin to all pages and also check Add to new pages by default.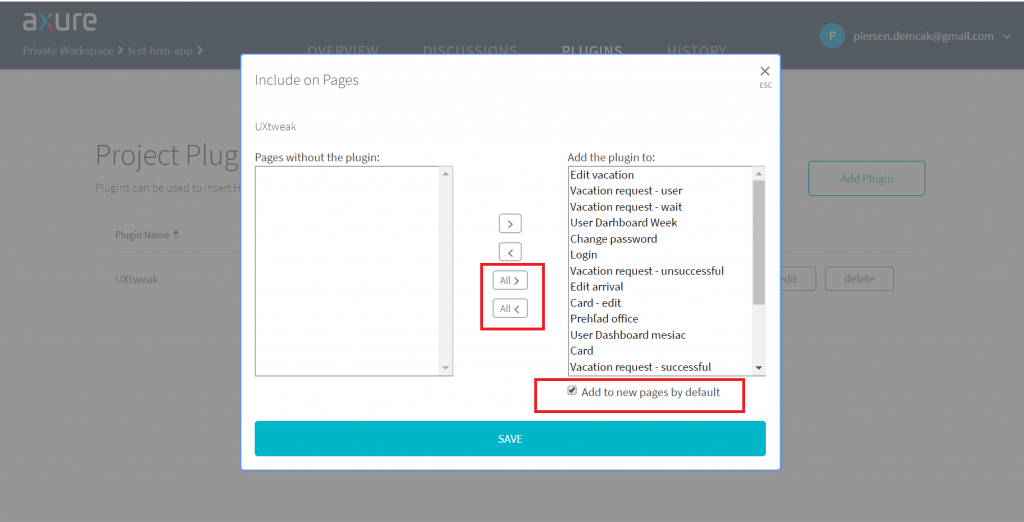 That's all! Let's start recruiting respondents
After the above steps, you can already share a link to your study to your respondents and begin UX testing – if that's all that you need. But there's also another option – Recruiter widget.
The Recruiter widget is a feature of UXtweak, which allows you to bring respondent recruitment to another level – by turning visitors of your website into testers. In the Recruit tab of your study setup, click Setup recruiter widget.
The Recruiter widget has its own snippet that you can add to your website. This way, you can recruit people who visit your site for testing your prototypes. You can change the widget's appearance, adjust the conditions when it appears, even reward respondents who complete the study with coupons. Learn more.
Explore all features of task-oriented studies
Naturally, by testing an Axure prototype, you can use all the same features of RePlay Tasks tool as with any other website.
You can learn valuable information via custom

questionnaires

.

You can record the voice of your respondents via

Think-aloud

feature.

You can let respondents suggest and vote on each other's ideas with

Crowd Feedback

feature.

You can adjust the study

branding

and

messages

, and so on.
If you're new to UXtweak and don't know how to do those things, check out the UXtweak guides and documentation for more info on how to set up your first study. Or send us an email – info@uxtweak.com. 
That's it! Once you launch your study in UXtweak, respondents should see the study overlay in your prototype while solving the tasks. Enjoy honing your designs of your prototypes with effective online user testing!