One of the most crucial parts of product development is the user experience. The key goal is to provide a clear environment for people to browse around your product with ease. The intended end-user must be completely satisfied with their experience with your website and that's where UX research tools come to help!
According to a Forrester Research study, a well-designed user interface with a strong UX can result in conversion rates of up to 400% for your website. But how do you achieve that? Choosing the right tool for your research, that's half the battle!
What are UX research tools good for? 
UX tools provide valuable user insights based on individualized research, whether you're attempting to launch a new app or want to know what your consumers think about your website. They increase performance by identifying the areas of improvement for your digital products.
To perform quality UX research and manage different phases of the workflow, researchers have access to a variety of tools. They are all different in a way, with various feature sets but are always intended to help you provide a better experience to the users!
The range of UX research tools is still expanding. There are some that include everything from participant recruitment to voice recording, remote sessions, transcribing interviews and even producing real-time reports. And today we are here to help you choose the best one for your needs!
What are the best UX research tools? 
The ideal UX tools are those that naturally meet the most demands with the fewest constraints. 
We understand that searching for the best one might take hours and days. But don't worry: we spent time researching the top UX research tools available, so there's no way you won't have a favorite after reading this article.
Here is the list of 10 Best UX Research Tools in 2022:
UXtweak

Loop11

Userbrain

UserTesting.com

Optimizely

Lookback

CrazyEgg

UserZoom

Hotjar

UsabilityHub
1. UXtweak
UXtweak is an all-in-one UX research tool which has definitely grown a lot the previous year. It has all of the capabilities you need to create the ideal website that people will want to visit again and again.
Advanced analytics combined with a great UI, that is easy to understand even for a complete beginner – UXtweak has everything you need for a good research and more.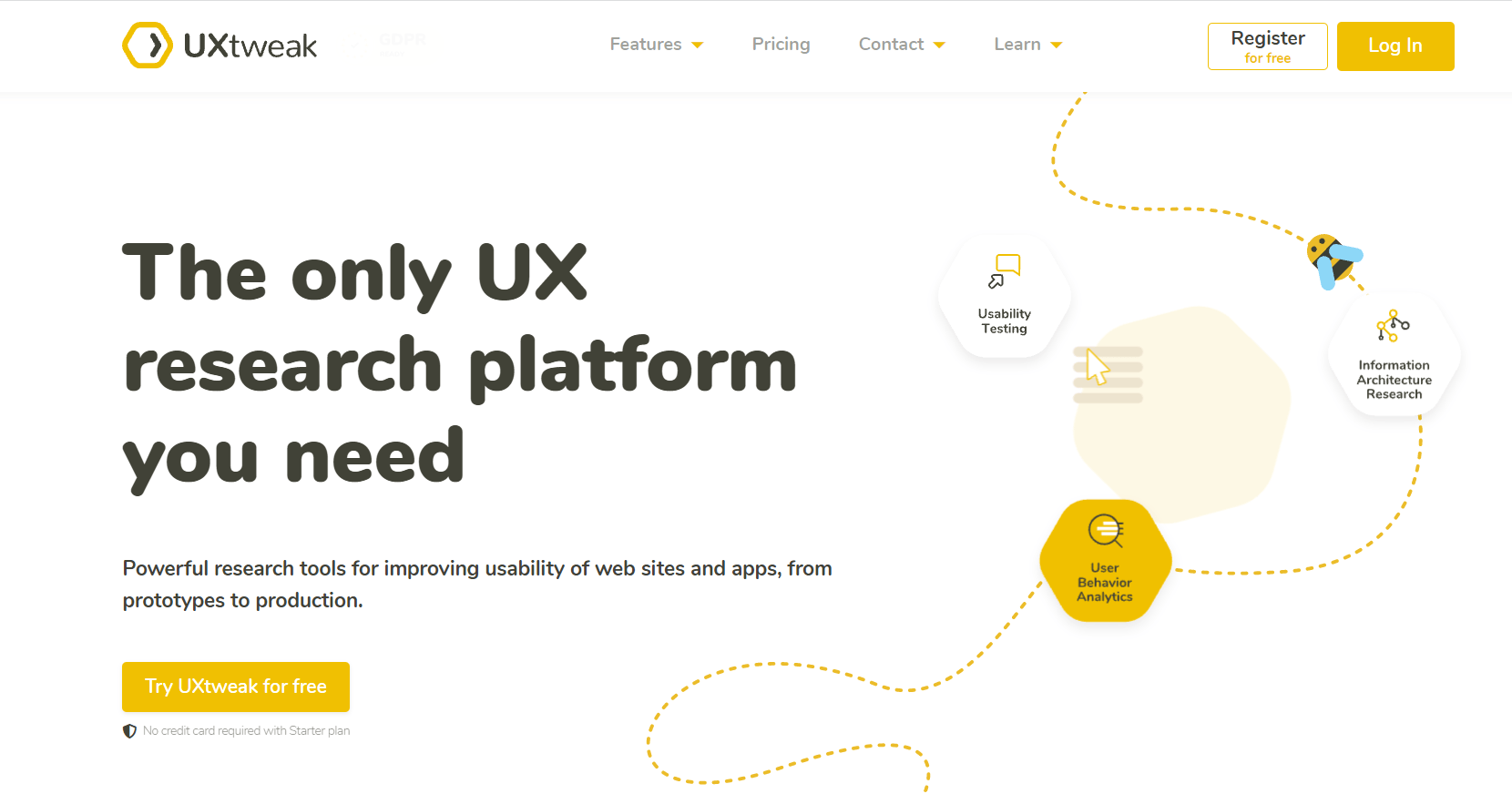 Features:
Website Testing 

Session Recording

Tree Testing

Card Sorting

Preference Test

5 Second Test

First Click Test

Surveys
And the two most exciting new features of UXtweak are Figma and InVision Prototype Testing, which provide users with the ability to test their prototypes throughout the design phase, allowing to fix any issues before releasing product to the market.
The Recruiting widget and the 155M+  User Panel are additional useful features that will save you from the participant recruiting struggles.
Pros:
UXtweak allows you to do as many tests as you like.

For smaller tasks, there is a free plan available, or you may design a custom plan to meet your needs.

Even a total newbie will find it simple to use.

It provides powerful analytics that are simple to understand.
Cons:
Supports only 10 languages
Pricing:
UXtweak offers a free starting plan that includes an unlimited number of live studies and no study time restrictions, making it ideal for smaller projects.
You may also choose between a pro plan for only 70€ per month or a custom plan tailored to your specific requirements. 
Create a free account or try UXtweak's Professional plan now!
2. Lookback
Another usability testing platform you may want to try is Lookback. They specialize in moderated and unmoderated user tests. It's a great option when you already have the testers for your study, as they don't provide any help with recruiting.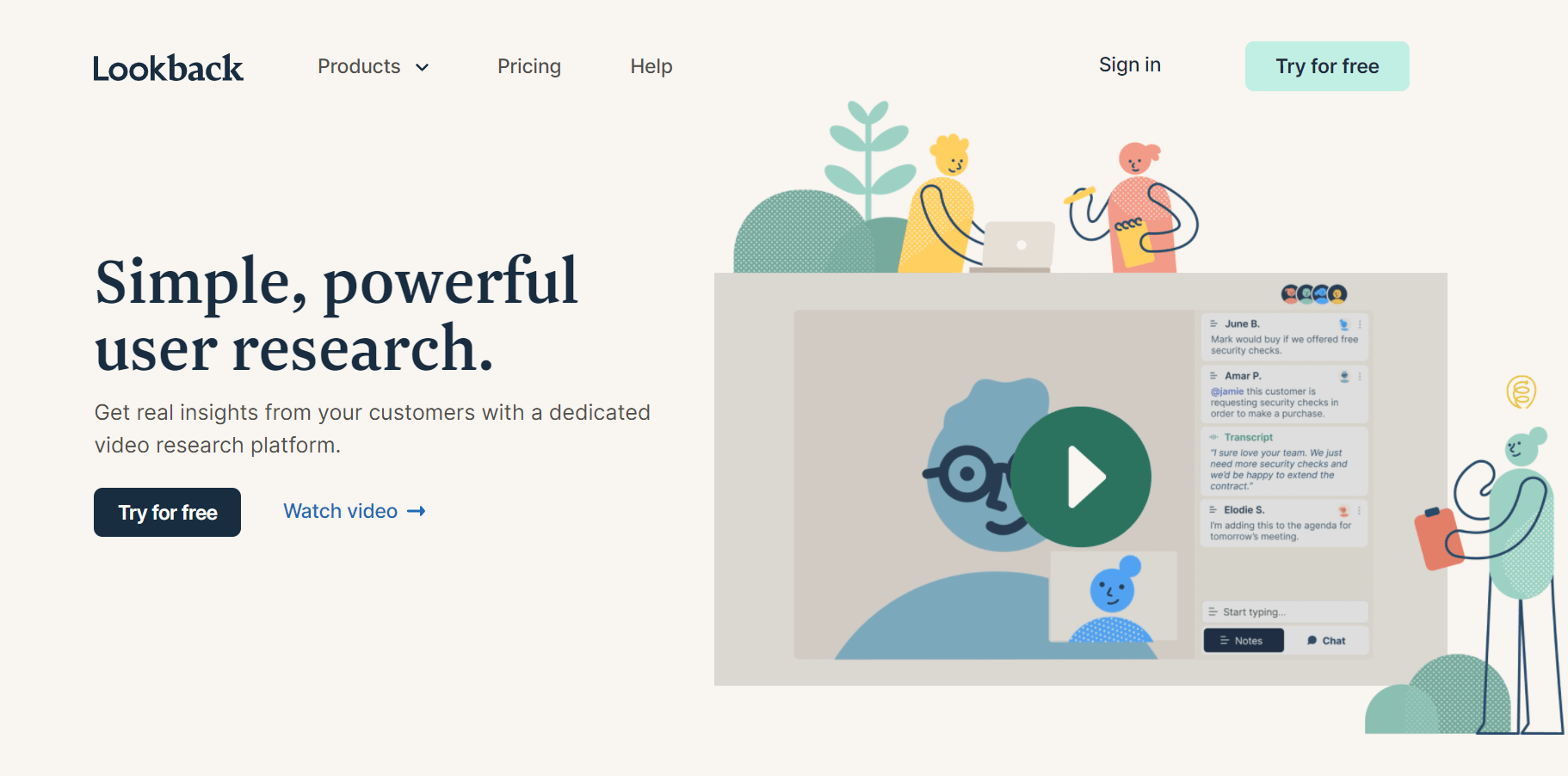 Features:
Offers stakeholder observations – Lookback allows multiple people to observe your study and even take their own notes.

Live broadcasts – Lookback has a specific feature you can use for broadcasting your studies to colleagues and discussing them in live mode.

Unlimited participants
Pros:
All of its plans come with a 14-day trial period.

Compatible with Native Apps

The ability to timestamp and write notes during the recordings
Cons:
Poor connection – Noted by multiple users, connection drops might happen from time to time.

No user panel – Lookback might be the right tool for you when you already have the participants for your research, as they don't offer help with that.

Problems with the mobile version and IOS testing
Pricing
Lookback doesn't have a free plan, however, they do offer a free 14-day trial. After that their prices start from $99 per month with a limit of 100 sessions per year. Their professional "Insights Hub" plan is $229 per month.
3. CrazyEgg
CrazyEgg is a usability testing and website optimization tool that uses a click-based interface. It enables you to generate heat maps and track your website visitors' every move. CrazyEgg helps you understand your customers' journey on your website by using Snapshots and Recordings.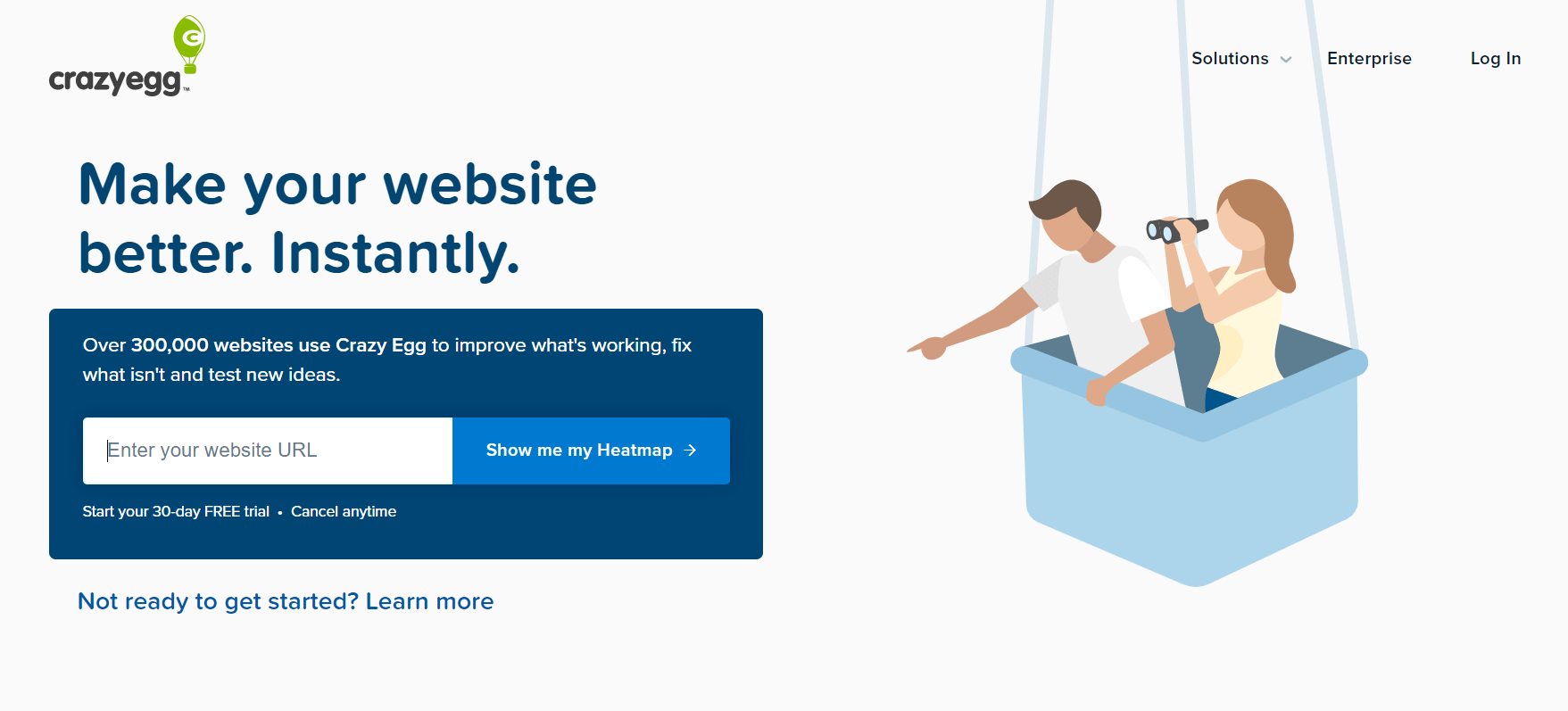 Features:
Snapshot reporting 

Heatmaps and scroll maps 

Session recordings 

Demo dashboard
Pros:
Set up 30-day trials on all of its plans quickly and easily.

Allows traffic from ad campaigns to be analyzed.

30-day money back guarantee 
Cons:
Pricing:
Its basic plan starts at $24/month
4. Loop 11
Australian-born, Loop 11 is also a great UX research tool you should definitely look at. They offer comprehensive reports and different types of usability testing. This platform makes it easy to engage with users, get to know them better, and collect insights for UXers.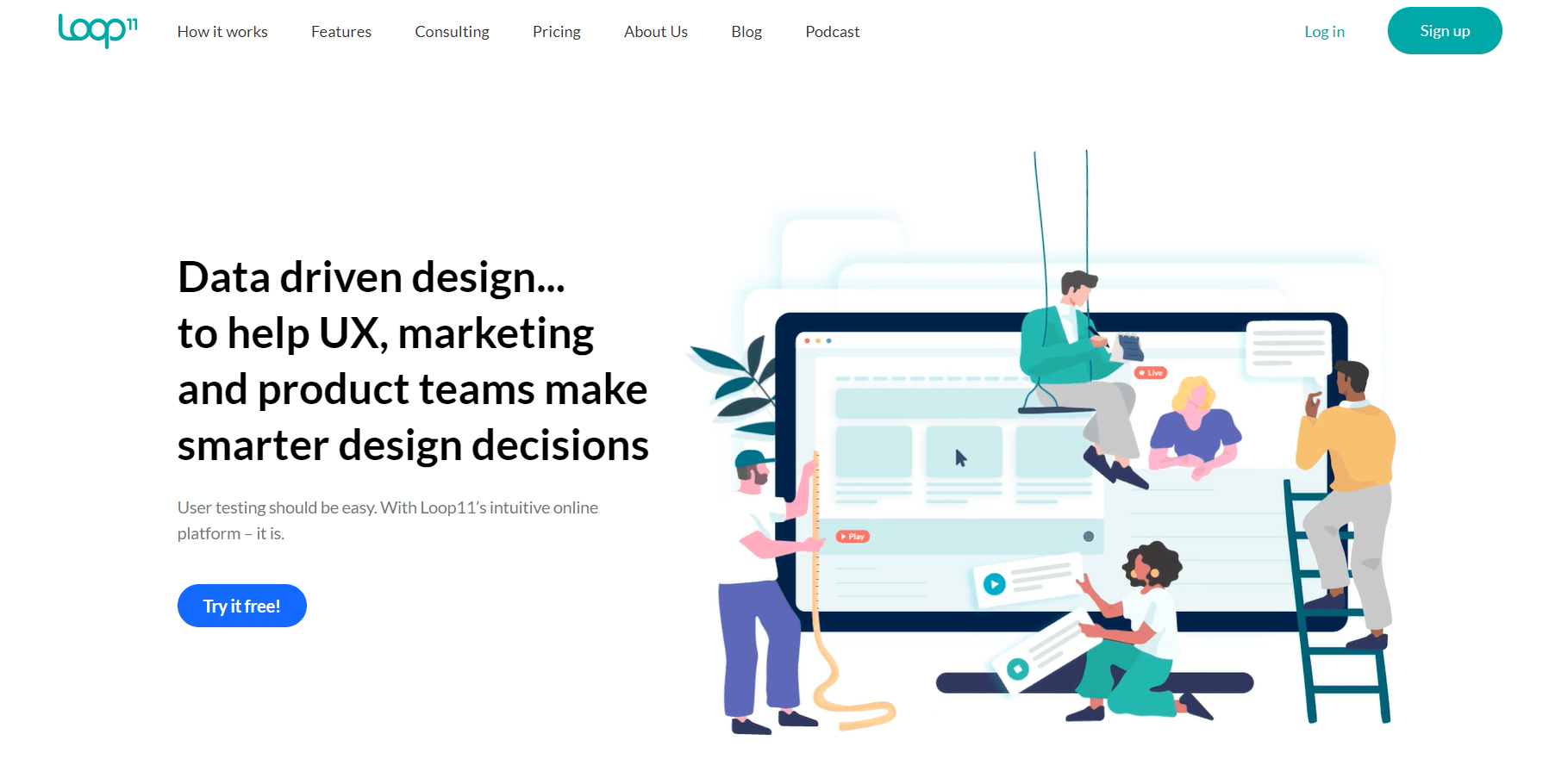 Features:
Heat maps and clickstream analysis

Testing of live websites or prototypes

Benchmarking 
Pros:
14-day trial uses for all  plans

Supports desktop, mobile, and tablet devices
Cons:
Participants must be brought by the users.

People must first download the Loop11 app to participate.

In comparison to other plans, this one is more pricey.
Pricing:
Starts at  $69/month for the Rapid Insights plan
5. Userbrain
Another option for a UX research tool is Userbrain. Test anything, ask questions, and get results in the form of their voice-over videos. You may also annotate the recordings, tag them for better organizing, and share links with your coworkers. Userbrain is famous for their flexible non-committing pricing model.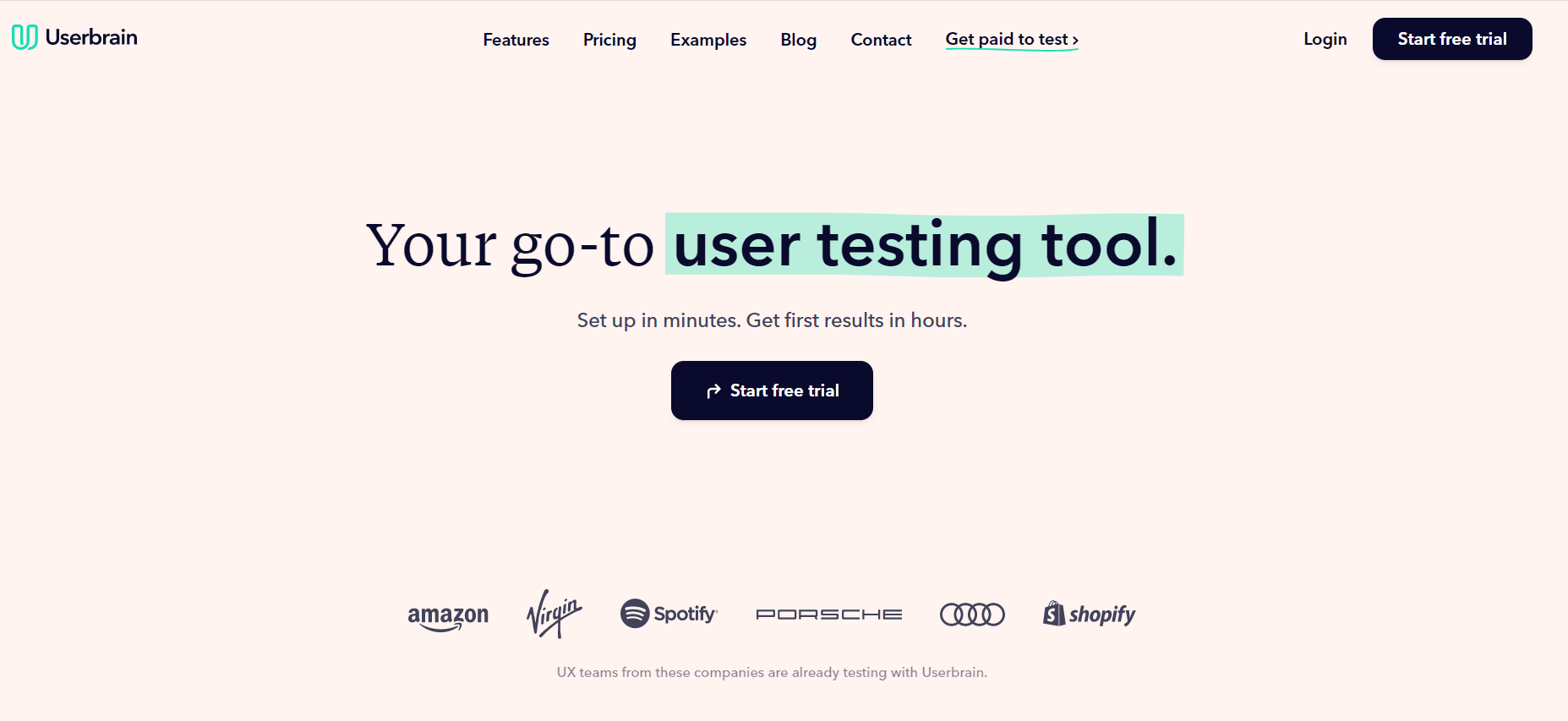 Features:
Website Testing

Automate User Testing
Pros:
Provides access to a big pool of testers
Cons:
Missing live test session

Adding in-team testers costs $49 per month.
Pricing:
Starts at the $29 per user test. 
6. UserTesting
UserTesting is one of the oldest UX research tools on the market that is very famous for their large User Panel. Insight Core, Product Insight, and Marketing Insight are their three main products. When utilized together, these three components may help with practically any type of research.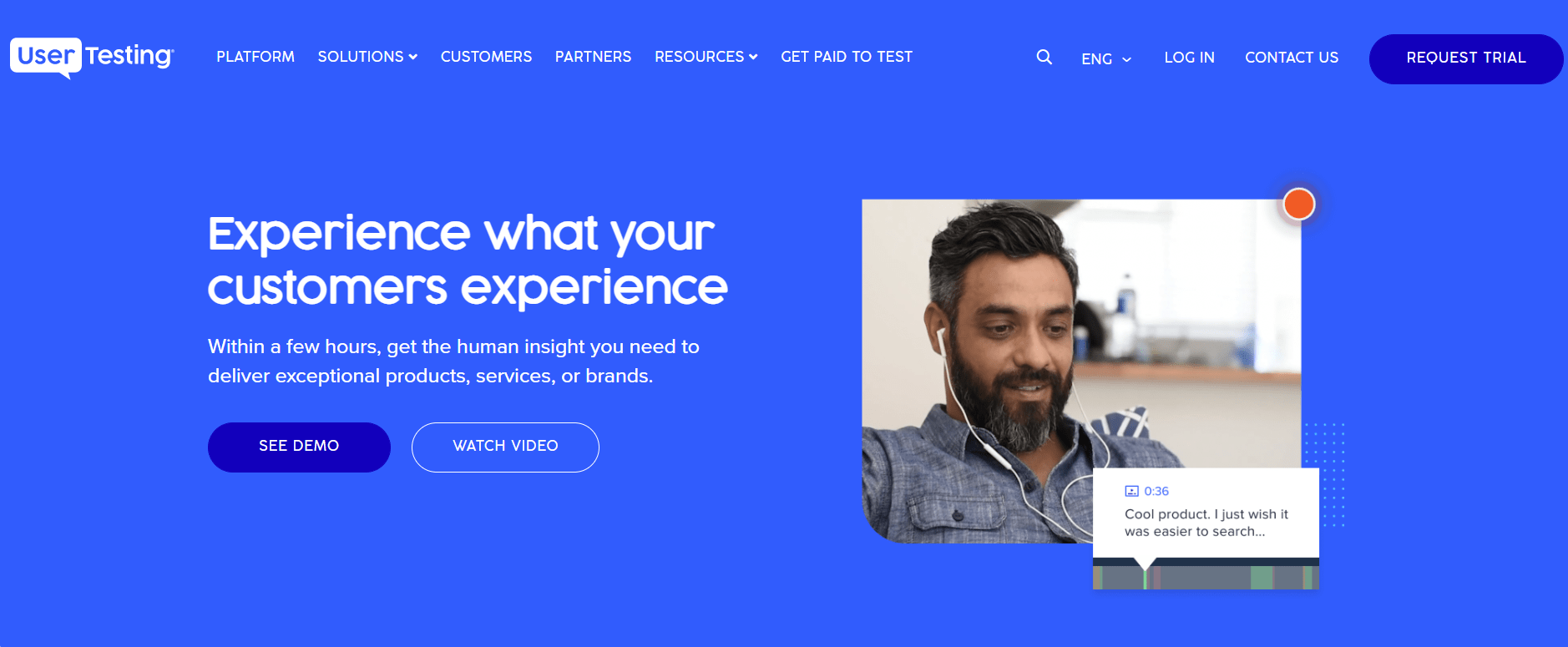 Features:
Live Conversations

Online/offline customer experiences

1:1 interviews with testers
Pros:
Allows you to talk to your testers while they're using your site

Instant insights

Advanced targeting
Cons:
Weak reports

Lot's of non-qualified testers

The small non-English speaking user base
7. Optimizely
Optimizely's most well-known feature is A/B testing. One of the most tempting characteristics of their user testing software is the ease with which new studies can be established. Everything is immediately available on the user's dashboard. It's very fast and efficient.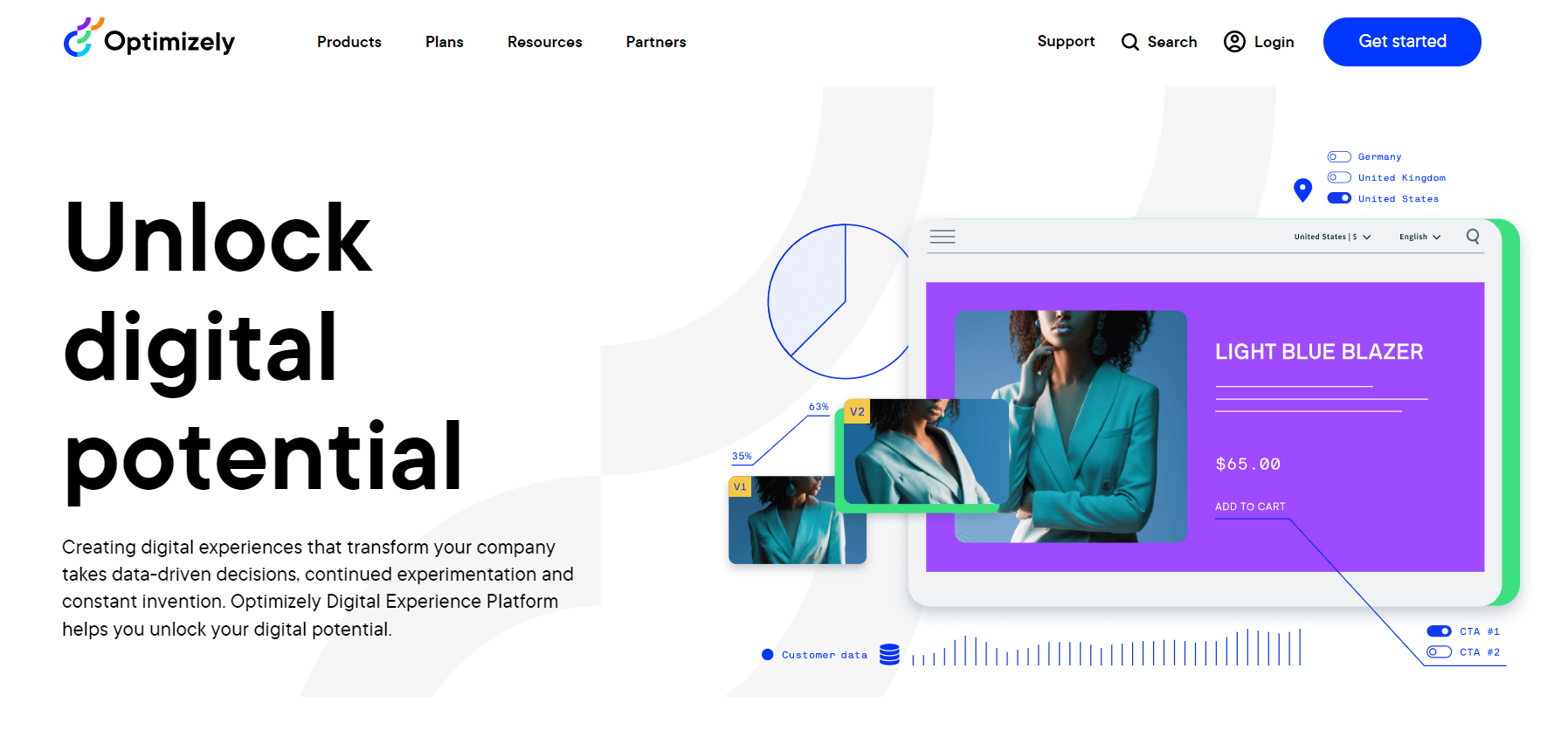 Features:
A/B testing

Multivariate Testing

Tracking of clicks and conversations
Pros:
A variety of tools for managing the workflow of many teams within the application

For designers, Optimizely provides a visual editor, as well as a number of extensions, APIs, and code choices

Additional user accounts may be simply created, as well as project organization
Cons:
No free plan

Small feature list
8. UserZoom
UserZoom is a platform for doing enterprise-level user experience research and testing. It may be used to test prototypes and websites, follow the activities of remote testers, do market research, and more. It allows you to personalize your plan by adding a choice of extra features based on your requirements.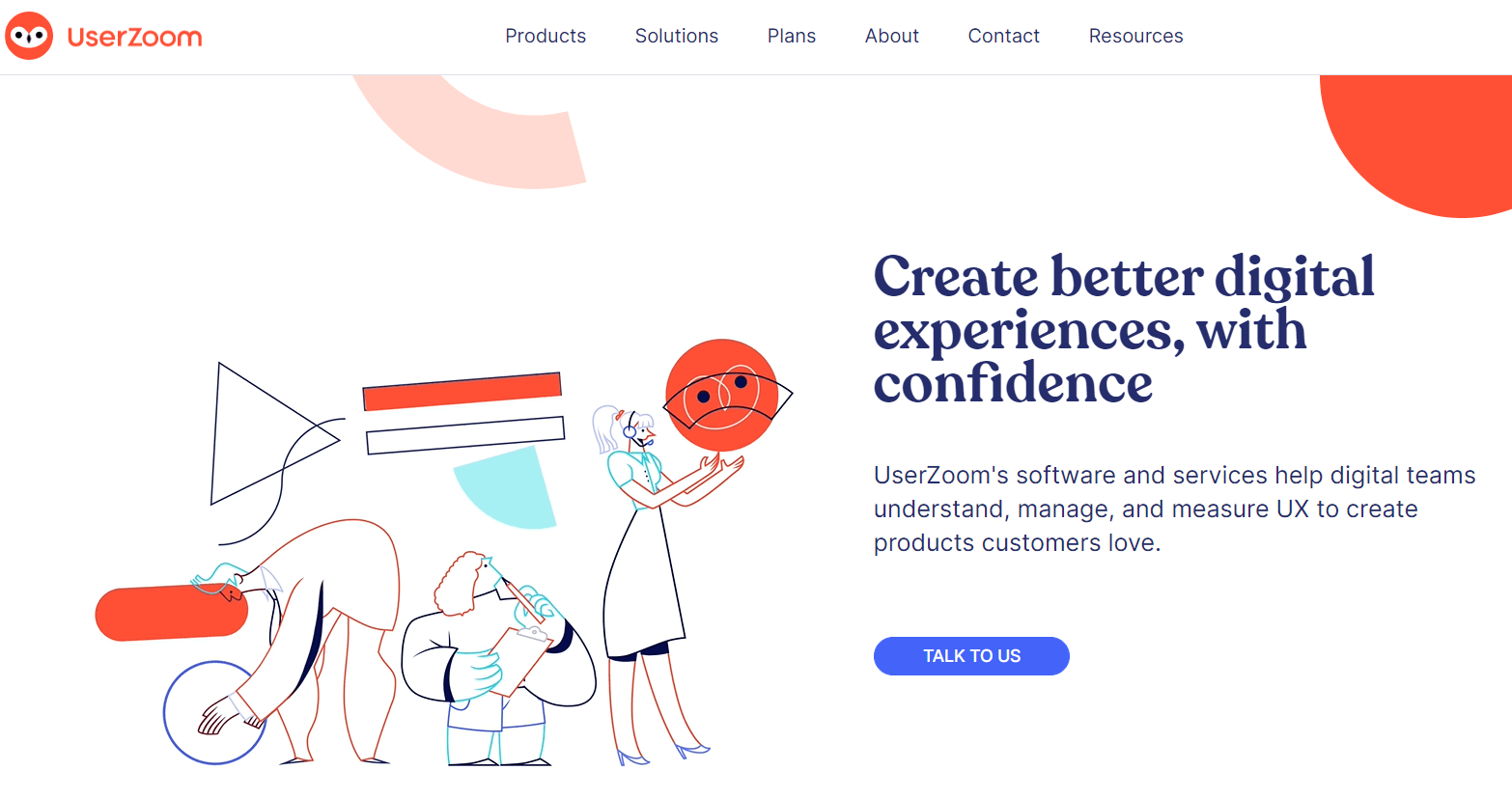 Features:
Usability testing

Interviews

Click Testing

Participant Recruitment
Pros:
Unlimited screening questions

Large user panel

Great reports and analytics
Cons:
Not recommended for individuals or small businesses.

Pricey

Can be hard to use  – The UI of the platform is known to be a little complicated and not the most intuitive for a complete beginner.

Though detailed, study instructions can sometimes be confusing

No free trial plans 
Pricing:
UserZoom GO Experience – 443€ 
UserZoom GO Team – 886€ 
UserZoom GO Corporate – Build-a-plan model with no set price
9. Hotjar
Hotjar is a unified platform that combines a variety of analytics tools and capabilities with a variety of feedback choices. Their products allow you to conduct usability testing on your app or website while also providing actionable behavioral data. It can keep track of and display clicks, motions, and scrolling. Viewing visitor logs allows you to see how people behave on your websitein real-time.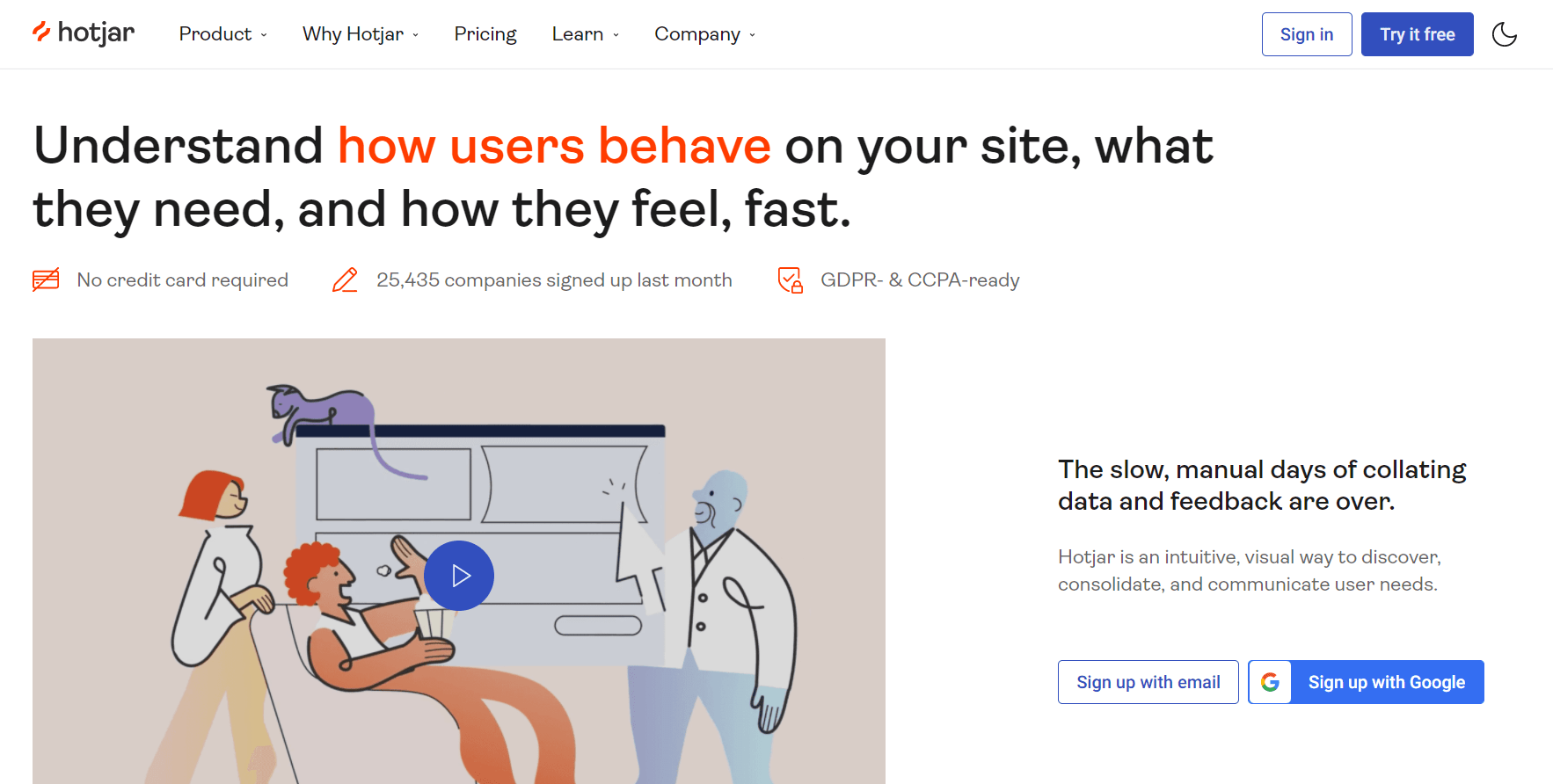 Features:
Heatmaps

Visitor recordings

Conversion funnels

Feedback polls

Incoming feedback
Pros:
Attributes and triggers that help you target effectively

There is no limit to the amount of people on your team that may access the platform because each feature has an unlimited number of replies
Cons:
There isn't a way to do remote usability testing
Pricing:
$39/month for Plus plan.
10. UsabilityHub
UsabilityHub is a remote user research platform based in Australia that delivers rapid customer experience feedback using a variety of research methods.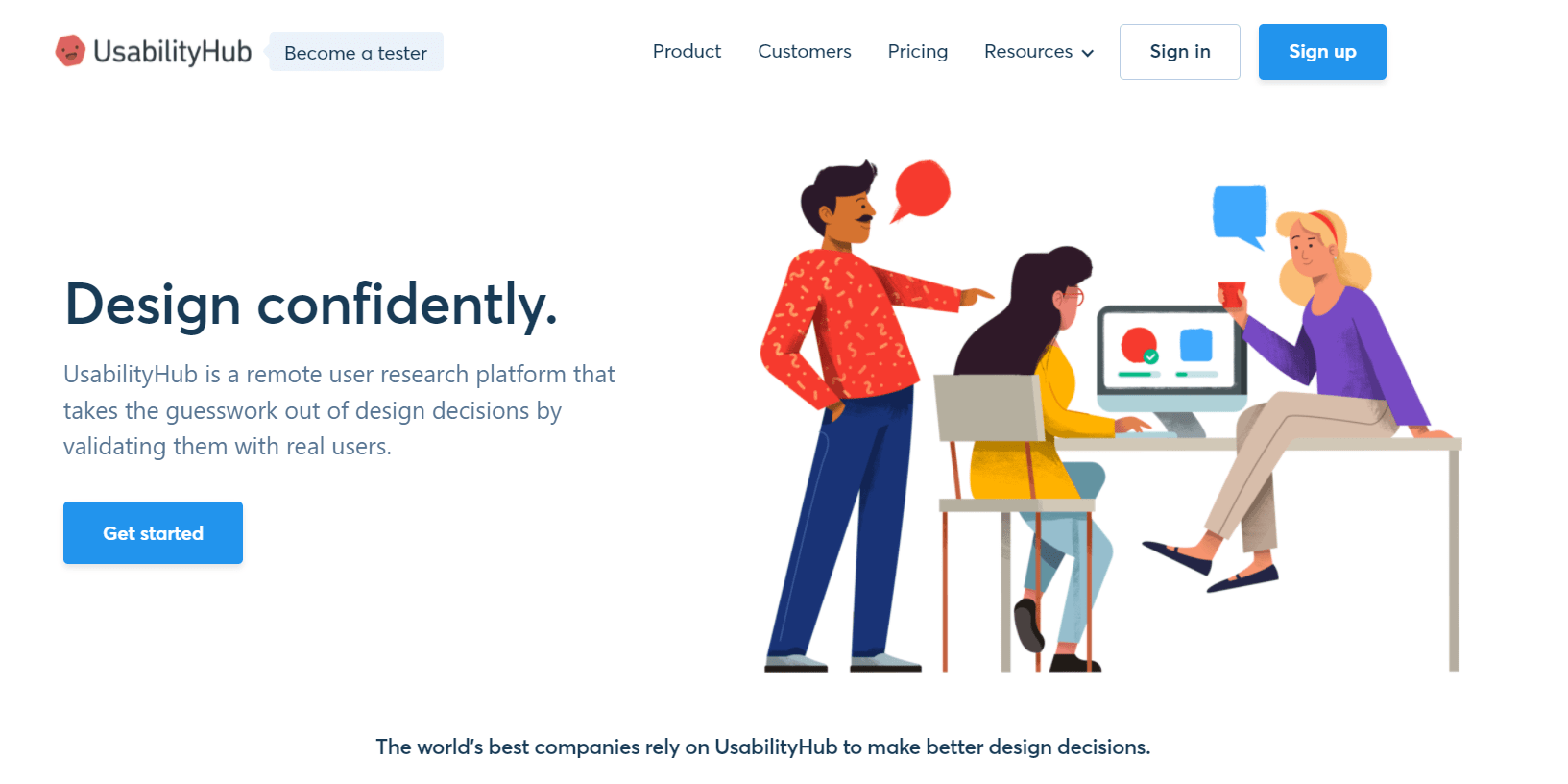 Features:
First Click Test

Survey

Preference Test

Five Second Test
Pros:
Built-in participant panel

Free starter plan
Cons:
Textual response to study questions

Can't observe how the participants engage with the product
Pricing:
Free starter plans which offer you to tests up to 2 minutes long. For basic tests and solo researchers the plan starts at $79 per month. 
Have you found your favorite?
Why not try it now? In case UXtweak made it to your final selection, create a free account or start a free 14 day trial of UXtweak's Professional plan, so you are all set for the year 2022.