We prepared this post to help you do exactly that – compare UserTesting and UserZoom and evaluate which will be the right solution for you. Not only that, but we will introduce you to UXtweak – a user research platform that might be an even better solution for your research needs.
First of all, let's quickly define what user testing software is.
What is user testing software?
User testing software is any software that provides solutions to support collection, evaluation, or management, and other supporting activities carried out during user research. Most common user research software includes tools for usability testing, user interviews, surveys, card sorting, tree testing, first-click testing, preference testing, and more. As well as solutions for recruiting participants, documentation, organization of research, or transcription of interviews.
What is UserTesting.com?
UserTesting is one of the oldest user research softwares on the market and they have had time to fine-tune their product. They offer toolkits for UX researchers, product managers, and marketers.
A solid portfolio of tools for usability testing is available, and in more advanced plans you can also find tools for testing information architecture, such as card sorting and tree testing. UserTesting is also renowned for its large panel of testers, which allows businesses to target a specific audience using demographic filtering and other custom criteria.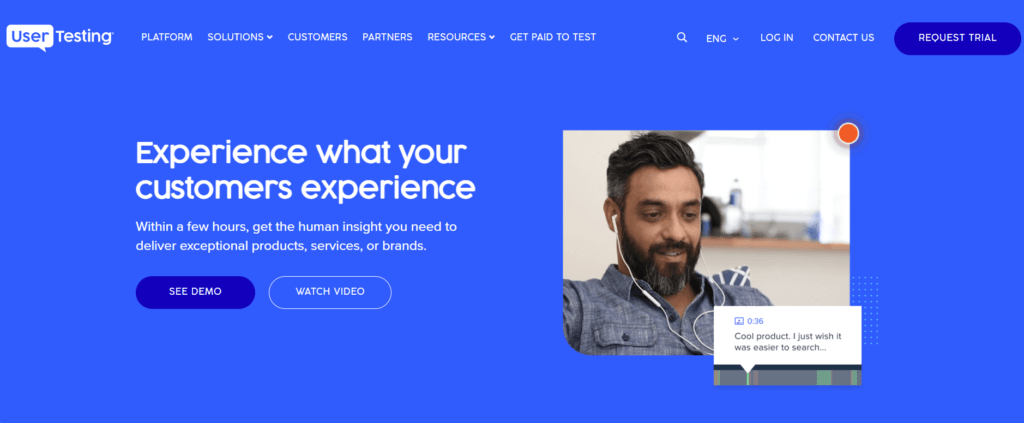 What is UserTesting good for?
UserTesting is good for quick insights into your user's behavior and more advanced usability testing techniques, like website and prototype testing, and live interviews. They offer a large respondent panel that allows quick and precise respondent targeting.
What is UserZoom?
UserZoom is a user research platform for enterprise-level research and testing. They provide tools for both moderated and unmoderated user testing, such as tools for live interviews, surveys, click testing, usability testing, card sorting and tree testing.
Aside from tools for usability testings well as usability testing, it also offers tools for recruiting participants, usability benchmarking, informative architecture research, dashboard creation, and more.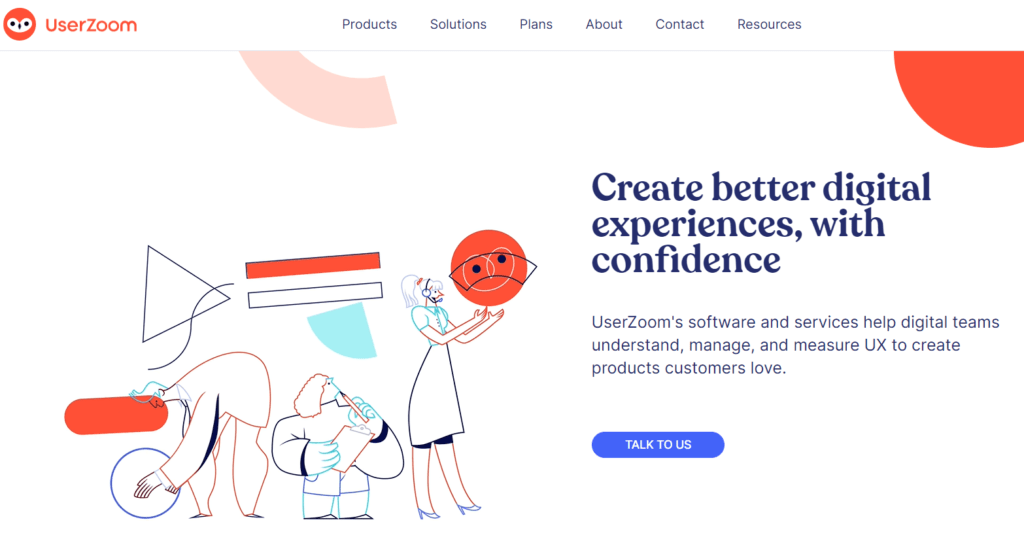 What is UserZoom good for?
UserZoom is good for gathering customer insights and optimizing CX and UX of your brand and products. UserZoom's particularly handy features include live interviews for moderated testing and click testing.
UserTesting and UserZoom alternative – UXtweak
UXtweak is an alternative to UserTesting and UserZoom. It is an all-in-one UX research platform full of powerful tools for improving the usability of websites and apps, from prototypes to production. It is designed for usability testing, information architecture research, and user behavior analytics at any stage of the development cycle – helping you create products people will love to use.
It allows you to bring your own users for testing or use a global panel spanning 120 countries to easily and quickly target and recruit a specific audience.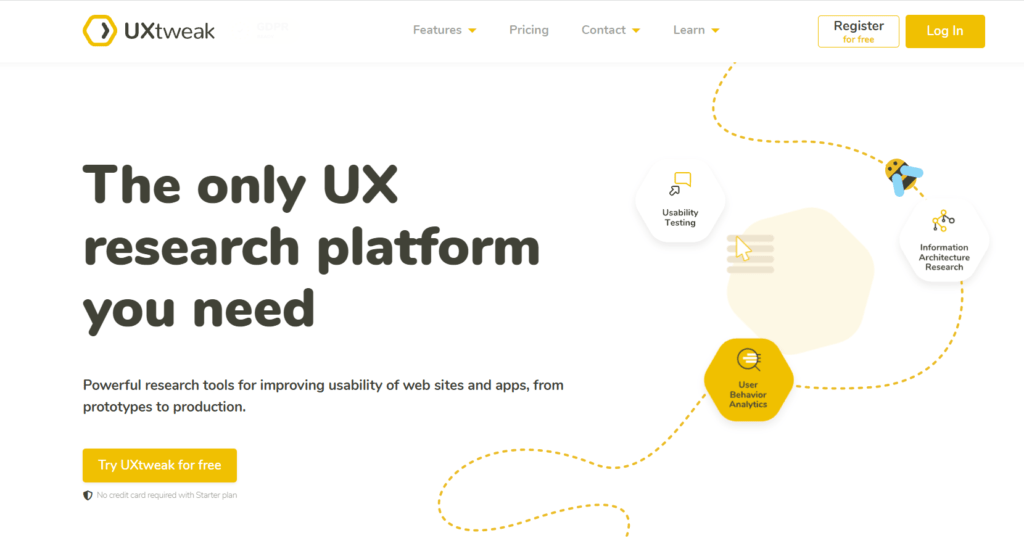 Since UXtweak, as we will see in the comparison, has similar capabilities, we decided to include it in our comparison.
What is UXtweak good for?
UXtweak is good for optimizing the UX of your application or website with a variety of UX research tools the platform offers. From prototype to production testing, card sorting, tree testing, usability research, preference and 5 second tests, first click tests and surveys, UXtweak offers an all-in-one research platform, that will meet all your needs.
UserTesting vs UserZoom use cases
What are the use cases of both UserZoom and UserTesting? Where do they shine the most and how do they compare?
| | | | |
| --- | --- | --- | --- |
| | | | |
| Generating and testing the information architecture | Relevant tests only available on Ultimate plan or as an add-on | Card sorting and Tree testing available, but not in UserZoom GO | Card sorting and Tree testing available, on all plans (the free plan as well) |
| Testing website usability and uncovering potential issues | Many features available (some only on Advanced plan or higher) | | |
| | Tool for mobile testing only available on Advanced plan or higer | Features for testing of live mobile apps as well as prototype are available | Testing of live mobile apps as well as prototypes possible through many features |
| Message testing and first impression testing | 5 second test and surveys available | | Features such as 5 second test, first click test and surveys available |
| Determine users' preference between two designs | Competitive comparison available on Advanced plan or higher | No special tool available | Specialized tool for preference testing available on all plans (the free plan as well) |
| | | Live interviews and a survey tool offered | |
UserTesting and UserZoom share many use cases. However, we think, UserZoom is slightly better suited to some, especially bearing in mind the limitation of features UserTesting has in its lower plans.
A great alternative because of this reason is UXtweak, because in UXtweak all the features are available in all plans, even the free plan.
UserTesting vs UserZoom features
| | | | |
| --- | --- | --- | --- |
| | | | |
| Website Usability Testing | | | |
| Prototype Usability Testing | | | |
| Mobile Apps Usability Testing | - only on advanced plan or higher | | |
| | - only on Ultimate plan or as an add-on | - not avaliable in UserZoom GO | |
| | - only on Ultimate plan or as an add-on | - not avaliable in UserZoom GO | |
| | | | |
| | | | |
| | | - not avaliable in UserZoom GO | |
| | | - not avaliable in UserZoom GO | |
| Session recording with Heatmaps | | | |
| | - 400 000+ users avaliable | - 120 million users avaliable | |
| Support for moderated research | | | |
| | | | |
As shown in the comparison table above, evaluated UX research tools offer similar features to their users, but there are a few key differences. Here, we explain those in a bit more detail.
UX Research tools
UserZoom falls a bit short as it does not offer a solution for Preference testing, 5-second testing, and Session recording. UserTesting doesn't offer the First click testing tool or Session recording tool. Apart from that can only get information architecture research tools – Card Sorting and Tree Testing on the most expensive Ultime plan or as a paid add-on on the Advanced plan.
UXtweak offers all of the features in all plans.
User recruitment options
UXtweak offers the biggest pool of participants of 155 million users from 120+ countries. The second-largest panel is offered by UserZoom, supporting 20 languages.
All tools offer the ability to prepare screeners or recruit by demographics and profiling attributes. UserTesting offers a global panel and you can expect a good amount of participants from Australia, Canada, India, the United Kingdom, and the United States. In other countries, they have fewer participants, and you could run into a problem with not having enough unique participants available.
Recruiting your own users
All tools offer the option to recruit your own participants, however, while recruiting your participant with UXtweak and UserZoom you can bring an unlimited number of your own respondents at no cost. On the other hand, UserTesting is going to charge you credits for your participants as well.
UserTesting vs UserZoom pricing and plans
| | | | |
| --- | --- | --- | --- |
| | | | |
| | | | All features are available on all plans |
| | | | |
| | | | - free forever plan, no credit card needed |
| Cost of annual subscription | Upon request - starting at around $15k/year | Upon request - starting at around $50k/year | Business plan starts at $1728 a year, Enterprise plans start at $5k/year |
| Cost of monthly subscription | | | starting at $0 - $179 a month |
| | | | |
*average review score on the leading software review sites – Capterra, G2, Crozdesk.
UserTesting plans
The platform offers 3 different plan options:
Essentials

– intended to get started collecting user feedback with simple tests. It

lacks access to information architecture tools

– card sorting and tree testing, advanced demographics for precise recruitment from their User Panel, or sentiment analysis.

Advanced

– is equipped with more test creation options, research capabilities, and advanced reporting. Notable the option to test mobile apps, advanced demographics in User Panel, sentiment analysis and click maps.

Ultimate

– all the features included in Advanced + card sorting and tree testing (only in English), additional targeting filters, and reporting.
UserZoom plans
UserZoom offers 2 options sold as separate platforms. The options are:
UserZoom GO

– a limited platform for individual researchers or small teams. It offers tools for Moderated and unmoderated usability testing of websites and mobile apps and pre-study recruitment options.

UserZoom

– more advanced multi-method capabilities aimed at enterprise teams. With access to card sorting, tree testing, surveys, and click tests.
UXtweak plans and pricing
At UXtweak, we believe in flexibility which is why we offer monthly subscriptions. Perfect for agencies or project work, as we do not lock you into an annual commitment. We have a strict no strings attached policy – you can cancel your plan anytime.
Here is a quick summary of the offered plans:
Free plan – As the only tool in the comparison, UXtweak offers a free forever plan for small projects, which allows organizations to try out the platform and carry out small research projects.
Business plan

provides a great option for most organizations. You can run an unlimited number of studies and tasks with up to 1000 responses per month. It supports up to 9 seats. The pricing is dependent on the number of seats (users) and costs from $144 to $1289 a month.

Enterprise plan

– Enterprise-level plans come with premium features such as high-priority customer support, help from our UX research experts, discount on User panel orders, SSO, training, and onboarding, and custom limit to fit the needs of any organization. As mentioned above, Enterprise plans are available upon request and start at around $5K/year.

Contact us here

to learn more, and one of our Product experts will be in touch with you.
All of the plans have access to all research tools (card sorting, tree testing, surveys, 5-second testing, preference testing, mobile usability testing). See more detailed information on our pricing page.
UserTesting vs UserZoom pricing
Both Usertesting and UserZoom do not have a public pricing page. Their price is available upon request and you need to register for a demo. Then a sales representative will reach out to schedule an introductory demo call with you. After the call, you are usually given an estimate and a second sales call follows. The process of acquiring and registering for a subscription from UserTesting or UserZoom can be slow and tedious.
On the other hand, UXtweak makes it super simple and transparent. You can register for the tool straight away, and start using it. Then, straight from the app, you can subscribe to a higher Business plan or schedule a call with our Product expert to figure out a custom Enterprise plan.
From the information, we were able to find the pricing for UserTesting subscription starts around 15K – 40K and goes higher according to requested seats (users).
The cost of UserZoom seems to be even higher, as we find mentions that the minimal investment is somewhere around 40K – 70K a year. This makes UXtweak the most affordable option out of the compared user research tools without a doubt.
UserTesting vs UserZoom reviews
In our evaluation, we took a look at the leading software review platforms G2, Capterra and Crozdesk.
We also compared the Ease of Use and Quality of customer support (customer service) that were reported by the users of the platforms themselves on Capterra and G2. Here is the comparison:
Easy of use and customer service quality

Overall ratings:
UserTesting got a score of

4.5 out of 5.

UserZoom received a review score of

4.3 out of 5.

And lastly,

UXtweak leads with 4.97 out of 5.
Comparison Summary: Support, languages, and prototyping tools integration
To compare the language and integration abilities of all tools, as well as support options, we've prepared another table.
Help center, phone, e-mail

Help center, phone, e-mail, UserZoom Academy




Phone, e-mail, chat, detailed documentation, guides, video tutorials

Prototyping Tools Integretion

Figma, InVision, Axure, Marvel,

Tableau, Justinmind, iRise

Figma, InVision, Axure, or build your own prototype in the UXtweak editor from design screens exported out of any design/prototyping tool
UserZoom vs UserTesting Languages
Both UserTesting and UserZoom support English and German. UserZoom also supports Spanish.
UserZoom vs UserTesting Support service
Support services are offered via phone, e-mail and help center on both platforms.
UserZoom offers free UX training courses in the UserZoom Academy (registration needed).
UserZoom vs UserTesting Prototyping Tools Integrations
UserZoom offers a solid portfolio of integrated tools for prototyping and making your prototype testing smoother. With Figma, InVision, Axure, and others, they have a lot to offer.
UserTesting on the other hand offers integration with only one prototyping tool – Adobe XD. While they support some other prototyping tools to a lesser degree, there are limitations.
If you are looking to make transferring prototypes from your prototyping tools to user-testing tools a walk in the park, UserZoom is the better choice here. A good alternative is UXtweak, which also offers integration with Figma, InVision and Axure as well as building your own interactive prototypes from design screens exported from other prototyping tools.
UserZoom vs UserTesting: Conclusion
UserZoom and UserTesting are both top-level user experience research platforms. They offer a comprehensive toolkit of user testing and research features and functionality. Their pricing is mostly affordable for large enterprises only. If you are on the lookout for UserTesting or UserZoom alternative – we recommend taking a look at UXtweak.
If you would like to get more information we recommend reading our UserTesting alternatives and UserZoom alternatives posts or visiting the Comparison page for up-to-date information on other UX research tools and their alternatives.
UXtweak is the right platform for you when you need a UX research platform that is:
Comprehensive – a complete toolkit of powerful UX research tools that can be used at any stage of the development cycle or design process and recruiting solutions. Capable to compete with the household names of the industry.
Affordable

– The most affordable subscription in our comparison, you do not have to be a huge corporation to be able to afford UXtweak.

Flexible –

Free plan and monthly subscriptions are available. Cancel any time, no strings attached.

Simple –

Register, subscribe, and start creating and launching tests – get insights on day 1, in a matter of hours. Do not wait months to even purchase the subscriptions.

Innovative –

UXtweak is a constantly evolving product. We have added 6 completely new tools in 2021. Recently – we launched

UXtweak Competetive testing

and

Mobile app usability testing

, and there is still a lot in our backlog.
Give it try and register for a free account at UXtweak today.